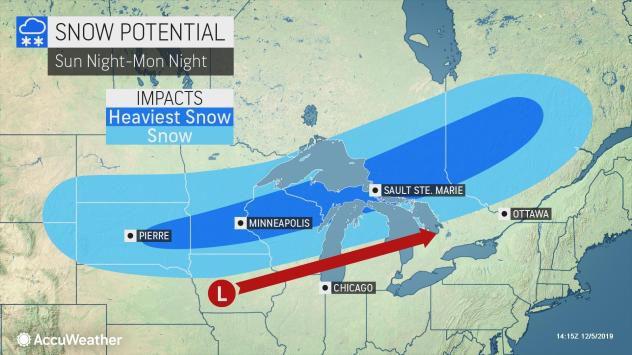 Another snowstorm is aiming for Wisconsin and Minnesota at the start of next week, with bitter cold to follow that could see lows dipping below zero, according to forecasters.
Several more inches of snow could fall across parts of Wisconsin Sunday into Monday, with the track of the storm determining where the storm will hit hardest and its intensity, and the cold that follows may lead to the most lake-effect snow of the season, AccuWeather reported.
A weak storm is more likely to take a more easterly track toward the Northeast states, while an intense storm is more likely to track well to the west over the Great Lakes. At this time, a moderate storm is most likely, but substantial snow can fall in a narrow swath, AccuWeather said.
"Enough snow to shovel and plow is forecast from part of South Dakota to central and southern Minnesota, northern Wisconsin and the Upper Peninsula of Michigan," AccuWeather Senior Meteorologist Brett Anderson said.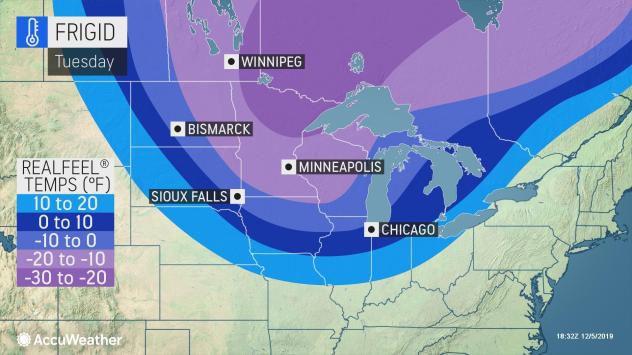 You have free articles remaining.
The storm will move out of the southern Rockies this weekend then dip over the southern Plains before turning northeastward across the Mississippi Valley and then the eastern Great Lakes region early next week.
While the current projected path of the storm brings heavy snow to Minneapolis, a shift in the track of the storm could spread accumulating snow farther south toward Chicago or Detroit, AccuWeather said, and that could mean accumulating snow for the Madison area.
The National Weather Service is predicting 3 to 6 inches of snow in Minneapolis, 2 to 4 inches in Eau Claire, lesser amounts in La Crosse, and little to no accumulation in Madison.
Key links when winter weather strikes
---
1. "Christmas at Graceland"
Hallmark description: A business executive traveling to Memphis for work reunites with her old flame, a music promoter who begs her to perform at the Graceland Christmas Concert. Stars Kellie Pickler and Wes Brown.
2. "A Shoe Addict's Christmas"
Hallmark description: When Noelle gets snowed in at the department store she works at, a quirky guardian angel helps her rediscover the love, family connection, and faith that she had put on hold. Stars Candace Cameron Bure and Luke Macfarlane.
3. "It's Christmas, Eve"
Hallmark description: Mistletoe magic comes to town when a school superintendent, forced to make cutbacks, meets a widower music teacher and his 9-yr-old daughter. Stars LeAnn Rimes and Tyler Hynes.
4. "Christmas in Evergreen: Letters to Santa"
Hallmark description: Lisa Palmer's trip home to Evergreen for the holidays finds her fulfilling the wishes of a Christmas Past and finding a romance full of Christmas magic. Stars Jill Wagner and Mark Deklin.
5. "Pride, Prejudice, and Mistletoe"
Hallmark description: When Darcy returns home to plan a Christmas charity event with her old rival Luke, she realizes what is important in life by repairing her relationship with her father and finding love. Stars Lacey Chabert and Brendan Penny.
6. "Mingle All the Way"
Hallmark description: As app developer Molly and her unlikely match Jeff accompany each other to their Christmas events, sparks fly in the midst of a business arrangement. Stars Jen Lilley and Brant Daugherty.
7. "Homegrown Christmas"
Hallmark description: After stepping down as CEO of her dream job, Maddie heads home for the holidays to gain perspective. She finds herself running into her old high school sweetheart Carter, and tensions quickly arise. When forced to put together a Christmas dance for the local high school, Carter and Maddie find themselves putting their differences aside and just might rediscover what made them fall in love all those years ago. Starring Lori Loughlin and Victor Webster.
8. "Christmas in Love"
Hallmark description: Ellie works at a famous bakery, whose CEO sends his son undercover to learn the business hands-on. Ellie must show Nick that the community Christmas spirit drives the business. Stars Brooke D'Orsay and Daniel Lissing.
9. "Christmas at Pemberley Manor"
Hallmark description: In this holiday re-imagining of "Pride and Prejudice," rookie party planner Elizabeth works with the all-business William Darcy to put together a Christmas Festival at Pemberley Manor. Stars Jessica Lowndes and Michael Rady.
10. "Christmas Everlasting"
Hallmark description: Lucy heads home for Christmas to hear the terms of her sister's unusual will. Stars Tatyana Ali and Dondre Whitfield.