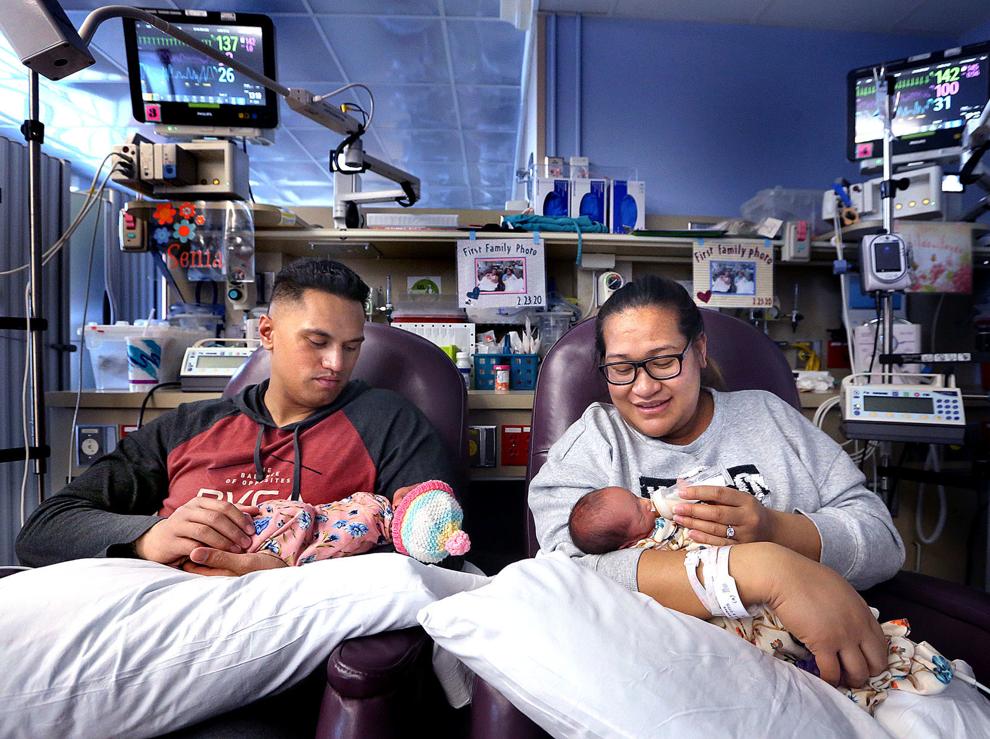 Susann and Douglas Siaumau have barely left their twins' sides since the girls were born Saturday, spending their days and nights in the maternity ward of Mayo Clinic Health System.
And when the new parents finally stopped by their Sparta home Tuesday for a sit-down meal and fresh laundry, their babies Senia (Nia) and Molilaauilogaa (Moli) weren't far from their minds — or their eyes.
On Monday, Mayo debuted an Angel Eye digital camera system in its Special Care Nursery, taking the system live a few days early to give the Siaumaus, who are natives of Samoa, a chance to share their bundles of joy with relatives based around the globe.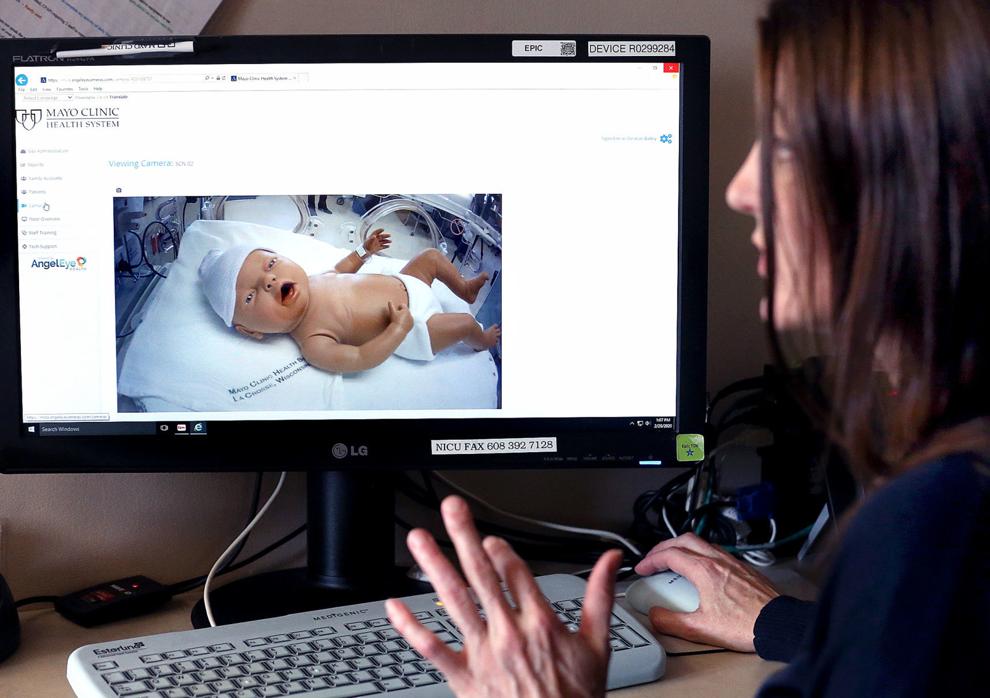 "Everyone was like, 'Is it like Facebook Live?'" says Douglas, 29. "Yeah, it's like Facebook Live but in the intensive care unit."
Angel Eye, which has been utilized at Mayo's Rochester location since fall 2019 and will be available at Mayo's Eau Claire and Mankato hospitals Feb. 28, offers parents and their extended family the ability to view their newborn on a 24/7 live feed.
There are 15 of the camera systems in La Crosse — one for each bay, plus a mobile unit which can traverse the fifth floor for parents whose children are not in the NICU. Funding assistance for Angel Eye was provided by the Franciscan Healthcare Auxiliary, and staff will collaborate with Mayo Clinic's Center for Connected Care.
"This is one of many ways that we're providing patients more options for their health care," says Dr. Dennis Costakos, neonatologist at Mayo Clinic Health System. "Digital technology allows us to continue to provide high-quality care in ways that matter to our patients."
The installation of the virtual monitoring system has been several years in the works, with many of the maternity ward nurses advocating for the technology, which allows parents, nurses and doctors high resolution viewing of newborns from a computer screen, phone or tablet.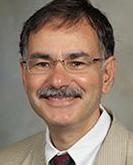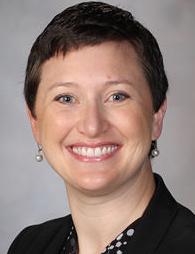 "Parents and families can now view their little ones anytime from home, from work or anywhere they have access to the internet," says Dr. Beth Wagner, obstetrician at Mayo Clinic Health System. "This is a simple, cost-free way for families to stay connected, and it can be especially helpful for those who do not live in La Crosse."
Moms and dads interested in the service open a password-protected account and download the app, and can grant viewing permission to as many or few people as they wish, with the ability to add restrictions at any time. The app remains active until the baby is discharged from the hospital.
"This is all mom-driven," says Desirae Bailey, nurse manager at Mayo Clinic Health System in La Crosse. "Mom has all the autonomy to who has access and who does not."
The Siaumaus, who didn't learn their firstborn would, in fact, be firstborns until 22 weeks into the pregnancy — "twice the work, twice as blessed," they say — have used Angel Eye to introduce their girls to family on both the West Coast and in the South Pacific.
"In Samoa, they just went through a tropical storm, and right after they got the news (of the births) they were really excited and went to find WiFi," Douglas says.
Angel Eye can also be used to provide brief typed updates.
With Nia and Moli — born more than five weeks early and weighing four pounds, one ounce and three pounds, one ounce, respectively — still in incubators much of the time, either Susann, Douglas or a nurse, with the parents' permission, can write about treatments the twins are undergoing, such as phototherapy for jaundice, or milestones.
"The team here is pretty on-point," Douglas says. "When one finished her first bottle the nurse put a sticky note with 'I finished my first bottle' and a smiley face on the monitor. A lot of our family members appreciated the humor."
For parents whose infants require weeks- or even monthslong stays in the Special Care Nursery, Angel Eye can provide a sense of calm, reassurance and closeness in their absence.
"It can be heart-wrenching for people when they are not able to be here with their baby," notes Michelle Neitzke, operations director for surgical specialties at Mayo Clinic Health System.