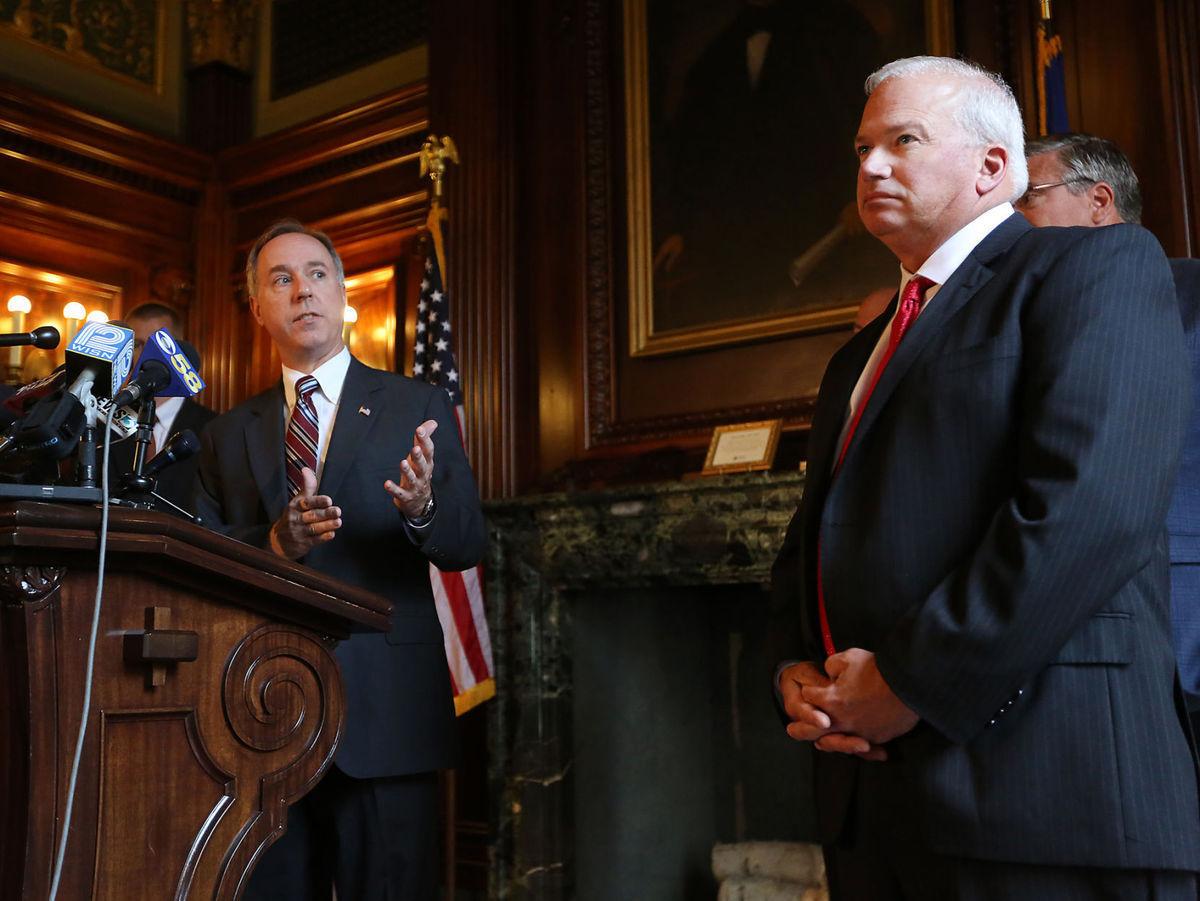 A Republican plan to remake state campaign finance law would, according to critics, green-light the hotly debated practice of allowing candidates to work closely with outside groups that do not need to disclose how they raise or spend their money.
The bills also would give its authors, Assembly Speaker Robin Vos and Senate Majority Leader Scott Fitzgerald, more clout, critics say, by removing most limits on campaign contributions to and from legislative campaign committees. Such committees are the political arms of the partisan caucuses steered by legislative leaders.
Vos, R-Rochester, has said the bills, SB 292 and AB 387, would make Wisconsin's byzantine campaign finance laws easier to understand and compliant with recent court decisions. Chief among those decisions is the state Supreme Court's ruling in July that ended a secret investigation into Gov. Scott Walker's 2012 recall election campaign.
The plan gets its first public hearing at 9 a.m. Tuesday at the state Capitol. It'll be heard alongside another sweeping campaign-finance proposal: a bill to split the Government Accountability Board, the state's elections, campaign finance and ethics agency, into two new boards made up of partisan appointees.
Critics have keyed in on the campaign finance bills' treatment of issue advocacy groups, or groups that run ads about political issues — some of which mention a candidate but don't expressly urge their election or defeat.
Such groups are not required to disclose the sources of their funding. Examples include Greater Wisconsin Committee on the liberal side or, on the conservative side, Wisconsin Club for Growth.
Those groups didn't immediately respond to requests for comment Monday.
Vos, in introducing the bill last week, made clear that it spares issue advocacy groups from regulation. That means such groups would not be barred from coordinating their activities — such as messaging, strategy or advertising — with candidates' campaigns.
Edwin Bender, director of the National Institute for Money in State Politics, said that's problematic.
If the Vos-Fitzgerald legislation becomes law, Bender said, it likely would make Wisconsin the first state to affirm that such coordination "is officially OK."
The plan increases the amount that donors may contribute directly to candidates. But by allowing candidates to coordinate their activities with issue advocacy groups, critics said the bills effectively short-circuit those limits.
"This is really an attempt to move the influencers behind the curtain," Bender said.
The question of whether such coordination is permissible was at the heart of the John Doe investigation into Walker's campaign.
Prosecutors alleged the campaign illegally coordinated with conservative issue advocacy groups during the 2012 recall election.
But the July Supreme Court ruling halted the investigation, saying it had no basis in law. The ruling was widely interpreted to mean that issue advocacy groups aren't subject to regulation — and thus, may coordinate with candidates.
In light of the ruling, Mike Wittenwyler, a Wisconsin campaign finance attorney, said the bill wouldn't change much with regard to issue advocacy groups.
"All this does is codify what the Supreme Court already said," Wittenwyler said.
Prior to the Supreme Court ruling, a 2000 ruling by the state Elections Board said if certain types of coordination occurs between an issue advocacy group and a candidate, the candidate would have to report expenditures by the group on his or her behalf as a campaign contribution. That ruling limited coordination, because candidates are limited on the size of contributions they can accept.
Vos and others who want to spare issue advocacy groups from regulation say the groups have constitutional rights to freedom of speech and freedom of association. Vos said last week that the bill "protects a free and vigorous debate of candidates and the issues."
Rick Esenberg, president of the conservative Wisconsin Institute of Law and Liberty, said it's typically easy to guess which groups or individuals contribute to issue advocacy groups on both sides of the aisle.
Esenberg also said Wisconsin lawmakers and regulators have failed to define coordination between an outside group and a candidate, making it impossible to regulate.
"It's important that there be ample leeway for people to talk about issues, including during periods when there's an election going on," Esenberg said.
The bills also permit contributions in unlimited amounts to political parties and legislative campaign committees.
The legislation also permits parties and legislative campaign committees to give unlimited amounts to candidates.
That follows court decisions in 2014 that struck down limits on what candidates could accept from — as well as the aggregate amount that a donor could give to — all political committees, including legislative campaign committees.
Jay Heck, president of Common Cause Wisconsin, said writing into law that legislative campaign committees can raise and give to candidates in unlimited amounts will diminish the influence of rank-and-file lawmakers.
"The leadership is concentrating even more power with this provision," Heck said. "They'll have much greater pots of money to threaten their members with."