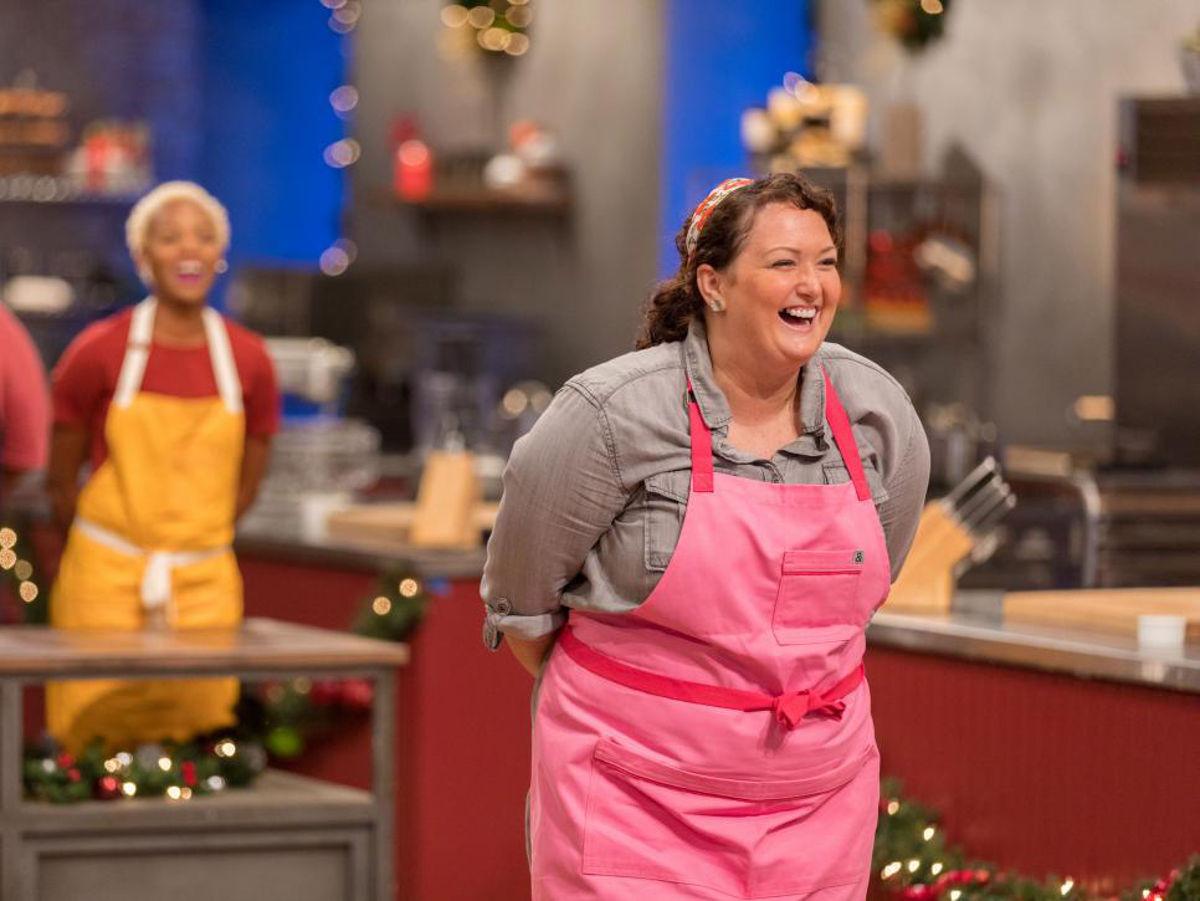 Jennifer Barney did Wisconsin proud in the first episode of "The Holiday Baking Championship," crafting a cocktail dessert that centered on the state fruit — cranberries — to advance to the next round on the Food Network's fourth annual competition.
Not without a bit of stage fright, with the Stoddard baker saying at one point — under her breath but nearly breathlessly — "Hoo, my hands are shaking."
The challenge confronting Barney and eight other bakers from across the country for their main task was to create a dessert based on the theme of a cocktail drink they drew randomly from wine glasses.
Barney was pleased that the luck of her draw was "cranberry julep," as she giddily told the panel of three judges and her competitors that the Badger State is known for its cranberry bogs.
Reflecting on the show Tuesday, she said, "I was really happy to get an ingredient that is so near and dear to my heart. Wisconsin produces 60 percent of the nation's cranberries.
"One of my clients is from Tomah, and their family has been in the cranberry bogging business for generations. For one of their family's wedding cakes, I made a custom cranberry and lemon cake for their guests to enjoy. When I had a challenge that required me to use cranberries I was really happy," she said.
To ramp up the challenge, the bakers also had to incorporate bar snacks — in this case, peanuts in the shell — into the desserts. Of course, they had to shell the nuts themselves, which cut into the two hours they had to prepare their offerings.
"What do I do with my peanuts?" Barney muttered to herself and the national TV audience of the show, which had been recorded in advance in New Orleans and aired Monday night.
She needn't have worried, because the colorful mint mousse bourbon cranberry dessert with a peanut tuile she created was aesthetically and palate-pleasing enough to the judges to keep her in the hunt for all the dough — the $50,000 grand prize — if she can outplan, outmeasure and outbake her rivals for six more episodes.
"You definitely hit the festive," said judge Lorraine Pascale, who was a chef in Britain, where she developed a solid resume of best-selling cookbooks and hit shows.
"It tastes like you know your way around the cranberry," said judge Duff Goldman, aka the Ace of Cakes.
That assessment brings forth a chuckle from Barney, who operates her Meringue Bakery from her home and plans to plug the Badger State at every opportunity.
"It's my intention to promote Wisconsin and show I'm proud of where I'm from," said Barney, a Chippewa Falls native who was head pastry chef at The Waterfront Restaurant and Tavern in La Crosse before striking out on her own.
In fact, "the cranberry mint julep dessert she crafted was very similar to something I used to make for The Waterfront Restaurant," she said Tuesday.
Advancing in the competition meant overcoming other obstacles, she said.
"For the record, I have never had a cranberry mint julep," she acknowledged. "But perhaps it will have to my signature cocktail this holiday season. … I was so lucky that I made extra peanut tuiles because most of mine broke, and it was really frustrating."
Although Barney wasn't the outright winner of the challenge, her dessert was delectable enough to earn her a solid slot on the safe side.
She acknowledges that she entered the kitchen with a combination of nervous Nelliness and steely resolve.
"I couldn't wait for the clock to start and to experience what it felt like to have my work judged by industry experts," she said.
The challenges seem more daunting this season than those she studied in reviewing shows from years past. Previous challenges "seemed more like 'decorate a cookie.' This year, it seems more ingredient-driven challenges," she said.
For example, the bakers' task before the main challenge was to craft a dessert with a theme and taste of a candy cane.
"My candy cane was a cherry candy cane, and it tasted horrible," she said Tuesday. "It tasted like artificial chemicals."
Nonetheless, she turned out a chocolate cupcake flavored with crème fraiche, which is a French version of sour cream, and amarena cherries soaked in a light liqueur — all in striving for the sour flavor.
Going into the competition, Barney had strategized that, if conditions were right, she would make cupcakes.
"I know how to make cupcakes," she explained in a self-deprecating assessment of her talents as a graduate of the internationally acclaimed Le Cordon Bleu College of Culinary Arts and whose specialties include wedding cakes.
For an instant, it appeared as if that plan might have backfired, when the Ace of Cakes began his evaluation by saying, "I'm not the biggest fan of cupcakes," before adding that Barney's was "awesome."
The judges agreed that the creation was akin to a choice cherry cordial.
Even though Barney is pleased that she advanced, she said, "I am really in awe of what some of the other contestants' plates, and I had this deep fear that I need to really up my game. My worry is that my style for plated desserts is dated, and that my work is not as clean as some of the other contestants."
Of course, the contestants are sworn to secrecy against revealing the competition's ultimate results. But Barney is as smooth at dodging attempts to get her to slip up as she is icing a cake.
The bakers will have partners for the next episode, at 8 p.m. Monday, which Barney said "can either be fantastic or it can be horrible. It is hard enough to do a good job on my own, let alone working with a contestant I do not know well."
Without enough time yet to get to know each contestant, she said, "There are a few I have naturally clicked with and a few that it might take more time for me to warm up to," she said.
"My fear is that I will get partnered with someone who is not a team player," Barney said. "My hope is that I am paired with someone who has a great attitude and that we can make each other look good."
Get local news delivered to your inbox!
Subscribe to our Daily Headlines newsletter.