Not all heroes are on the battlefield with blazing guns. Some, including Colonel MJ Hull, are in medical facilities with limited resources and scorching heat caring for wounded soldiers.
Hull, born and raised in La Crosse, joined the military as a physician, intending to stay in for seven years. She ended up in for 25.
She left La Crosse straight out of high school and was accepted into UW-Madison's medical program. The military offered to pay for her education and she'd pay off her debt by working for them for seven years.
"I kind of wasn't interested in going to the med school but I went because my mother put my application in. So it was kind of the last place I thought I'd end up — a Madison liberalite," she said.
The 53-year-old veteran finished her internship and residency at Madigan Army Medical Center in Washington, then did two years of internal medicine in Fort Sill, Okla., and later specialized in cardiology.
She eventually ran the echocardiography laboratory at Walter Reed National Military Medical Center in Maryland.
It was a blessing in disguise because "the military really afforded me a lot of neat opportunities," Hull said.
The military gave her not just a college education, but also exposed her to different cultures and taught her to be flexible, especially when working with limited supplies when she was in Thailand, Belize and Iraq.
"Iraq was the most challenging and most rewarding time I had in the military," Hull said.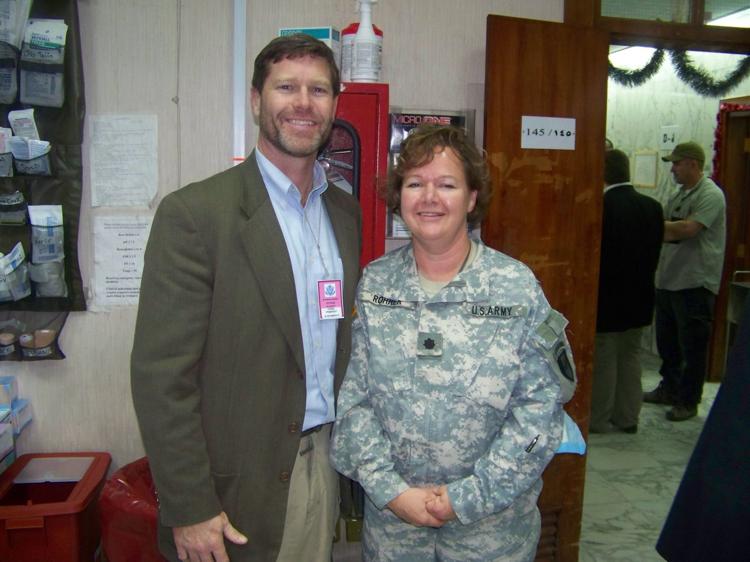 She was deployed to Iraq in October 2007 and back in the U.S. by June 2008. She was stationed in a Baghdad hospital, which happened to be Saddam Hussein's old hospital.
"It was hot. It was very underdeveloped. The people, for the most part, were very grateful that we were there," Hull said. "There were a few bad people in the country — the terrorists — ISIS people creating havoc for a lot of the people over there."
Her job was mainly to stabilize wounded soldiers, U.S. and Iraqi soldiers, until they got to the operating room or were transported to a better-equipped facility. She said she had to treat terrorists but the most grueling task was treating children with severe burns and limbs amputated by roadside bombs.
"Terrorists would throw hot tea kettles on kids, so they come in with 30 , 40% burns," Hull said. "We had to be really creative and make a wheelchair out of a plastic lawn chair and put wheels on it," as well as prosthetics because the country didn't have that technology.
U.S. soldiers suffering from double limb amputations were also difficult for her but she was comforted with the idea that she could actually be there for soldiers until they were sent home for medical treatment.
"It was really hard to see our soldiers maimed like that," Hull said. "One of the things I regret is I did not keep a list of people I took care of to get a follow-up when I returned home to find out how they were doing."
She eventually worked at the Wounded Warrior Project, and when her two daughters visited and saw the soldiers, their father—also a military vet—would say, "Don't be sad for him. He's a hero."
While thinking back to that moment, tears in her eyes, Hull said, "That guy really gave it all for our country. I only played a minor part, just helping them get back to some kind of wellness."
Her daughters, now older, were two and five when Hull was deployed to Iraq.
"The sacrifices military families make are huge. He, (Hull's husband), became the mom, the cook, the dishwasher, the clothes cleaner and he had these two- and five-year-olds he had to take care of 24-7," Hull said.
Her husband sent her projects, cards and grades and she'd send back scarves, teapots and stuffed camels.
"I put together a jar with bubble gum in it so they can have one piece of bubble gum every day (I was gone), which wasn't a very smart idea because there was then bubble gum all over the house," she said.
You have free articles remaining.
Register for more free articles.
Stay logged in to skip the surveys.
Christmas wasn't easy for Hull. The U.S. embassy in Iraq had dinner and arranged carolers but it wasn't the same: "You weren't with your family. You were with your deployed family."
Hull recounted the tragic Christmas Eve she dubbed a "death watch."
On Christmas Eve, just before heading to the embassy, in came four Iraqi soldiers with 90% body burns and multi-organ failures. With limited resources, the only thing she could do was put them on morphine drips to make them comfortable until they died.
When they died, the cleaning staff, local Iraqis, turned the bodies toward Mecca for prayer and within 24 hours the bodies were buried per Islamic customs.
"It was a horrific sight — just these burned bodies that looked really like wood left on the fire," said Hull. "I'd never seen burns like that before."
Hull hardly got a night's sleep in the six months she was in Iraq.
"I felt like I was on hyper alert the whole time," Hull said, "I don't think I really slept for six months." Even on her nights off, she didn't want to miss out on helping.
Another emotional moment for Hull was when she remembered the wails of a mourning father.
"We all say that women aren't respected in Iraq but this dad wailed when his daughter died. It was the most gut-wrenching cry I've ever heard. When he held her when she died," Hull said.
Hull said she suffers more from provider fatigue, gradual decrease in compassion over time, than post-traumatic stress disorder.
"You become immune to it," she said. "Some nurses and I were talking like, 'Do you think it's worse to lose an arm or a leg?'" Looking back at that moment she said, "What kind of cavalier conversation is that? Heartless."
It was a totally different world in Iraq.
"It was very secretive," Hull said.
There was an Operational Security to protect family in the U.S. from terrorist cells. She had to incinerate envelopes her husband had mailed because it had their home address in the U.S., her emails were monitored and she had to refrain from saying certain things on the phone.
She recalled a peculiar incident when she was in Iraq, before Christmas.
She was ordered by a commander to put on her body armor and bring a heart-ultrasound machine and a medic. At "Six sharp," she had to be waiting in front of the hospital.
Black cars picked them up and took them to a "palatial" place secured by Iraqi guards.
At this point, Hull said she still had no idea why she was there.
She walked into a room with black-suited men speaking with former President George W. Bush. She was told by a neurologist, also the national security adviser, that Nouri Kamil Mohammed Hasan al-Maliki, Iraq's former prime minister, had "an event" and that Hull needed to evaluate him.
"It was weird to be sitting in a room with Maliki and Bush's representatives and the national security adviser for Iraq," she said.
She evaluated Maliki, who needed to be sent elsewhere for more advanced tests. He thanked Hull by gifting her with fruit and Iraqi pastries.
"I had a very rewarding career in the military. I appreciate all the opportunities they afforded me. I feel like I'm a better person for it. I've seen a lot of cultures and environments."