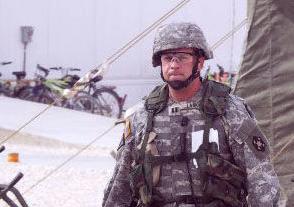 After Robert Laskey graduated from high school, he joined the U.S. Army because he felt he didn't have a lot of prospects for college.
After a military career that included six years of active duty, 13 years in the Army Reserve, a year's deployment to a base hospital in Iraq, and a bronze star medal, Laskey said he couldn't think of a better career path for himself.
"It gives self-discipline, it gives you a place to start in life, it gives you money for college," said Laskey, who lives in La Crosse with his wife and works as a flight nurse at Gundersen Health System. "It's honestly one of the best things I've ever done."
Laskey was born in Jackson, Michigan, and grew up in Ohio. He joined the U.S. Army Band at 18 as an Army musician between 1984 and 1990. Then he left to pursue a music career in Los Angeles.
"(I) promptly found out there were a hundred thousand musicians in Los Angeles just as good as me, so I went to college to become a registered nurse," Laskey said.
The career appealed to him for two reasons.
"As a Christian, the profession of nursing matches my values of caring for other people," Laskey said. "And, you can earn a steady living."
In 2000, Laskey joined the Army Reserves as a registered nurse in the 256th Combat Support Hospital in Ohio. He was reassigned to the 399th Combat Support Hospital, which was activated in June 2006.
Laskey spent three months training at Fort McCoy before being deployed to Iraq from September 2006 to September 2007.
There, Laskey worked as an emergency room nurse.
You have free articles remaining.
Register for more free articles.
Stay logged in to skip the surveys.
While there was plenty of downtime at the combat support hospital, Laskey said, the lull was broken by mass casualty events, often caused by roadside bombs, that meant all hands on deck.
During mass casualties, he and the other nurses and doctors triaged patients to prioritize the most severely injured and get them to an operating room as soon as possible. To save time, they would write the patient ID numbers directly on the patients with a permanent marker.
"It was chaos, but controlled chaos," Laskey said.
Those with injuries that required immediate attention beyond what the combat support hospital could provide, such as brain surgery, were airlifted to a hospital equipped to handle more complicated procedures.
Once the patient was diagnosed and given a course of treatment, the goal was to have an aircraft at the station and ready to load within 10 minutes, Laskey said.
"As a flight nurse, we're flying the sickest of the sick," said Laskey, who had civilian flight nurse experience before joining the Reserves. "Keep them stable. Maintain blood flow, blood pressure, heart rate. Make sure the brain has enough blood supply so it doesn't sustain injury within the flight."
Since the 399th Combat Support Hospital didn't have a flight nurse program or a flight nurse protocol — a list of procedures and best practices used by the unit during medical evacuations — it was something that Laskey helped develop.
The U.S. Army School of Aviation Medicine used those protocols as a reference at the time, Laskey said.
Laskey was awarded a Bronze Star medal, which is given to those who distinguish themselves by "heroic or meritorious achievement or service."
It's an award Laskey doesn't think he deserves. His wife recently found his medal packed in the garage, Laskey said.
"If you listen to anyone who talks about their time in Iraq or in combat, they'll say the same thing: I did my job," Laskey said. "I just happened to be very well-trained prior to going there."