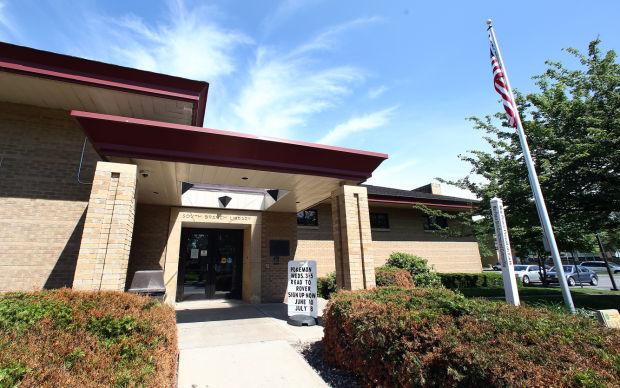 A task force Tuesday offered more than a dozen areas the La Crosse Public Library and city should explore to potentially keep its two branch sites viable in the future.
Recommendations included having a consultant study library operations for efficiency, boosting fundraising and grant-writing efforts, looking for more shared use of the branches with other municipalities or groups, and increasing the roles of volunteers.
"Our direction was to keep the branch libraries open," said city council member Andrea Richmond, who headed the city's Branch Library Task Force. "I'm pretty pleased with the recommendations going forward."
The La Crosse Library Board targeted the South Community Library, 1307 S. 16th St., for closure last fall to offset a predicted budget shortfall. But public outcry led the city to offer $26,000 from its reserves, with the library taking about $174,000 from its carryover funds, to buy the branch another year while both sides looked for more permanent solutions.
Though the task force has met since March, answers have remained elusive as the city and library board wrangle over whether having the other sites too deeply undercuts the high level of services and programs at the flagship facility at 800 Main St.
"We want to keep the branches open," library board member Jeff George said. "It's a question of money."
You have free articles remaining.
Tuesday's task force list, approved by unanimous vote, calls for:
Hiring a consultant. Richmond suggested Walter Jankowski of Reinvention LLC — who has guided recent city efforts to reorganize local government and City Hall departments — to analyze library operations with an eye on areas where services or staff overlap with other city departments, such as human resources or IT. A library expert could be tapped as well if available, or someone with local knowledge on best management practices. The library board a week ago endorsed having such an assessment done but library Director Kelly Krieg-Sigman said WiLS, the agency contacted for the study, couldn't do the work for the 2015 budget cycle.
More fundraising, such as expanding or charging admission at the Give a Gift event in November. Task force and city council member Sara Sullivan suggested donations could be linked to the idea that every $75 keeps a branch open another hour. Recruit volunteers with fundraising experience to generate ideas. Ask patrons if they would round up to the next dollar when paying fines.
Continue pursuing La Crosse County assistance for library use by non-residents: Mayor Tim Kabat has said he's willing to request county money, as those living elsewhere in the county account for nearly 20 percent of La Crosse library circulation. Since the county has its own library system, county residents outside La Crosse now pay nothing to the city or its library yet have full access to services and materials.
Finding additional uses for the branch sites: The mayor was asked to form a team with city, library board, task force and county representation to recommend other potential partners.
Consider working with the city's Human Resources Department on offering eligible employees early retirement to cut staff costs.
Better showcase the quality of the library — how money is spent on programming and other services — and have the library board more clearly define its philosophies and mission for operations.
"I really feel there's a disconnect with the public understanding how great a library we have," said Cindy Halter, the library board's representative on the task force.
The library board a week ago endorsed a plan that would keep the branches open through 2015 at reduced hours, from 2 to 6 p.m. Monday through Friday, again to gain more time to study the situation. The task force requested swapping one of the weekdays to instead be open on Saturdays.
But Kabat said Tuesday he's "not happy" with the idea of further cutbacks at the branches. "Before we start dramatically changing the library branch hours," the mayor said after the meeting, "we need to look at the entire operations."
The task force recommendations will go to the Common Council for consideration in August. The library board also has set a series of listening sessions: 4 p.m. Aug. 5 at South Community Library, 5:30 p.m. Aug. 12 at North Community Library and 10 a.m. Aug. 16 at the main library.
Richmond said she hopes citizens will show up and speak out enough to convince the library board to shift its focus from the branches.
"They (the library board) have to give a little bit there, look for less costs," she said, "while still keeping the branch sites open."