State Rep. Lee Nerison of Westby has announced plans to retire after 14 years in the state Legislature.
A former dairy farmer, Nerison, 65, was first elected in 2004 and represents the mostly rural 96th District, which includes most of Crawford, Monroe and Vernon counties.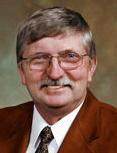 You have free articles remaining.
Assembly Speaker Robin Vos issued a statement Monday thanking Nerison for his service.
"He's been a strong voice for agriculture throughout his years in office. As the chair of the Assembly Committee on Agriculture, Lee oversaw the policy that helped fuel the significant growth of the industry," Vos said. "Lee championed the agricultural tourism law that became a model for the nation. He was also the Assembly author of a bipartisan law that created the Wisconsin Disaster Relief Fund, which has provided emergency funds to local governments following a natural disaster."
Nerison did not return a voice message Monday.
Two Democrats and one Republican have so far registered to run for the seat.
Democrat Alicia Leinberger, who operates a renewable energy business in Viroqua, is making her second run for the seat. Nerison defeated Leinberger in 2016 with about 61 percent of the votes. Viroqua dairy farmer Paul Buhr is making his first run for public office.
Republican Ahna Key is a 20-year-old Marquette University student making her first run for public office. A native of Prairie du Chien, Key has interned for U.S. Sen. Ron Johnson and worked on his 2016 re-election campaign. Key said she anticipates a contested primary.