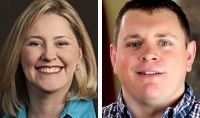 Incumbent state Sen. Julie Lassa complained about Republicans' one-party rule in Wisconsin during her re-election campaign. Her complaint landed on deaf ears among her own constituents, and Tuesday night the 24th District turned red.
Republican challenger Patrick Testin led by more than 4,000 votes with 79.8 percent of precincts reporting.
Republicans on Tuesday easily held their majorities in both houses of the Legislature, so Testin will find himself in the majority when he's sworn in come January.
You have free articles remaining.
Lassa was trying for a third full term representing the 24th District.
Education and taxes are the top issues in the 24th, according to Testin, who said he often heard about both as he campaigned in the sprawling district that runs from east of Stevens Point to the western edge of Monroe County.
Testin ran a campaign based on "closing the skills gap" he said has resulted in more than 90,000 unfilled job openings on the state's Job Center website.