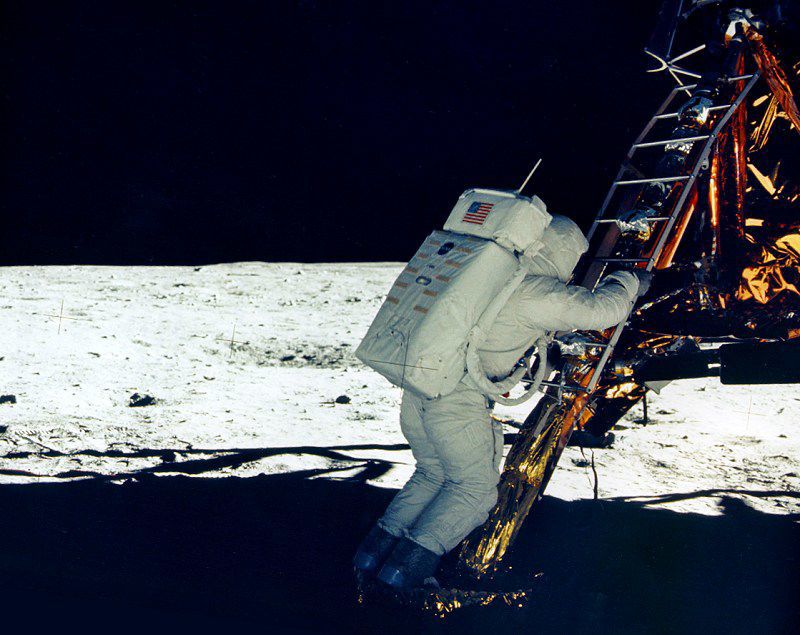 On July 20, 1969, more than half a billion people around the world paused to watch man's odyssey to the moon.
Astronaut Neil Armstrong's "giant leap for mankind" was captured by a television camera mounted on the side of the lunar module and relayed some 238,800 miles to earth as part of a live broadcast.
Local residents watching the telecast marveled at the beauty of the lunar landscape and felt pride in the extraordinary accomplishment.
Robert Price, of Onalaska, told the Tribune that he and his family went out to admire the moon, which now hosted two American tourists.
"We waved at them," Price said. "Like my teenage son says, it's real groovy, kind of way out."
Some viewers watched and dreamed of visiting the moon themselves. Three former astronauts with Wisconsin ties share their memories of the historic event on the 50th anniversary of the moon landing.
'The space program was it'
Mark Lee, from Viroqua, was 16 and lifeguarding at the city pool when astronauts Neil Armstrong and Edwin "Buzz" Aldrin reached the moon. He watched the broadcast from a black and white TV in a side room.
"I remember going outside afterwards and staring at the moon and going, OK, some day, that's what I'm going to do," said Lee, 66, a member of NASA's 10th class of astronauts. He flew four space flights and spent 33 days in orbit.
Lee had wanted to become an astronaut since the third grade, since a Mercury-Redstone rocket propelled U.S. astronaut Alan Shepard into outer space and the history books. Lee watched the first American suborbital flight at school on a television set with a coat hanger for an antenna.
The launch received a lot of local attention because Shepard was one of the Mercury Seven, the first class of astronauts NASA selected to go to space, Lee said. The chosen few included Deke Slayton, from Sparta, who later became chief astronaut and then director of flight crew operations at NASA.
Not long after Shepard returned to earth, President Kennedy unveiled an even more ambitious goal: the U.S. would put a man on the moon by the end of the decade.
"I imagined myself launching into space," Lee said. "I imagined people in capsules going around the earth. Back then, there was really no science fiction going on. There was Buck Rogers, but that was old-school. So the space program was it."
The summer after Apollo 11's moon landing, Lee graduated high school and went to the U.S. Air Force Academy in Colorado. Getting there was his first time in an airplane.
Lee studied civil engineering after a professor told him that NASA would need civil engineers because they'll be building moon bases in 10 years' time.
"It's one of the biggest lines of BS I ever fell for," Lee said.
Moon expeditions ended in 1972 with Apollo 17 as NASA's focus shifted from space travel to scientific research on space stations.
"Everyone who becomes an astronaut has their own era," Lee said. "My era went to the space station."
Lee went on to graduate school at the Massachusetts Institute of Technology, where he continued to tailor his resume toward becoming an astronaut.
Why don't you study graphite and epoxy materials, an academic adviser suggested.
"That's what they're going to build their space stations out of," Lee said. "And that's what actually got me selected to NASA."
'Wow, I want to be like those men'
Leroy Chiao watched the moon landing as an 8-year-old growing up in California. He had invited two friends over for the occasion.
"It was a hot summer afternoon and Dad had put the TV on the patio because it was so warm," said Chiao, who was born in Milwaukee.
You have free articles remaining.
Later, he would look up at the moon and think, "Wow, I want to be like those men," Chiao said.
Chiao had always been fascinated by flight so becoming an astronaut was a good fit. As a child, he built model airplanes and rockets, enjoyed technology, and wanted to be an engineer. Flying to the moon seemed like an exciting challenge and an adventure, Chiao said.
The plan was to become a military test pilot. Chiao joined the Air Force ROTC during his sophomore year at the University of California, Berkeley, where he was studying chemical engineering. Not long after he signed up, though, he began having problems in his left eye.
This would have disqualified him as a test pilot. However, another door opened when NASA started its space shuttle program, which offered opportunities for those without test pilot experience to become astronauts.
NASA began recruiting more civilians, including women engineers and scientists, Chiao said. "Women are much better represented now than when I started."
Chiao flew his first mission to space on the 25th anniversary of Apollo 11. He was struck by earth's bright colors as seen from space and the satisfaction of realizing his childhood dream, he said.
Altogether, Chiao flew three space shuttle missions and one mission on a Russian Soyuz rocket and spacecraft to the International Space Station, where he was expedition commander and NASA science officer in 2004.
He logged 229 days in space, including 36 hours doing spacewalks, and holds the distinction of being the first person to vote in a presidential election from space.
'You would have thought we'd have been on Mars by now'
Daniel Brandenstein, back from his first combat tour in Vietnam, watched Armstrong and Aldrin explore the moon's surface from his parents' house in Watertown.
His family had gathered around the black-and-white television for the astronauts' monumental first steps, Brandenstein said. The then 26-year-old Watertown native stayed up for the entire broadcast, almost three hours long, as the first men on the moon gathered lunar samples, set up experiments, and planted the U.S. flag before returning to their lunar module.
"I didn't want to miss any of it," Brandenstein, 76, said.
Brandenstein admitted feeling a bit "hacked off" that he wasn't in their shoes, he recalled during a 1999 NASA interview. "But it was a tremendous achievement and it just reaffirmed my desire to get involved in the space program."
Brandenstein had decided to become an astronaut during his freshman year at the University of Wisconsin-River Falls.
There wasn't a roadmap at the time for how to become an astronaut, so he studied the Mercury Seven, Brandenstein said. They had as a common denominator, test pilot experience and engineering degrees. So Brandenstein majored in math and physics and enlisted as a pilot in the Navy.
To log the necessary hours to apply for test pilot school, Brandenstein flew airstrikes against the North Vietnamese forces in an A-6 Intruder.
While on tour, he even got to shake Armstrong's hand at breakfast during a Bob Hope Christmas show just a few months after Armstrong returned from the moon.
Brandenstein later got to know Armstrong "reasonably well," he said. Armstrong was congenial, articulate, technically competent, humble and an all-around nice person.
"I don't think they could have selected a better person to be the first person to walk on the moon," Brandenstein said.
After Vietnam, Brandenstein went on to become a test pilot and applied for NASA. In 1978, he was plucked from a pool of 85 applicants to become an astronaut, one of 35 in his class.
By that time, Brandenstein figured he wasn't going to make it to the moon. The age of rocket launches to the moon was long over.But the space shuttle program was just beginning. And the shuttle was an amazing flying machine, Brandenstein said. He did a lot of flying in orbit, rendezvous and docking, as well as research and repair missions. "From a pilot's perspective, it was a great career."
Altogether, Brandenstein flew four missions, including three as the commander. The STS-32 mission aboard the Orbiter Columbia was his favorite, since he enjoyed carrying out medical experiments on human physiology in space, he said.
In Houston, Brandenstein also got to know fellow Wisconsinite Deke Slayton, he said. Slayton was no longer part of the astronaut program but still worked at Johnson Space Center. They connected over their taste in beer, among other things, Brandenstein said. Slayton liked Heileman's Special Export while he enjoyed the Old Style lager — both brewed in La Crosse.
Today, when he looks at the moon, Brandenstein said that he can't help but feel a sense of disappointment that we haven't achieved more in the last 50 years.
"You would have thought we would have been on Mars by now," he said. "Humans like to explore. See what's beyond the next mountain, across the next ocean."
That's what the moon landing represents to him.
Jennifer Lu is the La Crosse Tribune environmental reporter. You can reach her by phone at 608-791-8217 and by email jennifer.lu@lee.net.