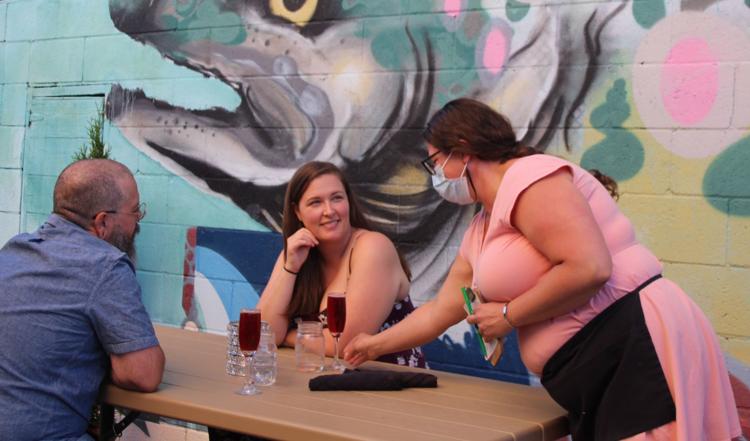 When much of the country closed down earlier this year to protect communities from the spread of COVID-19, restaurants were deemed essential, allowed to keep operating through take-out and delivery options.
And service industry workers said they felt a sudden appreciation from customers and employers that they hadn't felt before, now as a member of the "frontline."
But many of them were cynical that the feeling would last.
Since Wisconsin reopened more than a month ago, cases in some areas have begun to rise again. And many communities across the country, including the La Crosse area, are seeing a sudden increase in cases in young adults, who are less likely to feel they're at risk for the disease and more likely to venture back into society quicker.
That means visiting bars and restaurants again.
La Crosse area servers, bartenders, hosts and other restaurant and bar staff reported that they are seeing patrons taking safety measures less seriously: crowded spaces, no masks or hand washing, and unruly behavior — the feeling of appreciation the staff once felt, already fading.
Chaos at the bars
In La Crosse County, a recent spike in cases has been connected to nearly 100 young adults under the age of 30, and several businesses have been listed as "high risk" after some of their guests and staff have tested positive for COVID-19, with no way to trace exact contacts and activities while there.
The list included several bars in downtown La Crosse, and staff members are beginning to feel like the safety for employees and other guests isn't being taken seriously by those that come to drink and eat.
"It was crazy busy like it was a regular Thursday night," an employee of the Downtown La Crosse bar Brothers said.
According to staff, roughly 150 people were coming into Brothers on any given weekend night, which has now re-closed its doors after it was one of the establishments where an individual with COVID-19 had visited.
And though safety measures were taken, like opening up its second-floor space to allow for more distancing and supplying hand sanitizer for guests when they walked in, staff said patrons were starting to skip those steps as time went on, less than 10% of them using the sanitizer and everyone cramming together on the first floor.
"People are just kind of going back to normal, the way it was before the virus hit," another staff member said, saying they were actually making more money in tips than before COVID-19.
Just down the street, at La Crosse Bierhaus — formerly the Twisted Moose — and its conjoined night club, Legends, staff are also feeling uneasy after a case was linked to its facilities on the same weekend, recognizing how patrons were acting leading up to it.
"I see it. I see it. The people that come in. You can tell their attitudes, they don't give a **** about wearing a mask, and drink from each other's glasses, hit each other's Juuls," one employee recalled.
"You can really tell that some people are acting like nothing happened and don't care if you get sick, don't care if they get sick, don't care if others get sick," she added.
Staff members at the Bierhaus and Legends were initially required to wear masks upon first reopening, but it eventually became optional, and those who still chose to wear them said they were mocked by some of its patrons.
"Customers come in and are rude about the masks, which sucks when you have to hear that," one employee said, "when all you're trying to do is keep yourself and people around you safe."
The employee said one night, a drunken patron came up to her while working with a mask on, and began to cover his own mouth and muffled his voice while talking to her, mockingly saying, "oh I can't hear you with the mask on."
"After a nine-hour shift," the employee said, "that's the last thing I want to hear."
This isn't happening in La Crosse, alone, either.
In Madison, lines of young adults waiting to get into bars have been reported on weekends, and at least seven other states are seeing surges of COVID-19 cases in young adults.
Staff at Downtown La Crosse bars, many of them young 20-somethings themselves, have said they feel like young adults don't feel like the virus impacts them as much.
"It kind of breaks my heart," a La Crosse Bierhaus employee said, saying it's "easy" to realize that the spike in cases is because of 20-somethings going bar-hopping.
"They all think that it's not going to affect them," one Brothers employee said, noting that younger people think that if they get the disease it won't cause serious side effects or be deadly.
Others noted seeing more of a rush to bars since college students moved back to La Crosse a few weeks ago, and that they are getting more customers from out-of-state who wanted to visit a less restricted area.
But they said that they've seen positive responses as well, getting calls from worried friends, and supportive reactions on social media.
Health officials have said that though this spike has impacted the young population more, it doesn't mean they should necessarily be singled out.
"I think there's a lot of people that don't take this virus seriously," Jen Rombalski, the La Crosse County Health Department director, said during a June 15 press conference.
"It is tougher, I will be honest, to get at the 20-29 age group. They are a harder group to reach," she said about providing the community with information.
"I can't force individuals to recognize the seriousness of this virus," Rombalski added. "It is not just that age group."
Another wave of uncertainty
Moving forward, many area bars and restaurants are choosing to reclose or alter operations again due to the recent spike. In La Crosse County, health officials have changed recommendations for food service to now only offer takeout options.
When staff members at the Downtown La Crosse bar, Brothers, first heard early last week that someone with COVID-19 had visited their bar, they urged their managers to close down, even if for just a few days to deep clean.
Some staff then decided they didn't feel comfortable going into work anymore.
A spokesperson for Brothers said that "not a single employee has been fired," as a result of not coming into work, and that it supports any individual employee's decision not to return.
The bar has since closed temporarily, and management is investigating whether all of its safety protocols, including daily staff temperature checks, were being implemented.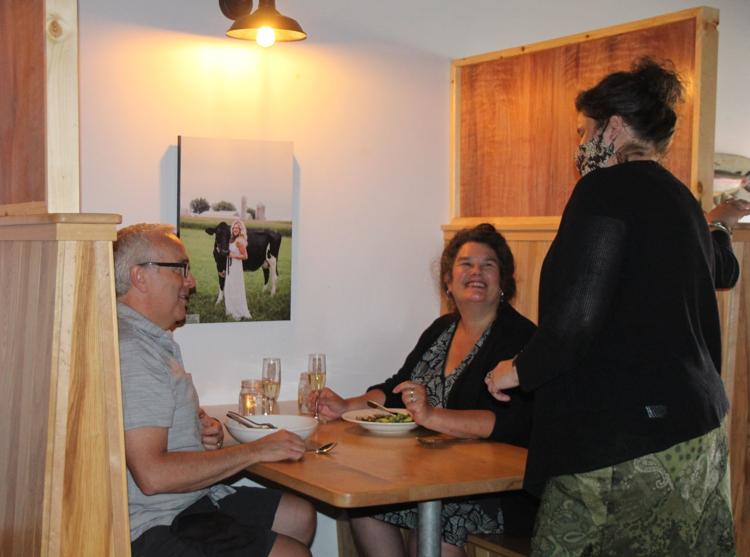 One restaurant in Viroqua has just reopened in the last week, with some unique adaptations to its operations, including a makeshift dining room in the nearby alley to help customers social distance more.
"Being that we're located in Viroqua, a small town, we really feel responsibility and an obligation to protect the community," said Luke Zahm, the owner of the Driftless Cafe, who said much of the restaurant's business comes from people outside of the area.
Zahm said it has been really tricky to balance keeping patrons and staff safe while also keeping the business afloat.
"All of the systems that we've put up in the past eight years have been reevaluated," he said, saying that the thought of closing again is both financially and emotionally "devastating."
Right now, some of the Cafe's staff has chosen not to return to work, and those who are still working are wearing masks and working around makeshift walls and partitions to keep everyone safe.
But as cases continue to grow, those precautions may not be enough anymore.
"I think frankly, there's so much uncertainty right now," Zahm said, "we're all just kind of taking this in stride."
He said that if someone contracted COVID-19 in the cafe, he "wouldn't think twice before closing."
"It would completely invalidate the messaging that we're really trying to scream from the rooftops," Zahm said.
"But I will tell you as a business owner, that's a heavy burden. It's a hard thing to know what to do," he added, saying that with little guidance, the decisions to close or not have become "weirdly competitive."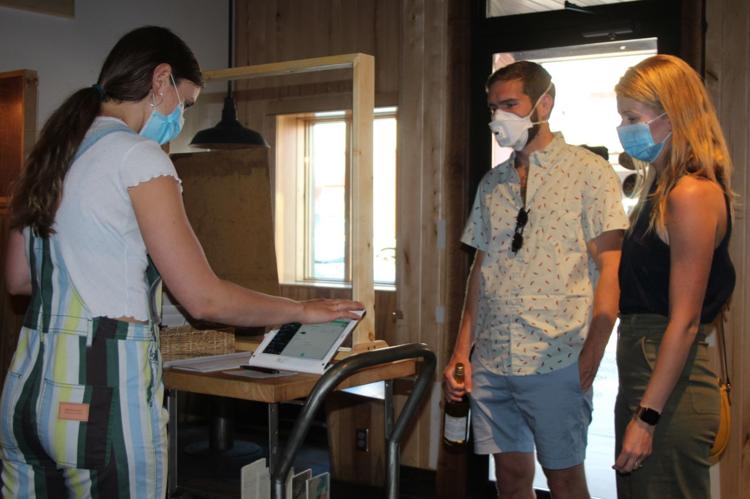 At La Crosse Bierhaus, when staff found out that an infected individual had been one of their guests everyone got tested, the bar's owner said, and some of them chose not to return to work.
"I know I have a choice to go to work, but it feels like I'm doing everything right, and the people going out are putting me at risk," a staff member said about choosing not to work.
She said management was really understanding, but at the time, wished the bar would close.
"My intention is not to ever make somebody work if they don't feel comfortable, and I'm certainly not going to threaten someone's job or put someone's job on the line," the owner, Will Jedlicka, said.
On Friday, the restaurant and dance club announced that one of its employees had tested positive, and closed for the weekend, though the owner said it would be hard to choose to close again.
"I'm an independent," Jedlicka said, "I'm one guy, that doesn't have the financial resources as some of the other bars."
"We're watching it day by day," he said.
Concerned about COVID-19?
Sign up now to get the most recent coronavirus headlines and other important local and national news sent to your email inbox daily.