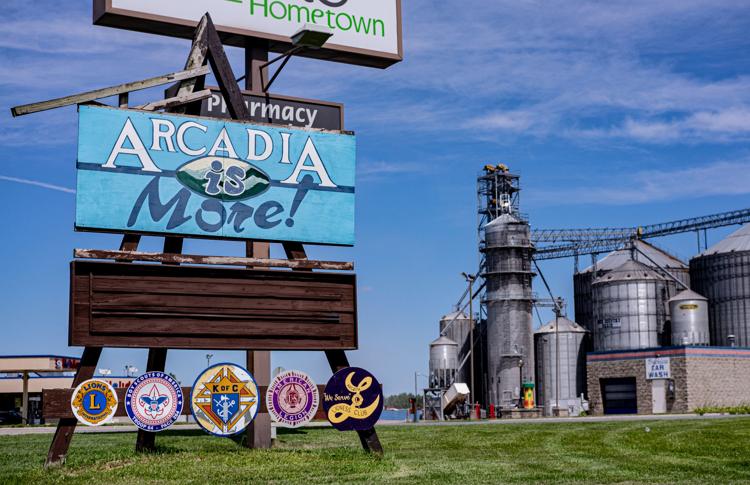 An older woman opened a fruit snack packet for her great-granddaughter as she sat in an armchair in her daughter's living room. The child climbed onto her lap to await the treat as her great-grandmother spoke to her, lovingly but firmly, in Spanish as she handed down the snack and turned her attention back to her translator.
There is fear among some people because they know they could be taken, they know there's a chance they could be deported, the woman, who wished to remain anonymous, said. "They accept that; that's just how it works."
It's been almost a year since the small town of Arcadia was paralyzed by an ICE raid that detained 15 residents in one weekend. Almost 40% of the town's 3,000 population identified as Latinx, according to the 2017 Census, and since that September day, the community has struggled to heal the wounds caused by the raid while preparing for the possibility that it could happen again as threats of wide-scale ICE operations spread.
ICE officers are out in communities every day conducting targeted arrests, Midwestern ICE spokeswoman Nicole Alberico said in an email after the September raid.
"ICE conducts targeted immigration enforcement in compliance with federal law and agency policy," Alberico said. "All of those in violation of U.S. immigration laws may be subject to immigration arrest, detention and, if found removable by final order, removal from the United States."
The impact on local businesses, religious worship and schools
Gilberto Hernandez has been in Arcadia for about three years. He owns and operates a Latinx grocery store along a main street in the two-stoplight town, along with food trucks in the area and a restaurant in nearby Whitehall.
He remembers the September raid and said Arcadia became a ghost town.
"When [ICE] comes here, everything is closed," he said. Community members were afraid to leave their homes. No one came into his store, no one went to work for about three days.
People communicate ICE activity on social media platforms such as Facebook, but the validity of the information is questionable. "Sometimes it's correct, sometimes it's wrong," Hernandez said. There were rumors of ICE activity Arcadia and Eau Claire as recent as late July.
"I received so many calls, people asking 'hey what happened?'" he said, but he didn't see evidence of a raid taking place. Regardless, evidence of widespread fear was apparent throughout the community.
"More people stay in their homes, people are not working" when these rumors spread, he said. Families will send their children to pick up food from the grocery stores so that they have something in the house to eat, because the father can't risk going outside.
"It's crazy," he said. "For the business, it's bad."
Hernandez works to support his family, but the impact of threatened ICE raids cut into his income significantly, and he struggles to break even. The community is living in constant fear, he said.
A few blocks away, Father Kyle Laylan, an associate priest at Holy Family Catholic Church who works with the immigrant community in Arcadia, sat in the basement of the church rectory and discussed possible ICE activity with Father Sebastian Kolodziejczyk. Laylan also heard a rumor that ICE was in town late last month.
He has been in Arcadia for a year and remembers the September Sunday the raid took place; he was celebrating the Spanish language Mass that day.
"The church was empty," Laylan said. "We had Mass at noon, and there were very few people."
Word of confirmed ICE presence in Arcadia traveled quickly, and the community knew that officers were in town that morning. Many people chose to stay in their homes rather than risk questioning if they crossed an ICE officer on their way to church.
"People are very fearful when ICE comes around, so they'll hunker down. They're not going to travel much," Laylan said. "They live in fear."
Sebastian came to Holy Family Catholic Church six years ago after he spent 12 years as a priest at an orphanage in Peru. He sees resilience in the immigrant community and a unique kind of strength.
"They know what their situation is, and it comes with the territory so to speak. They assume that risk," he said of undocumented people living in the area. "They learn how to live with it. … I don't know if I could live that way, but they learn how to," he said.
Arcadia School District Superintendent Lance Bagstad sat at a conference table in his office, less than a mile from Holy Family Catholic Church. According to his estimate, 70% of the student population of 1,300 identifies as Latinx.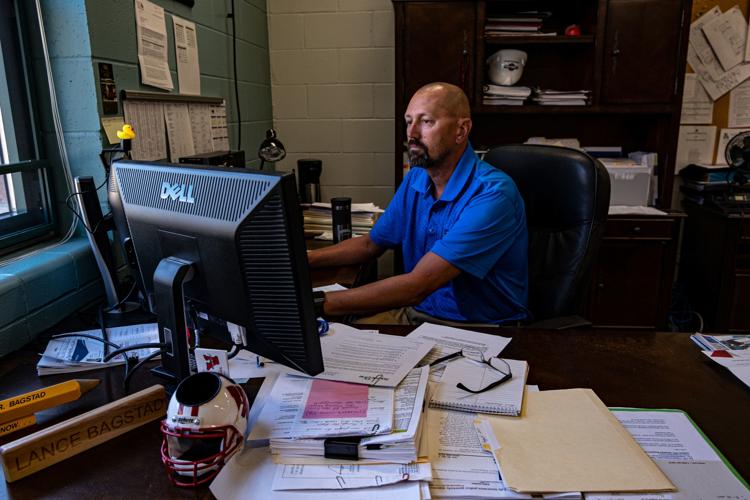 When Bagstad heard about the September raid, he sent an email to all faculty and instructed them to not allow ICE agents to enter the building if they came to the door. Arcadia schools are equipped with doors that automatically lock, and there's doorbell with a camera that visitors must press to gain entry — a security measure put in place in the wake of school shootings in other parts of the country, with the help of a grant from the state.
"There's federal legislation and directive that basically says that school buildings and certain other entities are off-limits for ICE agents, but I wanted our staff to make sure that we had a united voice," Bagstad said. He also told staff that if an agent approached them outside of the school, they should direct the agent to him and to not answer questions or engage with the agent.
Bagstad's neighborhood is predominately Latinx, and he said there was uneasiness among his neighbors after the September raid.
"Normally there's kids and families at the parks, using the shelter, playing basketball, out in the yard doing things," he said. "It was very eerily quiet in our neighborhood that weekend."
He said that event, and subsequent events, had an impact on area families, and they received a number of calls from parents asking whether it's safe to send their children to school.
The school system developed a mental health and trauma team last year with state-granted funds. The team trained the staff to help ease the fallout from events such as the September raid — as well as the more recent shooting in El Paso and ICE activity that detained nearly 700 people in Mississippi in early August — and how to recognize when a student is dealing with trauma.
"When those types of things are going on, that's going to create family trauma, family uneasiness with any family that's Latino," he said. "Every time a child experiences another traumatic experience, it has that much more of a negative impact on their academic and behavioral needs."
The Arcadia School District is exploring the possibility of enacting a safety plan for families, in the event a parent is detained or deported, in an effort to minimize the trauma experienced by the child, with the help of La Crosse area attorney Chuck Berendes.
A lack of viable visa opportunities
Berendes worked in immigration law for the majority of his career, with a nine-year stint at Catholic Charities. He estimates there are thousands of people in western Wisconsin who entered the United States outside of a port of entry.
"If you don't have a spouse, a parent or an adult U.S. citizen child to petition for you," then there are few channels to gain citizenship once you've entered into the country outside of a port of entry, he said. Even if an individual has family in the U.S. to petition for them, it can take decades for their application to be approved, according to the Department of State visa bulletin.
"If you're from Mexico and your brother petitioned for you, currently it would be like 30 years before you would be eligible to apply for a green card," Berendes said. "So, you wait in Mexico for 30 years and then apply."
"So to say 'they should follow the process', well I don't think a 30-year waiting period is a workable process," he said.
The reason people come here, overwhelmingly, is to work labor jobs, according to Berendes, and obtaining a visa to work in the U.S. isn't an easy process. Skilled and highly skilled workers are favored among employment immigration visa applicants and "that obviously doesn't line up with the demands of the economy or employers," he said.
If you're a dairy farmer in Wisconsin who is already struggling financially due to market woes but needs to hire help and can't find any prospective employees locally, how do you connect with an eligible employee in Mexico to offer that full-time, permanent job? he asked.
If people connect with a U.S. employer who wants to hire them after they've entered the country outside of a port of entry, the prospective employee must go back to their country of origin to apply for a work visa, which triggers a three- to 10-year bar before they're able to begin the process.
"I think that's one thing people don't really understand, like, 'well there must be some sort of way, like there must be some sort of visa.' No. There's no visa," Berendes said. "If you've been here for more than 180 days, you can't come back for three years, or if you've been here for more than 365 days, you can't come back for 10 years."
If people were to travel through a port of entry, they typically do so because they already have a visa, Berendes said, unless they're seeking asylum.
More than 765,000 visas were denied during fiscal 2018, according to the U.S. Citizenship and Immigration Services, and as of the second quarter of the fiscal 2019, more than 5.5 million visas were in pending status. It's unknown how long those applications have been in pending status, but the time could span from months to years, according to Erin Barbato, the director of the Immigrant Justice Law Clinic at the University of Wisconsin Law School.
An attack on asylum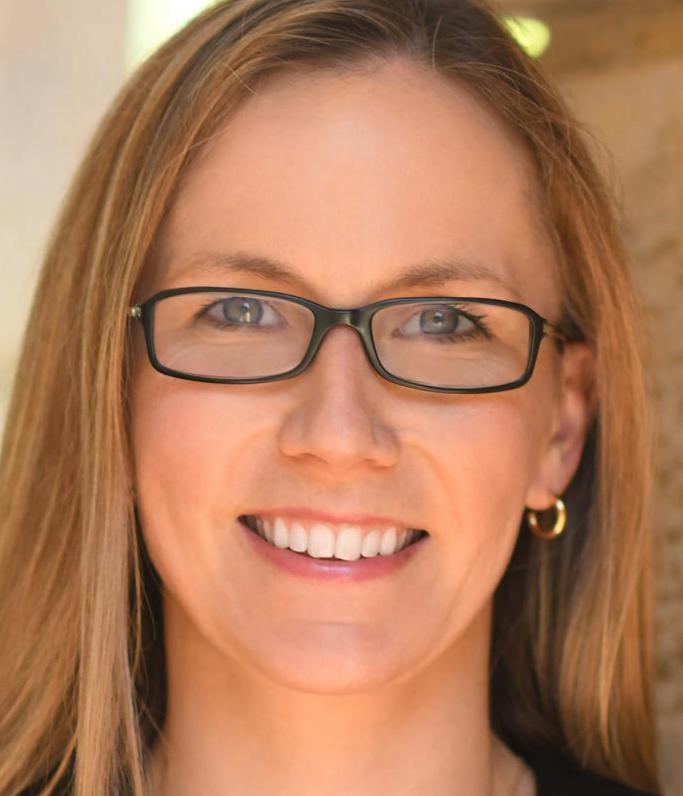 Roughly 75% of Barbato's clients are seeking asylum, and she's worked with some of the families who fell victim to ICE activity in Wisconsin in September. Recent threats of widespread ICE raids cause a great deal of concern in the community, she said.
"In Madison, we're seeing a lot of people who are frightened and often confused about whether ICE is conducting a raid or whether local police are just doing their job. It's become a prominent issue," she said. "Even my clients that have lawful status or are in the process of obtaining lawful status are scared."
Increased enforcement has also caused an increased need for trusted legal advice and she receives calls on a daily basis from individuals who are scared.
Her clients are people who seek asylum both affirmatively, which means they have not yet been detained, and defensively, which means they were detained in their new community by an ICE officer, or they were brought from the southern border to an immigrant detention facility in Dodge County, Wisconsin.
The clinic represents people seeking asylum from Nepal, Turkey, Honduras, Nicaragua, Venezuela, among other countries.
"Many of them are seeking asylum based on their political opinion, they've been persecuted by their own government because they've spoken out against their government," she said. "We have people seeking asylum because of their particular social group; because of their sexual orientation they've be persecuted by their government or by actors the government is unwilling or unable to control. We also have people who are seeking asylum because of gangs and domestic violence in their home country, and those cases have become incredibly difficult."
Attorneys General Jeff Sessions and Bob Barr overturned precedent cases, one of which — Matter of ARCG — involved an asylum seeker from Guatemala who was a victim of domestic violence and unable to leave her husband. She was able to qualify for asylum because the Guatemalan government was unable to provide her with protection, but Sessions overturned that case in June 2018. He certified it to himself and changed the precedent based on his power as attorney general.
Another precedent case, Matter of LEA, involved asylum seekers who have family members who have been persecuted by gangs or another group. Based on their familial connection to the persecuted individual, they qualified for asylum before July. At the end of the month, Barr certified the case to himself and overruled the precedent based on his power as attorney general.
"The attorney general has had an incredible amount of power in setting the eligibility standards for people seeking asylum and have been attacking what in the past would have been strong asylum cases," Barbato said. "Now it's become very difficult if not impossible to qualify for asylum."
Some of the cases that Barbato's clinic took on two years ago had strong asylum claims based on the laws at that time. But now, as those individuals enter into their final hearings, their eligibility for asylum has been stripped because of the actions of the attorneys general.
"Our ability to help people has changed," she said. In the past, she and her students had two years to prepare an asylum case, which is necessary to obtain the amount of evidence they need to provide to gain a successful ruling in favor of their client. They conduct research and interviews, collect records of medical examinations, expert testimonies from clients and family members, obtain documents from abroad among other articles.
"As of recent, we have as little as six weeks to prepare these cases," Barbato said. "I worry, for our clients, we can't get the evidence together to prove their cases simply because of the time limits, not because the evidence isn't available."
Hope amid fear
In Arcadia, the woman sat quietly in her armchair, in her daughter's home, and looked across the room at her two great-granddaughters as they played.
"People here, especially those who have children, want to raise their children here because they're afraid if they have to go back to Mexico, their children won't be safe," she said through her translator.
Seven out of 10 of her children live in various cities across the United States, some with families and grandchildren of their own. They crossed the border at different times for different reasons, but she was able to reconnect with one of her sons in recent months, who she hadn't seen for more than 20 years. He recently went through the naturalization ceremony to become a U.S. citizen.
He's doing so much better, now that he's in the U.S. she said, glowingly.
Get local news delivered to your inbox!
Subscribe to our Daily Headlines newsletter.