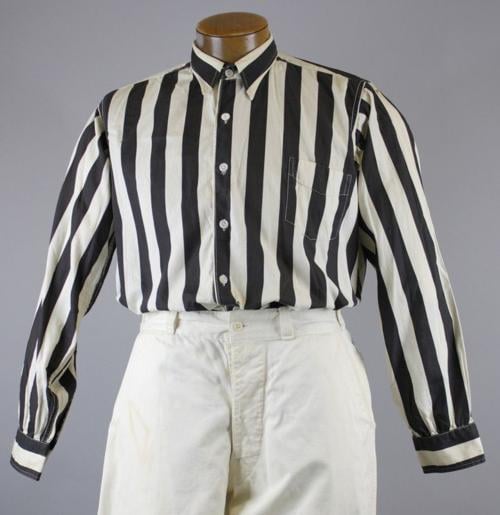 Before the 1920s, football officials dressed much differently than they do today. A New York Times article from 2013 reports that football referees wore a beret, bow tie and white dress shirt. They also used horns, not flags, to signal penalties.
This look could cause on-field confusion, because football players often wore white uniforms, too, and they could not easily distinguish a teammate from an official.
The striped uniform we see today was introduced about 1920 after an Arizona quarterback mistook referee Lloyd Olds for one of his teammates and threw him the football. This mistake drove Olds and friend Greg Moe, who owned a sporting goods store, to design a black-and-white-striped uniform that would stand out.
Football fans hated this new look at first, but it stuck around because of its distinctive style. Many people tried to change the uniform in a variety of ways — such as adding red stripes when color televisions became popular — but none of them could dethrone Olds' design. This design later was adopted by other sports, including hockey, basketball and soccer.
The uniform for football referees has changed little over the years. According to ESPN, the most recent change came in 2006 when NFL referees selected new uniforms to accommodate a wider variety of weather. This also was when wider white stripes and thinner black stripes were introduced.
This uniform was donated by Leon Miller, who attended, taught and coached at the University of Wisconsin-La Crosse for more than 40 years. He was widely praised for his officiating work, and he served as associate director of the university's Physical Education Department.
Fans will be able to see the almost-century-old referee uniform still on the field at Sunday's Super Bowl in Minneapolis.