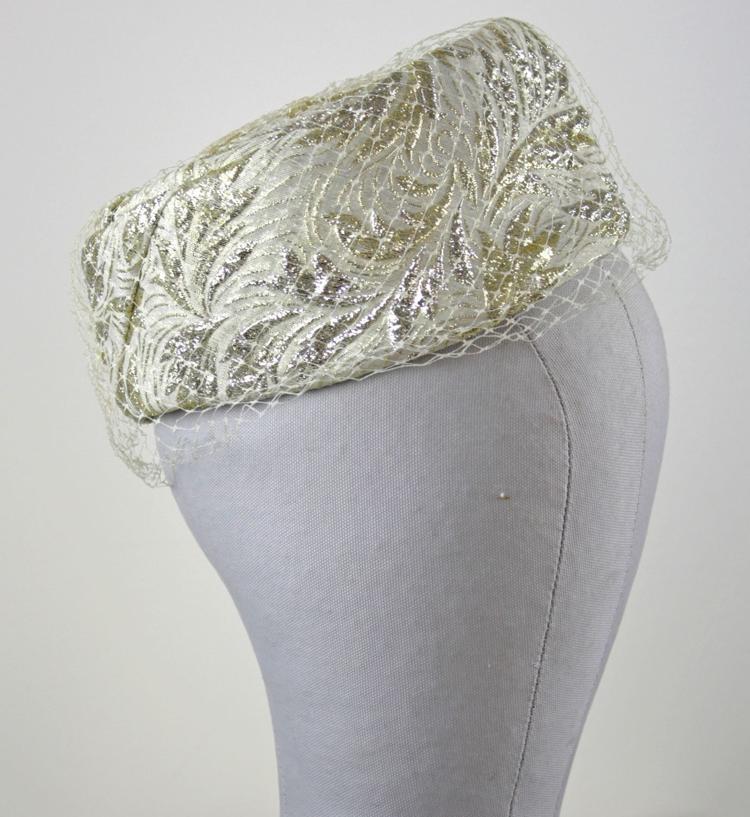 This elegant pillbox hat sewn by La Crosse milliner Aletta Werel offered its wearer the height of style in the late 1950s to 1960s.
Handcrafted of gold and silver brocade with cream veiling, it was just the thing for a woman to wear to a fancy party or wedding to make a fashion statement.
Pillbox hats were the rage at that time, especially during the Kennedy administration (1960-1963), when Jacqueline Kennedy wore them frequently.
Naturally, everyone wanted to look like the glamorous first lady. Metallic brocade was especially fashionable then, too, appearing as a part of many dressy ensembles.
Of course, hats had been important fashion accessories for women for decades. The World War II years were no exception. Most women owned several hats in different styles and with varying degrees of dressiness.
Hats were a virtual necessity for women at most social gatherings. This offered Aletta, an enterprising local milliner, the opportunity to start her own business.
Aletta Boma was born in 1899, the daughter of La Crosse grocer Sebastian Boma, and lived here her entire life. She married Matthew Werel, a World War I veteran, in 1918. Together, they had two daughters, Aletta and Dolores.
By the 1940 Census, Aletta is listed as running a hat business from her home at 826 S. 9th St. in La Crosse. Both daughters were married and living there, so they may have helped their mother in the business.
Aletta apparently did well, because the first listing for her millinery business appeared in the La Crosse City Directory in 1945.
Aletta's Hat Shop was located at 904 S. 9th St., just a block down the street from Aletta's house. The shop remained there until 1953, when Aletta moved to a more prominent location at 801 5th Ave. S.
You have free articles remaining.
Register for more free articles.
Stay logged in to skip the surveys.
Aletta's hats were known for their quality. Each was designed and sewn by her. Her label, "Aletta, La Crosse" inside hats constituted her stamp of approval.
After her husband Matthew's death in 1959, Aletta continued to run her hat business. She had a following in the city, as well as a good livelihood. Her hats were well known, and she was expert at making them.
The last La Crosse City Directory listing for Aletta's Hat Shop was 1970. By then, fashions had changed to a more youthful, casual look. Women's hats were no longer needed for almost every occasion.
Decreasing demand and ill health may have figured in Aletta's retirement at age 71. She died a few years later in 1976, and was buried in La Crosse's Catholic Cemetery.
Aletta's brocade pillbox hat represents an era when hats were an essential part of women's attire. It also showcases the career of an enterprising La Crosse woman who made her millinery talent work for her for at least thirty years.
Hat making is just one of many crafts that were once part of life in the Coulee Region, and at Folk Life La Crosse you will be able to see many of them demonstrated, and even try your hand at some yourself.
Old-time skills ranging from lace making to wood turning to letterpress printing will be on display from 10 a.m. to 3 p.m. Saturday, July 13, on the grounds of Hixon House.
Tickets are available at the gate, or can be purchased ahead of time at lchshistory.org, or by calling the LCHS office at 608-782-1980.