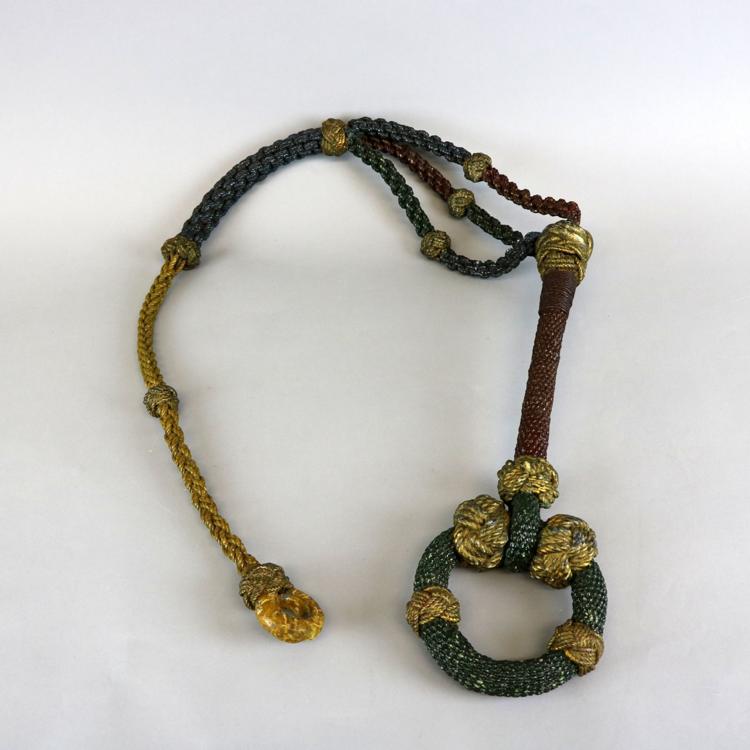 This steamboat bellpull is a fantastic example of folk art from the upper Mississippi River.
Its maker is unknown, but its history, form and function are unmistakably products of the steamboat era in La Crosse.
Ropes and rigging have been essential elements of navigation for thousands of years.
A sailor's knowledge of various styles of knots often led him to create decorative and useful items with rope during his down time on long voyages. Knotting, rope braiding and macramé became a part of sailing lore that still endures.
This seaman's heritage carried over to river navigation, even into the steamboat age, though Mississippi River boats never required as much rigging as sailing boats. The person who made this bellpull was showing off his creativity and his knowledge of knots to fellow shipmates.
About 50 inches long, this pull features a tightly braided rope nearly an inch in diameter in the form of a ring.
The thick rope continues to the center of the pull where it separates into three thin strands of braids for 10 inches before coming back together, and then finishes with several more styles of braiding. Spread along the way are 13 decorative knots known as Turk's heads, each one painted gold. The rest of the bellpull is painted in red, yellow and green, and then coated with a thick sealant.
It is a real masterpiece of rope braiding and knotting.
You have free articles remaining.
Register for more free articles.
Stay logged in to skip the surveys.
This bellpull was used on board the steamboat Kit Carson, a lumber rafting towboat that worked out of La Crosse for much of its life between 1880 and 1916.
At the turn of the century, it was operated by the local McDonald Brothers shipyards and piloted by Capt. Harmon Bresee of La Crosse. This pull was probably tied to a rope that connected to the clapper of the large bell which sat several feet in front of the pilothouse. Pulling on the ring, Bresee could send signals to the deck crew that could be heard clearly over the clamor of work.
How do we know that this was the bellpull that Captain Bresee used? It must have been special to him, and possibly it was even made by him, because he removed it from the Kit Carson and kept it as a souvenir.
Eleven years after he died, this elaborate bellpull was donated to the La Crosse County Historical Society in 1923 by his widow, Esther Bresee.
For those with young children — or grandchildren — a great time to come to Riverside Museum would be Friday, April 26. "Night at the Museum," from 5 to 7 p.m. will be a fun, interactive night designed for preschool and elementary-aged children and their families. Activities will include:
Hands-on Archaeology
Introduction to Ho-Chunk Language
Play-Doh Pottery & Beading
Learn about the War Eagle from a Riverboat Captain
Admission will be free, thanks to Xcel Energy and Gundersen Health System. Thanks also to our partners, the Ho-Chunk Nation's La Crosse Youth & Learning Center, the Mississippi Valley Archaeology Center and the University of Wisconsin-La Crosse Archaeology and Anthropology Club.