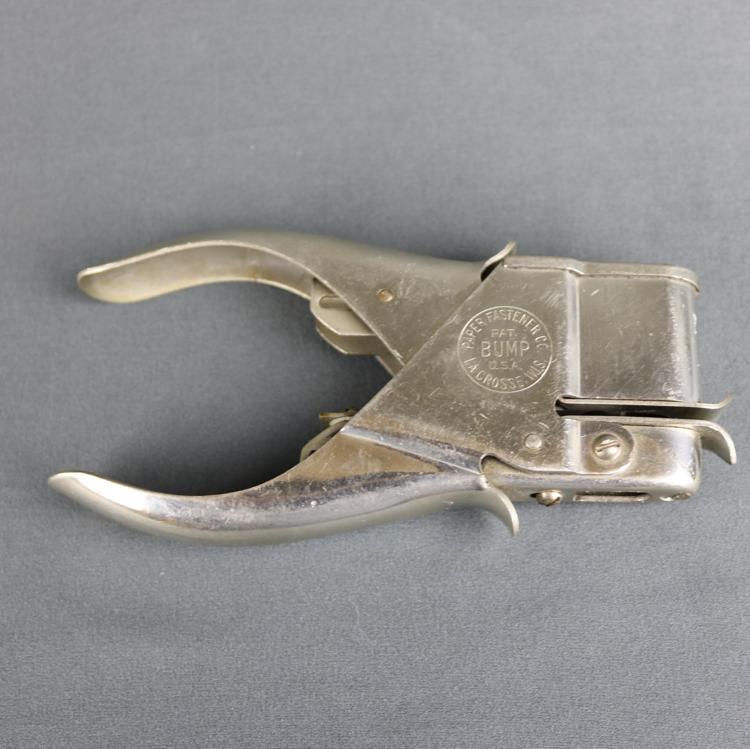 While this object may appear to be a hole punch, it is much more than that. It is "a novel device that manufactures something from nothing," as described by the company.
This environmentally green Midwest invention is a paper fastener that was meant to replace the use of paperclips and staples.
With one simple squeeze, this handy office tool fastens two or more pieces of paper together. The fastener cuts a small triangular-shaped hole in the paper, folds back the cut triangle, and then slides it into a slot cut in the paper to fasten it in place.
According to George P. Bump, in 1909, he was employed at a machine factory in Newton, Iowa. A fellow employee suggested that there would be a worldwide market for a machine that could fasten papers together without the use of clips. Bump accepted the challenge presented by his coworker and created a preliminary model of what would later become his patented paper fastener.
Bump said that he shared his patent 50-50 with a businessman from Iowa, J.C. Hawkins, because Hawkins had made a deal with Bump. Hawkins would provide the means for production and Bump the fastener, and the partners created the Clipless Paper Fastener Co. Unfortunately, Bump did not get this deal in writing. After the patent was approved, Hawkins began producing Bump's invention on his own.
Hawkins had a contract with the Stamping & Tool Co. of La Crosse to create the fastener. Not soon after, Bump moved to La Crosse and contracted with the same company to manufacture 10,000 paper fasteners. Bump's move and order caused a lengthy and expensive lawsuit that ended in 1914 in Bump's favor.
The Bump Paper Fastener Co. created three models of nickel-plated steel fasteners. One was a stand fastener and hole punch for a tabletop, and a wide and narrow handheld variety like the one pictured.
In 1927, the La Crosse Tribune stated that the company had sold hundreds of thousands of units. Bump's invention spread the name of the city of La Crosse around the world with shipments sent to foreign countries. The products produced by the company bore the text "Bump Paper Fastener Co. La Crosse, Wis."
Bump invented and patented other inventions while living in La Crosse, including an air compressor pump, a terminal clamp, a carburetor-adjusting mechanism, a rotary engine and many others. In 1930, Bump changed his company name to the Bump Pump Co., based on his new invention. However, the company was still producing his first patented invention, the paper fastener.
Get local news delivered to your inbox!
Subscribe to our Daily Headlines newsletter.