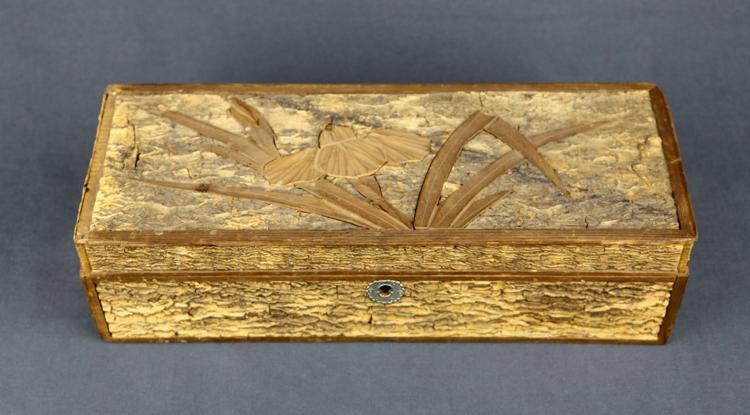 The wooden candy box is from the Joseph B. Funke Chocolate Co., which once sold a premium line of chocolates in La Crosse. It's a bit different from the disposable paper boxes that chocolate comes in today — this box was meant to be retained and used by the buyer after its contents were consumed.
It's 12 inches long, 4½ inches wide, and not quite 3½ inches high. Difficult to date with any precision, this candy box was likely made circa 1900 to 1930.
The outside is covered with a thin layer of textured bark from the cork oak tree, framed by narrow strips of harder wood. The lid has a carved wooden inlay of an iris plant. Whoever received this box of chocolates could have used the box for keepsakes, sewing supplies or any number of small items.
Joseph B. Funke was a prominent businessman in La Crosse who owned Funke Chocolate Co. The four-story brick building that housed the Joseph B. Funke Candy Co. until 1933 at 101 State St. is now The Charmant Hotel, named after one of Funke's premier hand-dipped chocolates.
You have free articles remaining.
After moving to La Crosse in 1880 at age 24, Funke purchased an interest in a wholesale candy manufacturing company with Jacob Schreiber.
It's often said that the German immigrants, being fond of their beer, were responsible for the success of La Crosse's brewing industry, and that is certainly true. What is not often remembered is that the Germans also were fond of tobacco and candy, and many of those successful businesses were also established or run by German-Americans including Funke and Schreiber.
They shared the business for five years, under the name of Schreiber and Funke, before Funke bought out his partner and made it a family business with his father and two brothers.
While many people recognize the Funke name for its association with candy manufacturing, Joseph deserves recognition for his commitment to his community and the cause of education.
He worked to increase educational opportunities for all, and in 1912 was appointed president of the La Crosse Vocational School's board of directors. Aside from a two-year hiatus, Funke devoted himself to that office until he died in 1930.
Under his guidance the once single-room school grew into a 40-room institution, and was on its way to becoming what we now know as Western Technical College. Until the time of his death, Funke was still working to improve educational opportunities, and his last phone call was to learn the results of a recent board meeting at the school.