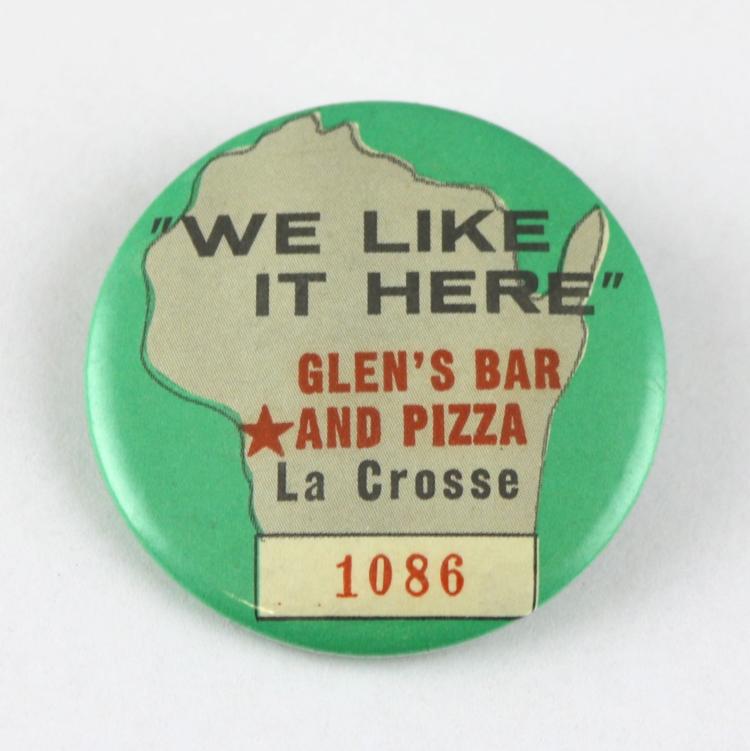 The North Side of La Crosse has a proud and unique heritage.
Taverns of North La Crosse was the theme of last fall's La Crosse County Historical Society Historic Pub Crawl. One of the featured taverns, the Verse Lounge & Grill, occupies a building with a storied history — it once housed a popular tavern known as Glen's Bar and Pizza.
This week's item is a button from a time when Glen's was in business.
About 1924, Glenn A. Bloss initially ran a billiards room at 500 Copeland Ave.; this was another featured location in the most recent Pub Crawl, now occupied by Bottoms Up.
In 1950, Bloss purchased the building on 717 Rose St. (today The Verse Lounge and Grill) and opened Glen's Tavern.
He ran the tavern with his son, Vernon "Vern" Bloss, until sometime in the late 1950s, when he retired, and Vernon took over the business. The name of the business changed many times. At some point after acquiring the business, Vernon changed the name to Glen's Bar and Pizza.
Although today many bars in La Crosse use legal forms of gambling, the law was often much stricter during the time Vernon owned the tavern. Glen's was charged more than once with illegal gambling, such as the operation of a pinball machine and the use of tavern lottery contests.
Despite this, Vernon's business was popular and Vernon himself advocated for the people of the North Side.
When the Oktoberfest Parade Committee decided to move the parade southward in 1964, many North Siders, including Vernon, felt rebuffed by the city. A frequent letter writer to local papers, he made the case in one letter to return parades to the North Side. He continued to rally for the parades' return. After many complaints, the city later rerouted the parade to once again serve the North Side.
In 1971, Vernon was appointed the first Torchlight Parade marshal in recognition of his community efforts.
This button for Glen's Bar and Pizza, which probably dates from the early 1960s, came from the late local historian and politician Gordon Feinberg.
Feinberg, who specialized in Jewish studies and was a North Side 2nd District supervisor, was also an avid button collector, keeping some from his favorite local events and businesses.
Feinberg left his collection of roughly 1,000 buttons to the La Crosse County Historical Society in his will.
It is unknown how often Feinberg frequented the bar, but after nearly 40 years of operation, it was clear that Glen's Bar and Pizza was a beloved part of the North Side for manyand that Vernon Bloss' efforts to return parades to the area have created an impact that still echoes in the North Side today.