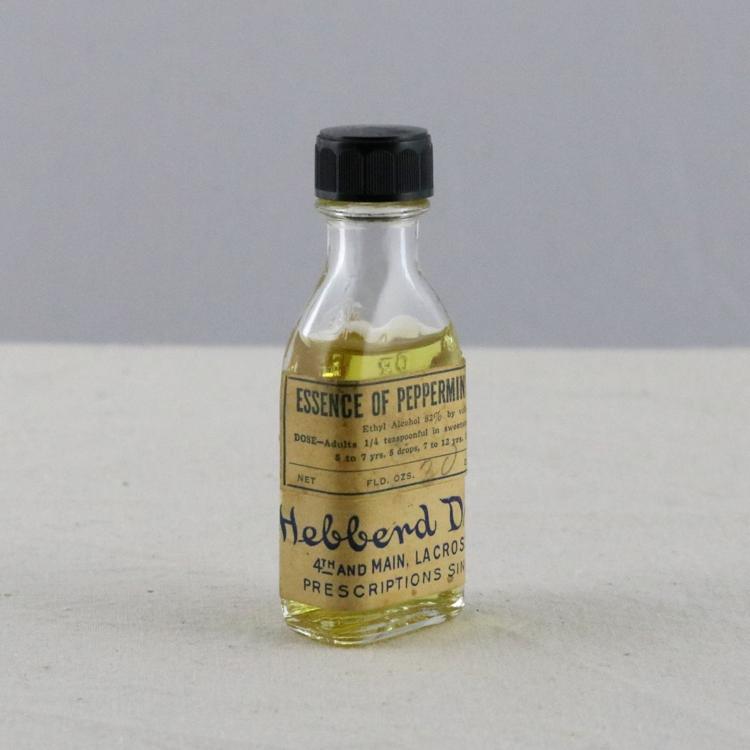 This small glass medicine bottle with a screw-on cap reads, "Essence of Peppermint Hebberd Drugs 4th and Main, La Crosse Wis, Prescriptions since 1852."
The exact date of the bottle of the essence of peppermint is unknown, but peppermint has been used as a medicinal remedy for centuries.
Today, peppermint is mainly used to flavor baked goods and candy.
But, peppermint has also been used to allay nausea, relieve stomach pains, and even to cover the taste of other medicines. It was also used to relieve headaches, toothaches and arthritis.
Essence of peppermint differs slightly from peppermint extract or oil.
Peppermint extract is created by distilling dried leaves and flower parts of the plant in water. Essence of peppermint was prepared by mixing peppermint oil with alcohol.
Essence of peppermint holds all of the medicinal properties of other forms of peppermint, but it was marketed to heal colic, stomach pains, low spirits and loss of appetite for both adults and infants.
Essence of peppermint was sold across the United States for its medicinal properties, so it is not surprising the local drug store carried it as well.
Hebberd Drug Store began in 1852 when La Crosse was still a relatively small town of a few hundred people.
You have free articles remaining.
Register for more free articles.
Stay logged in to skip the surveys.
The business was owned by George Hoare (later changing his name to Howard) and S.D. Hastings. The drug store's first location was near where the Charmant Hotel is today. However, the business moved multiple times over the years.
Howard was the predecessor of the Hebberd business. He was born in Gloucestershire, England, in 1832, and emigrated to the United States at 18 with his family due to an economic depression in England.
He opened the La Crosse business after settling in the area. After Howard's death, the business was sold to the Hebberd family in 1894.
In the years under the Hebberd Family, specifically Edward Smith Hebberd, the drug store changed considerably. A soda fountain was added, and it began making ice cream. Eventually, in the 1920s a lunch counter was added.
Edward's son, Arthur, became a partner of the Hebberd Drug Store after graduating from the University of Minnesota School of Pharmacy.
During World War II, Arthur's interest turned to the production of cosmetics. During the summer of 1957, Hebberd closed the historic La Crosse business to focus his time on the Dumont Company, which produced hand creams such as "No Crack," and other cosmetic products.
At the time of closure, Hebberd Drug Store was the oldest business in La Crosse still in operation. The Dumont Company still exists and still makes "No-Crack" hand cream, which has a devoted following.
The bottle was donated to La Crosse County Historical Society in 1990 by Arthur's wife, Mary Hebberd.
The record for the bottle of essence of peppermint can be found in La Crosse County Historical Society's online collections.