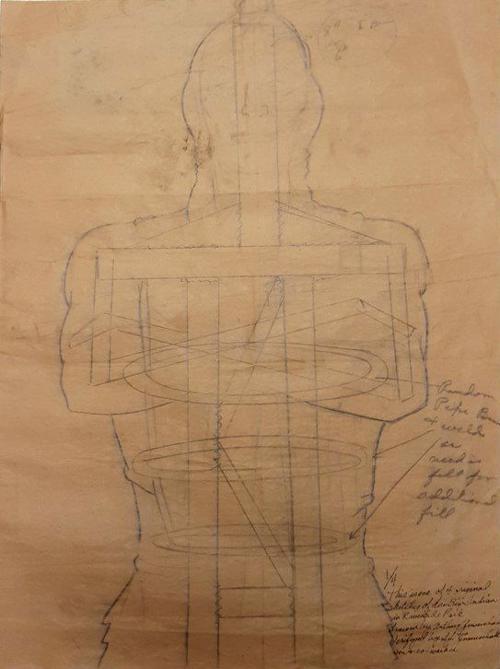 This Things That Matter installment is dedicated to Hiawatha. Not the historic Hiawatha revered by some Native Americans, but the other Hiawatha, the one that European-Americans have romanticized and idolized ever since Henry Wadsworth Longfellow's epic poem was published in 1855.
Several generations of schoolchildren memorized passages from "The Song of Hiawatha," and other artists, writers and musicians used it as inspiration for a century or more. The influence of Longfellow's noble savage, who supplanted authentic Indian history in mainstream culture, was broad and deep.
This is the "Hiawatha" who stands watch at the north end of La Crosse's Riverside Park, observing the citizens of La Crosse, as they argue past each other about his attributes. Does he honor the Native Americans of the region? Or does he negate the very reality of their existence?
This technical drawing is one of Anthony Zimmerhakl's original plans for the statue. It shows an armature of iron rods around double central beams, confirming that the statue is hollow. Notes on the drawing reflect the artist's thought process and show his understanding of his medium — concrete. There also is a note in another handwriting that states: "this is one of 4 original sketches of the Big Indian in Riverside Park drawn by Anthony Zimmerhakl. Verified by S.J. Zimmerhakl son + co-worker."
This sketch is in the collection of the La Crosse County Historical Society; it was donated by Mary A. Grass, a former Zimmerhakl neighbor.
As executive director of the La Crosse County Historical Society, I have an ulterior motive for writing about the controversial statue. I want to toot our horn and let readers know about an opportunity to learn the real history of the statue in Riverside Park. One of the best-kept secrets in La Crosse is our quarterly newsletter, Past, Present & Future, which members receive and always features a lengthy article about local history.
In the past two years, we have published articles about local architecture, Hmong resettlement in La Crosse, German singing and shooting societies, and the first female minister to serve at a church here. Any story of life in the Coulee Region is a candidate to be documented in Past, Present & Future. Ours is the only publication focusing on La Crosse regional history, and our articles are well-researched and well-written.
After realizing how little people know about how the statue in Riverside Park got there or why it is called "Hiawatha," we decided to dedicate an issue to its history. We also invited a couple of respected local writers to give their personal perspectives on the controversy. LCHS is not taking a side in this dispute, but we think we have a role to play in both educating the public about the history behind the statue and in providing a respected public venue for the sharing of ideas.
Recent discussions have led me to believe that public opinion is becoming more divided, even as we approach a point at which the city may determine that it doesn't want to be defined by an anachronistic mid-20th century roadside attraction. In that case, "Hiawatha" will either come down or be moved elsewhere. If that happens, he will be missed by many, and they may feel that their history, their identity, is being taken from them and being publicly erased.
Personal memories we share with others are the most basic level of community identity. As a local historian, I cannot ignore or dismiss that. It matters. It's part of who we are. But it is also a part of who we are not, and that is the crux of this dilemma.
I believe La Crosse can resolve this issue in a successful, positive way. Understanding how we got here is a crucial first step; understanding other points of view is another step. This is why the historical society has addressed both those steps in our March newsletter.
I don't pretend to have the answer, but I have sympathy for both sides, and my hope is that a people as caring and as resilient as the residents of La Crosse can figure out a way to reframe this discussion so it becomes a question of how we can recognize and support each other's needs, not just how we can get our way.
If you would like to read more about the history of the statue and become an informed participant in this process, please become a member of your historical society. Give our office a call at 608-782-1980 or visit our website. All members receive a subscription to Past, Present & Future, and membership is a great way to support local historic research.
The more our past is a shared story, the more La Crosse's future will be a shared future.
---
From Tribune files: A look at life in La Crosse from 1900-1987
These photos are filled with many familiar faces and places from our area's past.
Get local news delivered to your inbox!
Subscribe to our Daily Headlines newsletter.