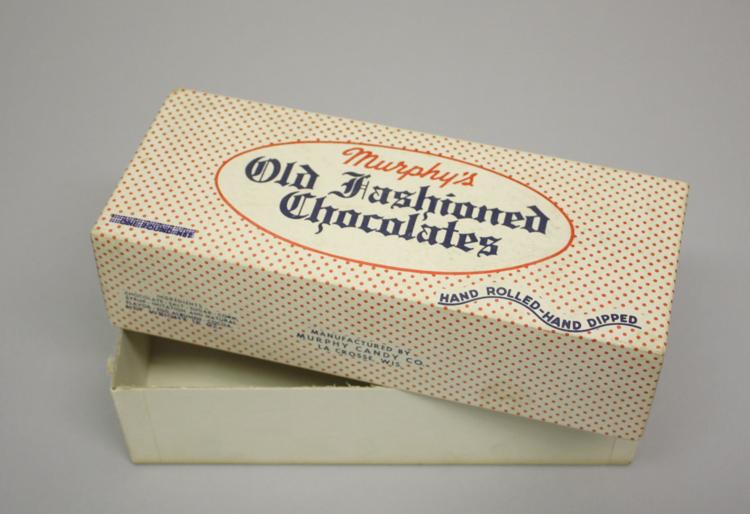 This box from the Murphy Candy Co. was once filled with handmade chocolates that would have been a lovely gift for someone's Valentine.
Murphy's Old Fashioned Chocolate assortment, a mixture of chocolate and vanilla creams dipped in bittersweet chocolate, was a popular offering of this La Crosse candy manufacturer, known for its quality confections in the 1940s, 1950s and 1960s.
Murphy Candy was heir to a candy manufacturing tradition in La Crosse led by three large companies: Funke, Montague and Kratchwil.
All three had closed by the early 1930s due to decreased demand and the Great Depression. This left many skilled candy makers unemployed. A few chose to go into business for themselves, including Arthur Scherdin, a former employee of Funke, and his brother Henry.
The Scherdins' business was purchased by Joseph W. and Donald F. Murphy in November 1939, forming the Murphy Candy Company. The Murphy brothers retained Arthur Scherdin as chief candy maker, and Henry as his assistant. Working beside them was one of the owner's wives, Mrs. Donald Murphy, who was the Scherdins' sister.
Operating part-time, Murphy Candy began by focusing on its most profitable months of the year, November and December. The firm moved from 712 Cass St. to 114 ½ N. Front St. in La Crosse.
Eight employees were kept busy manufacturing candy bars such as Haystacks and Nut Goodies, chocolate assortments and peanut brittle.
The peanut brittle was made in a large copper candy kettle with butter, cane sugar and fresh roasted peanuts as the principal ingredients.
All of Murphy's candy fillings for chocolates were hand-rolled, then hand-dipped in milk or dark chocolate.
You have free articles remaining.
Register for more free articles.
Stay logged in to skip the surveys.
Some of their popular boxed assortments included Blue Ribbon and Swiss Milk, as well as the Old Fashioned assortment that filled this box.
Donald Murphy bought out his brother Joseph in 1954, becoming sole owner of the firm.
The candy bars were dropped, but the company was doing well, shipping chocolates and peanut brittle to five states.
"We find that it pays to produce good candy," Murphy said in a 1940 La Crosse Tribune interview, "because we find our orders are increasing rapidly all the time. We wish that anybody who would try some to prove to himself that quality ingredients make better candy."
By 1962, Murphy Candy Co. went into full-time production of its chocolates, though peanut brittle remained a seasonal item. The firm still employed most of the same candy makers it had 22 years earlier.
Murphy Candy continued to produce chocolates and peanut brittle through the 1960s, but by 1970 had disappeared from city directories.
This red polka-dotted candy box was donated by Robert Funke to the La Crosse County Historical Society in 1980. We can only imagine how delicious the chocolates that once filled it must have tasted.
Each week, the La Crosse Historical Society tell us about an important item in local history. Here's a look back at the Things That Matter so …