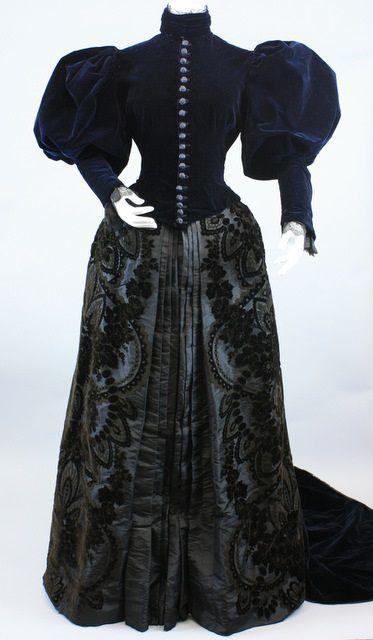 Treasured articles of clothing are sometimes saved and repurposed so that they can be worn again.
Wedding dresses can be made into christening gowns, T-shirts and baby clothes can be made into patchwork quilts.
Special articles of clothing have meaning, and sometimes we want to keep those memories alive. This black and blue velvet dress worn by Nannie Colwell Dorset and later her daughter Nannie Colwell is an example.
In April 1861, La Crosse Mayor Wilson Colwell left his position to lead the La Crosse Light Guards into service for the Civil War. Wilson's young family, his wife, Nannie, and his daughter, also named Nannie, followed as Company B went to Madison and then Washington, D.C.
During their time at the Capitol, Capt. Colwell and his wife were invited to a presidential reception at the White House where the couple met President Lincoln and his wife, Mary. Nannie wore a fashionable blue and black silk velvet gown. According to the family, the dress was made in Pittsburgh, and the floral velvet cutwork fabric came from France.
Later in life, Mrs. Colwell would recall the president as "tall, gaunt, loveable and big-hearted and kindly to all in his conversation as he moved about the crowd."
After a bout of illness, Nannie and her young daughter returned to La Crosse to be with family and friends. While in La Crosse, she learned that her husband was killed at the Battle of South Mountain in September 1862. Capt. Colwell was never returned to La Crosse, but his sword was sent to his young widow.
You have free articles remaining.
Register for more free articles.
Stay logged in to skip the surveys.
Five years later, Nannie married Rev. Charles Dorset and they had three children, Marian, Helen and Bernard. The family moved around over the years but eventually returned to La Crosse.
In the 1890s, Nannie Colwell Dorset still had the dress that she wore to the White House 30 years earlier. It was during this time that she repurposed the skirt from her dress and had it remade into a more fashionable dress for the time, with leg-of-mutton sleeves and a bustle.
After her mother's death, the younger Nannie and her half-sisters wore their mother's refashioned dress at various La Crosse functions of the Daughters of the American Revolution and other organizations.
A 1948 La Crosse Tribune feature about the Colwell Dorset family described this dress as a prized possession of Nannie and her half-sisters.
Upon the death of Helen Dorset in 1965, this dress and Wilson's Civil War sword and other items from the Colwell-Dorset family were bequeathed to the La Crosse County Historical Society.
Nannie's dress will be on display at Juxtapose, a fashion exhibition guest-curated by Jeff Stolz, at the Swarthout Gallery of the La Crosse Public Library. Admission to the exhibition is free. The exhibition is open noon to 5 p.m. Tuesday-Saturday and will run from June 4 through July 13.
Join La Crosse County Historical Society on May 31 to celebrate the opening of the exhibition with a reception at 7 p.m. There will be storytelling, live music and refreshments. Tickets are on sale now by calling LCHS at 782-1980 or online at lchshistory.org.