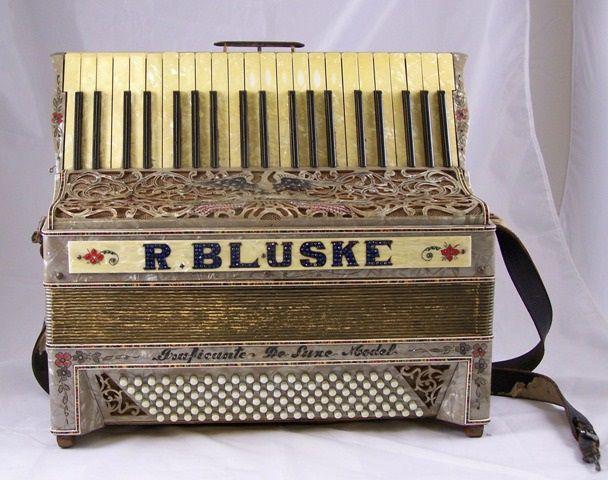 The accordion sits quietly now, but it doesn't take much of an imagination to hear the lively tunes that spilled out of it when it was being played by the late Ray Bluske.
It's a fancy instrument, featuring mother-of-pearl, gold-colored plastic and a scrolled design on the grill that displays an eagle and two American flags decorated with red and white rhinestones.
Red and green floral sprigs are engraved on the plastic, and there are ornamental inlays around most of the edges. The musician's name, "R. Bluske," is prominently displayed in blue rhinestones on the front of the accordion, which was donated by Bluske's family to the La Crosse County Historical Society.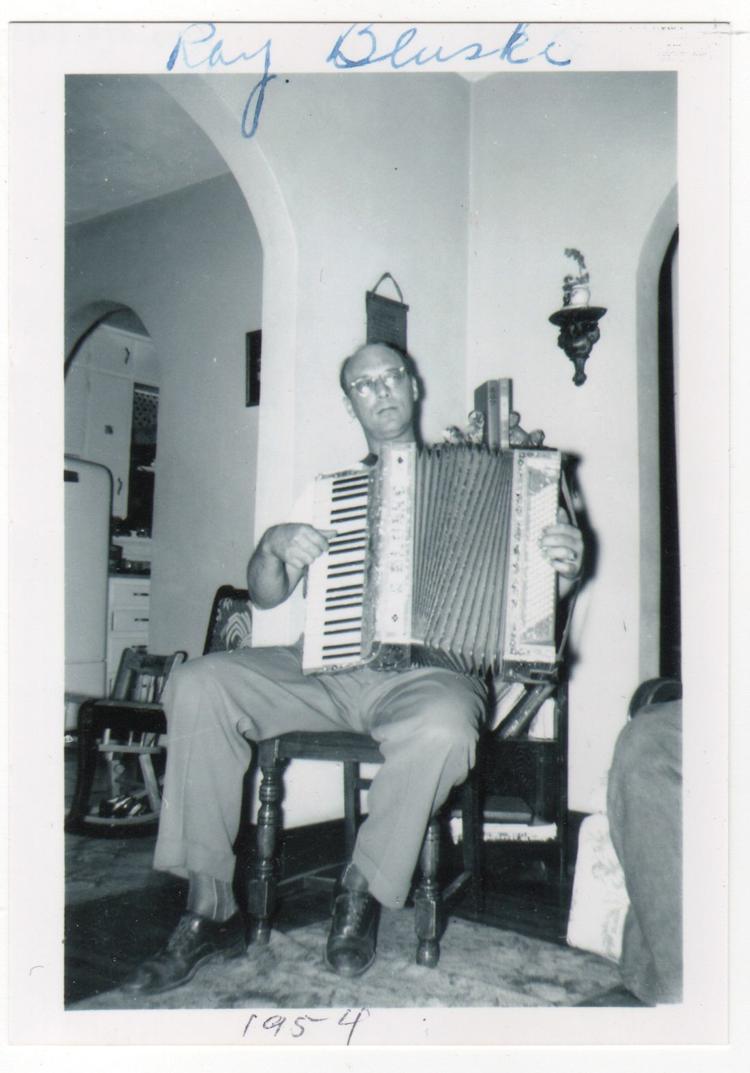 Bluske, who was born on April 20, 1914, grew up on his family's farm near Chaseburg.
His father died when Ray was 12, which meant he had to drop out of school and work on the farm.
You have free articles remaining.
Register for more free articles.
Stay logged in to skip the surveys.
Ray displayed musical talent at a young age, and he and his brother, Willard, plus some of their youthful friends, formed a band and played at barn dances and weddings in the Chaseburg area.
Despite being busy with farm work, Ray always found time for music, and that talent really blossomed after he and his wife, Lil, were married in 1935 and moved to La Crosse.
Bluske, who began working in Wittenberg's Cigar Store on La Crosse's North Side, formed "Ray's Royals" in the 1930s. The band was sponsored by the Old Style Lager label of G. Heileman Brewing Co., and played for festivals, weddings, Saturday night dances and parades in La Crosse, the Twin Cities, Milwaukee and many other cities.
Besides his own band, Bluske was also a member of Tom Tronic's band in La Crosse, which is where Lil and Ray had two children — Monte and Lana.
The family next moved to Gilmanton, where Ray accepted a job as a creamery accountant. In the late 1940s, the Bluskes relocated to Blair, where the family operated Bluske's Grocery Store. The couple's youngest daughter, Marcia, was born in 1948. Ray retired in 1976, which is when he and Lil moved to Eau Claire.
Their daughter, Lana, has many fond memories of her father's accordion, which was made by the Traficante company of Minneapolis. That accordion, and her father's nimble fingers, were at the heart of many "family jam sessions," she recalls.
Ray continued to play his accordion for the family and at church gatherings until he was in his early 80s. He died in Chippewa Falls on July 10, 1997, at age 83. Lil died in November 2000.