In a gallery filled with elegant silk dresses, one of my favorite objects is a modest, badly worn shawl bag.
It's one of a small collection of personal objects said to have belonged to Rebecca Myrick, wife of Nathan, and one of the first white settlers from New England to come to Prairie La Crosse.
By the mid-19th century, shawls were part of every woman's wardrobe, and were worn for both warmth and fashion.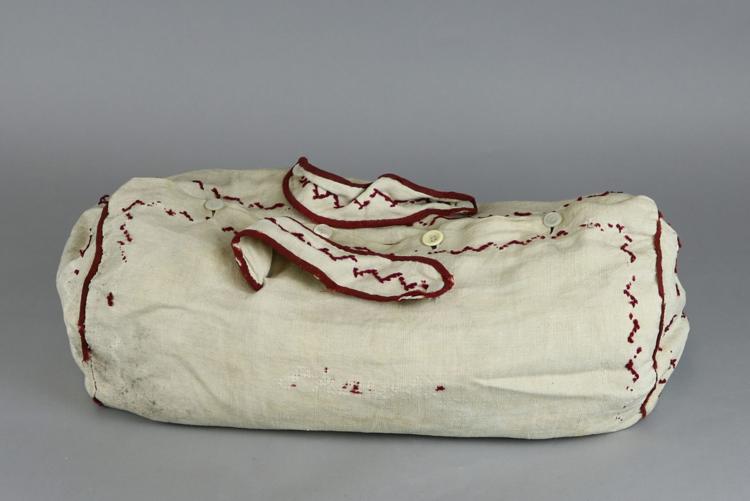 They came in a variety of fabrics and styles, from fine imported silk and cashmere to plain woven woolens and domestic imitations of exotic Kashmiri paisleys and Chinese embroideries. A lady would have shawls for everyday as well as shawls to wear with her finest dresses.
This bag, with carrying handles, was used to store and transport shawls. We know this because the barest remnants of the word "shawls" can still be made out on the side of the bag; it had been embroidered in red thread, in a cross-stitch pattern. Most of the thread is long gone, but the pattern of hole pricks in the fabric is still visible.
Its age and signs of heavy use are part of what I enjoy about the shawl case: It was clearly well-used. Of the eight buttons, only one appears to be an original bone button. Much of the embroidered decoration has worn off. Seams are sewn by hand, which suggests a pre-1855 date.
You have free articles remaining.
Register for more free articles.
Stay logged in to skip the surveys.
Several clues tell us this was most likely a "homemade" item, created by its owner or another woman in her life, a relative or friend, who made it for her as a gift.
The decorative red cross-stitch embroidery was a commonly taught technique used by many women, and not associated with professional needle workers: It was a common domestic skill. The red trim around the handles and set into the seams on the ends, is repurposed braid, manufactured for use on the bottom hems of dresses.
The fabric itself also tells us a lot. It is cotton, with original selvedge edges that are intact, allowing us to measure the width as it came off the loom — only 13 inches wide.
The most likely explanation is that this is the product of a New England textile mill that was producing fabric for toweling. The toweling may have been sold by the yard, or acquired from a mill worker.
So please come and see Juxtapose, the La Crosse County Historical Society exhibition of local history and fashion that will be on display in the Swarthout Gallery of the La Crosse Public Library through July 13.
Hours are Tuesday through Saturday, noon to 5 p.m. And be sure to look for the display case with Rebecca Myrick's personal items. That's where you will find this surprising survivor of both early settlers' days in La Crosse and the textile mills of New England.