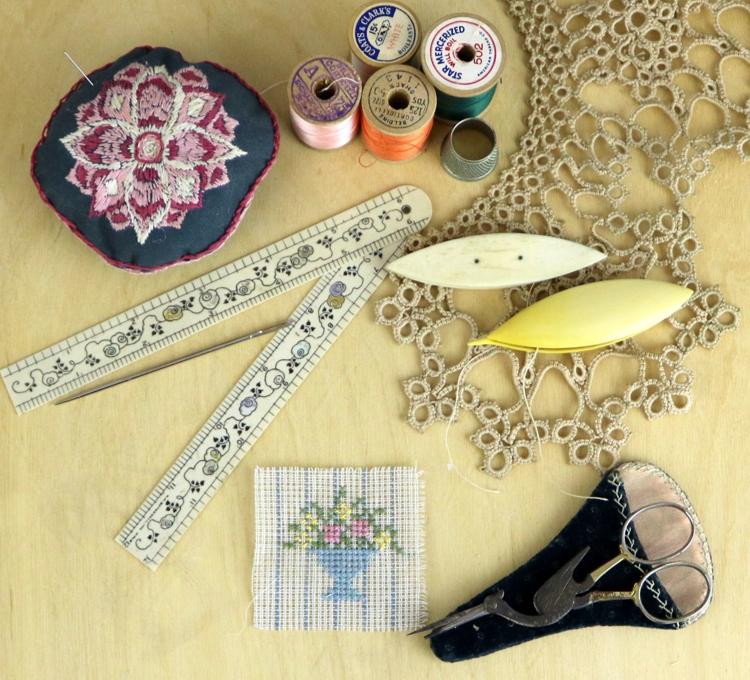 Needlework skills are deeply associated with femininity in Western culture.
Just one glance at the photograph tells you that all these items were made and or used by women. Quilting bees and sewing circles are distinctly female activities, and skill with a needle and thread was once an important feminine quality.
Ironically, the image we have of a Victorian lady demurely sitting with her tatting shuttle or embroidery hoop is an image that coexisted with the increasing industrialization of textile manufacturing: as more and more fabrics and laces were actually made in factories, the notion of the "feminine arts" became more and more romanticized.
At the same time, women's magazines of the late 19th century exhorted them to use their skills to decorate their homes with artistic handiwork because the aesthetically pleasing home would encourage their children to grow up to be better educated, and to value the arts.
Victorian women took their responsibilities to heart and covered every possible surface with doilies, crazy patchwork, embroidery, netting and any number of hand-crafted textiles.
Historians argue that 19th century needlecrafts helped women develop social networks, gave them social standing and a means to express themselves artistically, cope with grief, participate in their religion, and raise money for social and religious causes.
The sewing notions pictured here span roughly 100 years, from the early 20th century through its end.
They are mostly anonymous donations because years ago they were not deemed important enough to catalog.
You have free articles remaining.
I only know the provenance of the pin cushion in the upper left-hand corner because I made that myself.
Continuing clockwise from there, they consist of spools of thread and a thimble, an example of lace tatting with two celluloid tatting shuttles, a pair of "stork" embroidery scissors with a handmade case, a small sample of needlepoint on canvas, a tapestry needle and a folding ruler.
Today, everything we can possibly need, want or use can be manufactured and purchased. Yet the human need to make things with our hands is still alive, and old-time crafts are still practiced as a means of personal expression or relaxation.
Hand work may go through cycles of popularity, but it never disappears, because it still satisfies our need to beautify our surroundings, and to express ourselves through physical manipulation of materials.
When we learn and practice these old-time crafts we participate in a living tradition, and experience connections to makers in the past.
Saturday, July 13, these skills, and others such as wood working, pottery, weaving and spinning, will be on display on the grounds of Historic Hixon House, as local practitioners give demonstrations and, in some cases, offer opportunities for hands-on experimentation.
There will be natural fiber dying, letterpress printing and chair caning and rushing on display as well, and Mississippi Valley Archaeology Center will be there with demonstrations of prehistoric materials and skills.
Hours are 10 a.m to 3 p.m. Admission to the event is $3 for adults, $2 for students, or free with the purchase of a tour of Historic Hixon House.
The tour of Hixon House will consist of the main floor — $5 for adults, $3 for students, and children 4 and younger are free.
Historic Hixon House is located at 429 7th St. North, in La Crosse. Parking will be available in Western Technical College Lot D on 7th Street.
Peggy Derrick is executive director of the La Crosse County Historical Society.