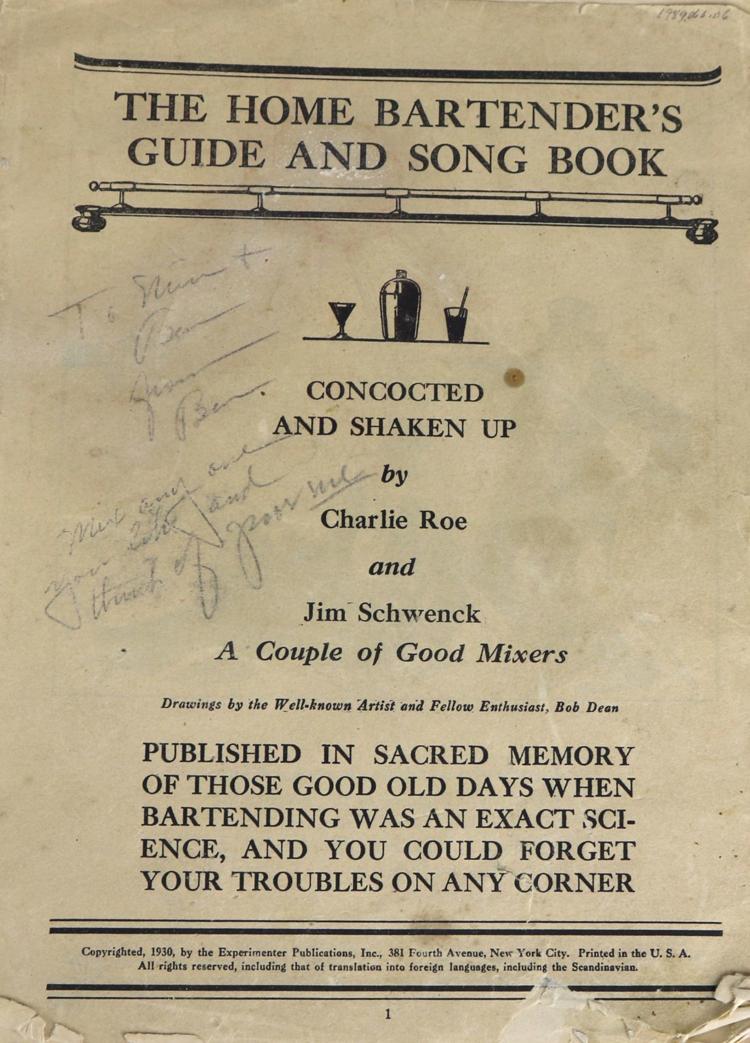 Prohibition had been the law of the land for 10 years when this booklet was published in 1930. For all that time, the only way to legally purchase alcohol had been with a medical prescription. Therefore, this collection of cocktail recipes and drinking songs is full of nods and winks about bootleggers, Prohibition agents and the way things used to be.
Indeed, it claims to be "a history of the good old days," and on the title page is a dedication: "Published in sacred memory of those good old days when bartending was an exact science, and you could forget your troubles on any corner." Of course, that attitude also helps explain why temperance gained support in the first place.
Cocktails grew in popularity throughout the 1920s. It became acceptable for women to drink cocktails, as well as men. One theory for their popularity is that a lot of dubious bootleg liquor was simply more palatable in combination, and with mixers.
There are more than 200 recipes here, for concoctions with names like Snag-tooth Nell, the Charlie Horse and the Pom Pom.
The authors' claim to have tested all the recipes, at great personal sacrifice, and the frontispiece has a charming illustration of them clinging to a lamppost after a hard night of sampling.
The lively black-and-white illustrations by Bob Dean are stylish and humorous, depicting men and women in fashions of the 1910s.
You have free articles remaining.
Register for more free articles.
Stay logged in to skip the surveys.
Unfortunately, although not unexpectedly, one illustration shows a racist African American caricature, and women are generally portrayed as hussies and fallen women. Meanwhile, the sophisticated bartender is always a white gentleman. This is an artifact of its time, and reflects those social norms and prejudices.
Sadly, the copy of this book in the collection of the La Crosse County Historical Society is missing its cover. We know it was originally received by someone as a gift, since there is a handwritten inscription of the frontispiece. It reads: "Mix any one you like and think of poor me."
"Poor me" is not identified, but his/her note implied that not everyone was busy making, smuggling or purchasing bootleg liquor, all illegal activities in 1930.
You can hear more stories from Prohibition at Oak Grove Cemetery on Saturday, Sept. 14, when La Crosse County Historical Society presents "Discover the Silent City: The Prohibition Era." This will be the 20th anniversary for the popular event.
The 10:30 a.m. motor coach tour is still available for those who are unable to walk the tour. Walking tours begin at 11 a.m. and the tour will depart at 3 p.m. Purchase a ticket in advance to select your desired tour time.