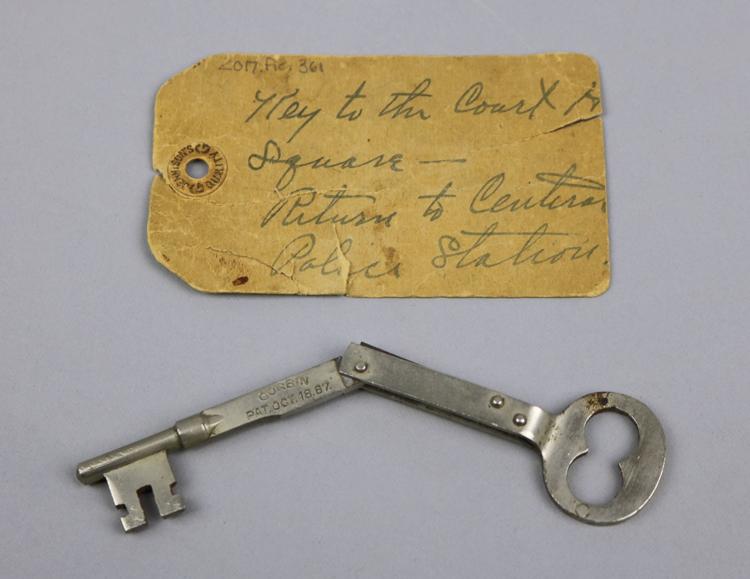 This key and this fire truck are both in the artifact collection of La Crosse County Historical Society.
While small, the key is certainly not the smallest item in the collection, but the fire truck is one of the biggest. Probably Historic Hixon House itself is the only thing that could be considered bigger.
A relatively large key, 5.5 inches long, it folds in half for convenience — not a feature we often see on keys these days. But handy for keeping it safely in a pocket.
It's been in the collection for a very long time: so long, the documentation about who donated it has been lost.
But we know it was a key to the old La Crosse Courthouse because it still has its original tag, with very old writing in script that has turned sepia with age, reading "key to court house square, please return to Central Police Station."
We presume this refers to the La Crosse County Courthouse, which opened in 1904 and was torn down in 1965.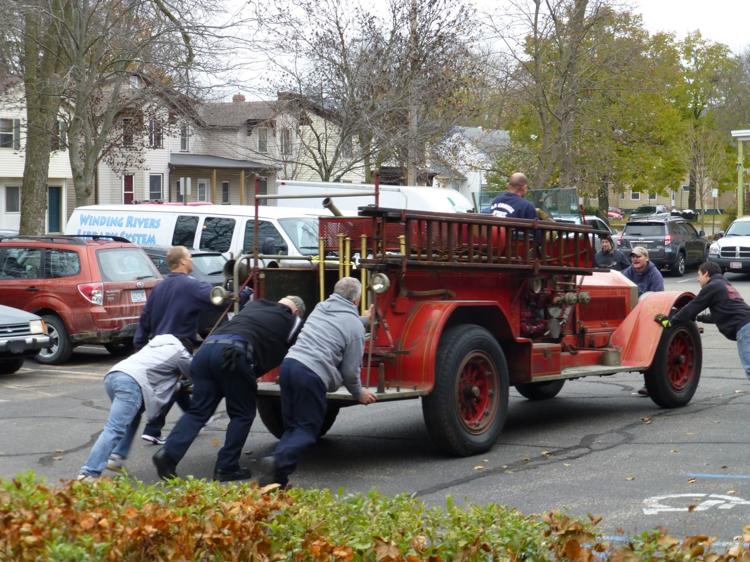 The fire truck is a chain-driven 1922 American La France pumper ladder truck, used by the La Crosse Fire Department.
This truck was actually maintained and used as a back-up until 1962, when the Southside Businessmen's Club bought it for $250 and donated it to the Historical Society.
A few years ago, it was on display in our exhibit "All Fired Up: The History of Firefighting in La Crosse."
You have free articles remaining.
At that time a retired firefighter told me he remembered riding in the open back of this truck and bouncing down city streets "like the keystone cops." He was the last of a generation of firefighters who rode on the outside of their vehicles. I'm sure it's safer this way, but possibly not as much fun.
In terms of size, the key and the fire truck represent two extremes of the roughly 10,000 local historic artifacts that LCHS preserves and shares with the people of this region.
Proper storage and cataloging are priorities, and we share our treasures as best we can: at our house museum, Historic Hixon House; at our small local history museum in Riverside Park, Riverside Museum; in our online database; and every Saturday through this newspaper column.
Despite our name, LCHS is not a part of any branch of government: we are a private non-profit corporation and have been 1898.
We are very grateful for the $18,100 grant we receive every year from the La Crosse County commissioners, but as you can imagine, it doesn't begin to cover our costs.
From year to year we are dependent on our members and donors to fill in the gaps left by grants and museum admissions, and "do more with less." Our computers are second hand, our staff of 2.5 receive no benefits, and there are no stipends for devoted volunteers who give guided tours or make Silent City possible year after year.
So why am I telling you all this in a Things That Matter column?
Because people keep asking me what we are raising money for. It is to keep our doors open, and to keep people caring for our artifacts. La Crosse County Historical Society is a public trust: we collect, preserve and share these artifacts on behalf of you, the people of La Crosse County.
We pay for core mission support through memberships, appeals and events. I cannot overemphasize the importance of membership. Members receive free admission to Hixon House and they stay abreast of LCHS events through an excellent quarterly newsletter that also publishes well-researched articles on local history. We are a member-governed organization, with the membership electing our board of directors.
LCHS members are engaged with our goal of creating a new local history and cultural center for the region, where we will have the opportunity to display many more of our historic treasures and share stories with more people. We are eager to be able to display more cool things, such as fire trucks and memorabilia from the old Courthouse.
Membership is easy to do and isn't expensive: individual membership is just $35. You can join or make a donation from our website, lchshistory.org, or you can call our office at 608-782-1980 for more information on this, as well as on our museum and event schedules.
Peggy Derrick is executive director of the La Crosse County Historical Society.