TOMAH — Three years after their son died from a lethal mix of drugs prescribed by doctors at the Tomah VA Medical Center, Marvin and Linda Simcakoski returned Wednesday to recognize the hospital's strides to reduce opioid use and focus on patient-centered care.
Linda Simcakoski said her son, 35-year-old Marine Jason Simcakoski, "was drugged all the time" before his death in August 2014 from a mix of opiates and Valium. Whenever she and her husband met with his doctors, she said, they seemed uninterested in their concerns.
"It always felt like we were butting heads," she said during a Wednesday news conference to showcase the center's improvements. "That has changed."
Simcakoski's death was one of several linked to the misuse of opioids by the Tomah VA, where such prescriptions were so common that patients called the center "Candy Land," according to a report by the Center for Investigative Reporting.
The 2015 story, which detailed a culture of retaliation against employees who spoke out, triggered an 18-month congressional investigation, ended several careers and inspired a host of new laws and policies aimed at reforming the way VA treats both pain and whistleblowers.
Under new leadership, the Tomah VA has reduced reliance on opioid painkillers and embraced alternative and holistic approaches to pain and patient health.
Simcakoski, of Stevens Point, said she has noticed a change in the culture as well. Workers who once kept quiet for fear of retribution are now speaking up — and being heard.
"People are listening," she said.
Victoria Brahm, who took over as director of the center in October 2015, said a common mission of service has provided the energy and courage to move forward and "regain the trust of those veterans that we let down."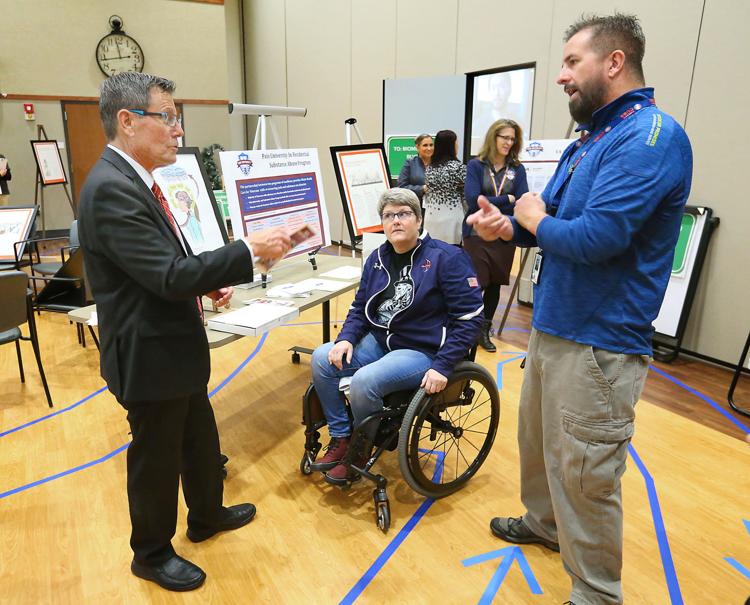 "This is a new VA," said Jake Leinenkugel, the former head of the Chippewa Falls brewing company who now serves as a White House adviser to the VA. "When I talk to veterans, I'm telling you at least nine out of 10 tell me that they are getting fantastic care."
A Marine Corps veteran, Leinenkugel said that while media coverage focuses on the VA's shortcomings, Wisconsin's Congressional leadership on veterans issues "are the high point" in the country. Leinenkugel noted that trust in the VA has grown from about half of veterans in 2014 to nearly three-quarters, though he would like to see more gains.
"We need to regain the trust of our veterans," he said. "We're not there yet."
Data provided by the VA show the share of patients receiving high doses of opioids (more than 400 milligrams per day morphine equivalent) has been cut roughly in half — from a little more than 1 percent in 2013 to a little more than 0.5 percent, or just eight patients.
Register for more free articles.
Stay logged in to skip the surveys.
The Tomah VA has reduced the number of patients receiving lower doses by about half.
Although Tomah's opioid prescription rates remain above the average for the VA's Great Lakes network, which serves more than 220,000 veterans in three states, Brahm said it takes time to wean patients off high doses and notes that the Tomah clinic specializes in mental health and substance abuse.
"These are the patients that struggle," she said.
VA data show Tomah has made strides in educating patients and cutting down on abuse. While fewer than 40 percent of chronic opioid therapy patients were drug tested in 2013, that number had reached nearly 90 percent by June, higher than any other hospital in the network. Drug tests help ensure that patients are taking the drugs they are prescribed — rather than selling them — and not taking others.
As part of the move away from narcotics, Tomah introduced a program known as "Pain University" and has since been tapped as one of 18 centers to implement the VA's new Whole Health approach, a patient-centered approach to improving health.
Shawn Plante, a 40-year-old Army veteran who struggled with chronic pain and PTSD, said his quality of life dramatically improved since starting the program, which incorporates alternative medicine such as acupuncture and aromatherapy, as well as meditation and yoga.
"I didn't go anywhere. I didn't do anything," he said. "I basically stayed home in pain."
Now he's active in the local VFW and is part of the honor guard.
Linda Simcakoski said if the program had been available to her son, he would still be alive.
Tony Worden said Pain University saved his life.
Worden, who suffered shoulder and leg injuries in a 1980s submarine collision, said he self-medicated with pills and alcohol for decades before coming to the Tomah VA in 2014, about the time of Simcakoski's death.
"I was in a hole," he said. "It was not a good place."
Since starting Pain University in April, Worden said he's now able to control his anxiety enough to go out. And while he's still in pain, he can manage it without pills.
"The pain is there," Worden said. "It's next to me. It's not my whole life."