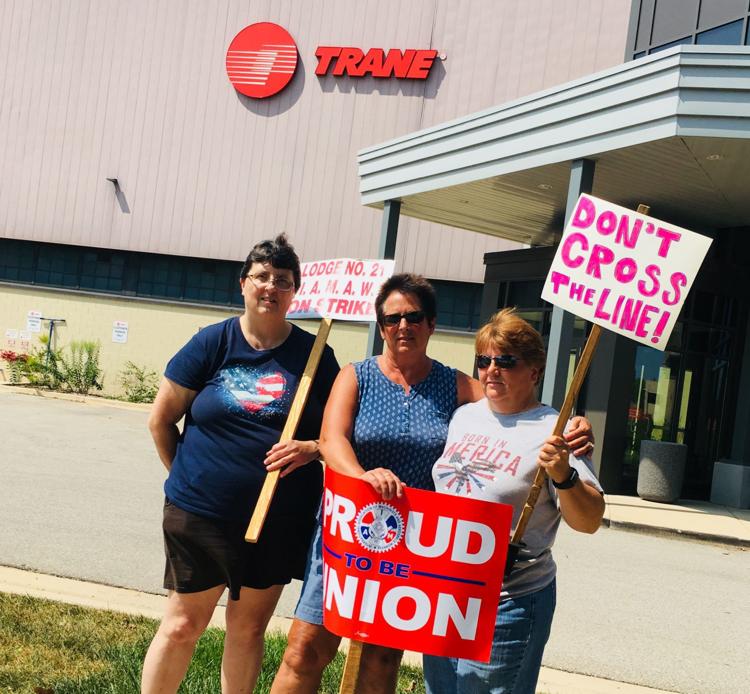 Wages and forced overtime are issues in a strike at Trane, according to union members picketing Monday outside Trane's Ward Avenue gate in La Crosse.
Members of Lodges 21 and 1115 of District 66 of the International Association of Machinists and Aerospace Workers rejected a contract proposal from the maker of heating, ventilation and air conditioning equipment Saturday, and their previous contract at the Ingersoll Rand-owned Trane expired at midnight.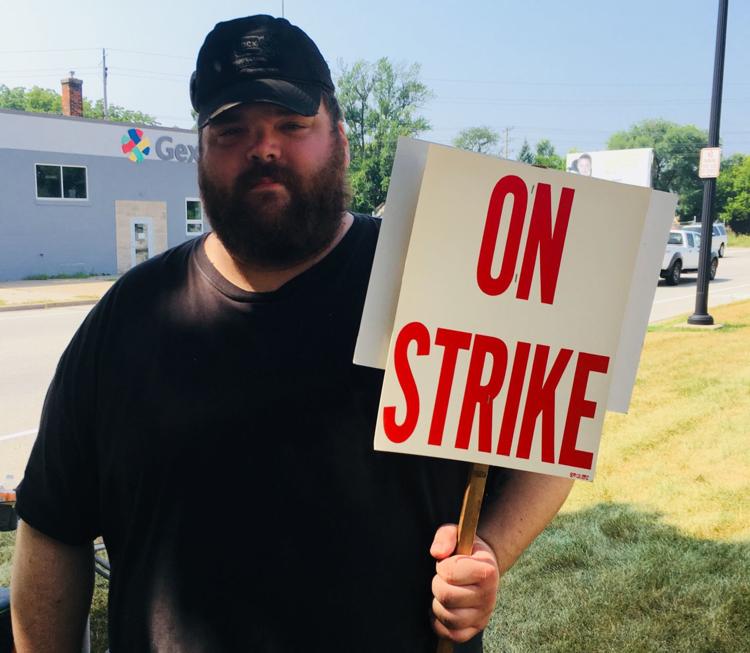 "We're just here fighting for a livable wage," said John Hampson, an electrical mechanical technician at the plant. Almost 500 production workers at La Crosse facilities are on strike.
"It's a good job, but they've gotta pay fair," said Hampson, who marked his second anniversary at Trane on Thursday.
Trent Gander, another mechanical tech picketing with Hampson at Building 7, said, "My main issue is about forced overtime. It's not affecting us, but it could sometime."
Even though the forced overtime, which Hampson and Gander said amounts to six 10-hour days a week, doesn't affect them at the moment, "We're here to support our brothers and sisters. It makes the union stick together," Hampson said.
Further negotiations are scheduled, union business representative Neil Kamrowski said Sunday, although he did not return a phone call Monday seeking further information.
An Ingersoll Rand spokeswoman issued a statement Monday that said, in part, "Ingersoll Rand is committed to delivering premier performance for our customers and has taken measures to ensure business continuity at the facility until our valued employees return to work. We are hopeful for a resolution."
Lodge 21 represents 460 to 470 production and maintenance workers, while Lodge 1115 represents more than a dozen tool and die makers at Trane's La Crosse plants, Kamrowski said.
Meanwhile, a Trane retiree who took food and drinks to several picketers at Trane's Losey Boulevard entrance, said, "I just don't feel like the company listens or cares anymore."
The woman, who asked that her name not be used, and union members she said she came in support said the issue is not with supervisors and local management but rather, Ingersoll Rand.
"I have some good friends working for the company," said the retiree, who said she worked for Trane for nearly a quarter-century. "They can't get people to work at the company. It used to be better."
Company and union officials didn't address that comment, although Ingersoll Rand had a classified ad in Sunday's Tribune seeking welders, machinists, electrical and mechanical assemblers and journeyman machinists/tool and die makers, with a $1,000 sign-on bonus.
James Trane established a plumbing shop in La Crosse in 1885 and invented a heating system he began manufacturing with his engineer son, Reuben, in 1910. Reuben incorporated Trane in 1913.
By the 1980s, the company employed more than 4,000 people in La Crosse. American Standard Cos. acquired it in 1984.
American Standard changed the name back to Trane in 2007, about a year before Ingersoll Rand bought the company for $10 billion. Trane employs almost 30,000 people worldwide and has manufacturing plants in more than two dozen countries.
---