Nate Cannon was 5 years old when he told his mom he was in the wrong body.
"The stork brought the wrong bag," Cannon told her. "You should just take me back and wave your magic wand, mom."
It would be another 25 years — turbulent decades of addiction, self harm, arrest and two suicide attempts — before Cannon, born Jennifer, would find identity, peace and the inner power to change the lives of himself and others.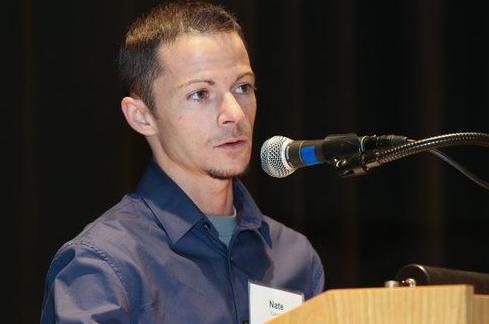 Cannon, author of the memoirs "Running on a Mind Rewired" and "Dying to Hang with the Boys," shared his story Wednesday afternoon during the 2019 Suicide Prevention Summit, held at UW-La Crosse and hosted by La Crosse Area Suicide Prevention Initiative and UW–La Crosse Extended Learning.
The daylong event was attended by 220 professionals in the fields of social work, therapy or medicine, with sessions and speakers on reducing suicide in the aging population, turning pain into strength, trauma-informed care practices, suicide rates among college students and the Columbia Protocol suicide risk screening tool. The groundbreaking method has proven effective for assessing individuals of all demographics, including those with cognitive disabilities.
According to the World Health Organization, nearly 800,000 individuals worldwide died by suicide each year, which amounts to one person every 40 seconds. In the U.S., suicide takes the lives of nearly 45,000 people every year, with one death every 12 minutes, says the Suicide Awareness Voices of Education organization, making suicide the 10th leading cause of death among Americans of all ages.
Locally, 20 suicides were reported in La Crosse County in 2017, the number increasing to 22 in 2018.
Tim Blumentritt, director of the CARE Center and a member of the La Crosse Area Suicide Prevention Initiative, says the topics for this year's summit were selected for being relevant to current trends and topics, noting speakers "with lived experience are especially valuable in the work we do." Cannon offered another diverse perspective as a transgender individual.
"We need to be more inclusive as a country and I think our LGBTQ community members are at an extremely high risk of suicide and it's a very important population we need to be serving," Blumentritt said.
A study from the American Academy of Pediatrics, published in fall 2018, found more than half of female-to-male adolescents had attempted suicide, as had nearly 42 percent of non-binary teens and almost 30 percent of male-to-female adolescents.
Cannon's keynote talk, entitled "Thriving with Layered Identity: Mental Health and Suicide in the LGBTQ Community," wove his personal experiences with gender transition, recovery and self acceptance with discussion on the complexity of being transgender and living with a mental-health diagnosis, pulling from the realms of psychology, sociology, criminal justice and neurology.
Growing up in Iowa in the 1980s, talk of gender identity and sexuality was little to nonexistent. The youngest of four, Cannon was a popular, athletic child, viewed as a tomboy. A gifted hockey player and the only girl on the team, he experienced his first bullying at age 10, when two players locked him in the boys locker room after mocking his lack of femininity.
In middle school, Cannon began to battle mental-health issues, feeling like an outsider and fearful of puberty.
"It was concrete proof — I can't be a boy," Cannon said of developing breasts.
Cannon started skipping school, his social worker mother swiftly taking him in for an evaluation. Diagnosed with depression and anxiety, Cannon was prescribed medication. Cannon would later learn he was also diagnosed at the time with what is now called gender dysphoria.
In high school, Cannon continued playing hockey, "My way of keeping one foot in the boys' world." After a severe, recurrent injury, he tried cocaine, which numbed his emotional and physical pain.
You have free articles remaining.
Register for more free articles.
Stay logged in to skip the surveys.
"Addiction took over really quickly," Cannon says.
To maintain his habit, Cannon stole from his mom, who checked him into a chemical dependency rehab facility. There, Cannon says, he was inappropriately touched by a counselor. He reported the incident, but was kicked out after being falsely accused of stealing.
In and out of treatment, Cannon was no longer living at home when high school graduation approached. A physical altercation with his brother led to his being committed to a psychiatric ward, at which point his mother "walked out." Finding a lamp in his room at the facility, he created a noose on the shower door. After a period of unconsciousness, Cannon came to long enough to pull himself free.
"In a weird way, I was trying to take my own life, but I ended up saving my own life," Cannon says.
At age 18, Cannon began smoking crack and "started to realize there was an easy way to access these drugs — my body had a lot of value. Not to me but to other people. I didn't like my body but at that time like it or not I still (looked) female....(prostitution) was a form of self punishment." Cannon also turned to self harm for relief, targeting his chest.
In college, he identified as a lesbian. A heavy drinker, he was arrested numerous times for drug, alcohol and violence charges. His chemical dependency, Cannon says, was "suicide on the installment plan."
At 23, Cannon sought out help of his own volition. He started running, moved in with his partner and got a job. But when Cannon suddenly started experiencing extreme pain, doctors, judging his psychiatric history, "were quick" to say it was in his head. Eventually, a specialist diagnosed Cannon with dystonia, a neurological disorder which causes uncontrollable muscle contractions. The latent condition was caused by his previous suicide attempt.
Taking time off from work, Cannon wrote his first memoir under his birth name of Jennifer, but the praise of being "a strong woman" left him uncomfortable. During a run, Cannon became acutely aware of his sports bra and feminine body, and the realization he was not lesbian but transgender "hit me so deeply."
Cannon was fearful of losing his family and friends, and his partner had trouble processing the revelation. A storm of depression and despondency led Cannon to another attempt at hanging himself.
"If I take the steps to end my life, then I'm back in control," Cannon reasoned at the time.
After emerging from a medically induced coma, Cannon discovered his partner had moved out.
He returned to the home where he tried to end his life, and, amid the swirl of pain and emotions, "For some reason I just had tunnel vision. I started to realize I don't care what's on the line... I made a promise to myself I was going to become Nate. And become the man I was meant to be. I wouldn't die as Jennifer."
Beginning the transition process was especially difficult given Cannon's history of addiction — how would testosterone affect his depression? Would it trigger addiction? The hormones did prove difficult for Cannon, who felt like he was "hulking out." It took a treatment team to keep Cannon in a good place mentally and physically, though the emotional distance from his family was still a source of distress.
Cannon points out that rejection from one's family and peers tops the list of suicide risk factors for transgender individuals. Estrangement can lead to loneliness, deepening depression and in turn contributing to unhealthy coping behaviors like substance abuse or acting out physically. Creating a perfect storm, a felony conviction can make it difficult for a transgender individual to obtain reassignment surgery, and being held in a cell population not consistent with one's gender identity can cause further psychological harm.
Cannon, who has had top surgery and continues to take hormones, found acceptance from his mother after transitioning, something that filled a void in his life. For transgender individuals, he stresses, "A sense of belonging is essentially important."
For Cannon, sharing his story with health-care providers, educators, law enforcement and the public is a powerful way to advocate for transgender rights and bring awareness to mental health and neurological health issues. He regards the oft-used phrase "successful suicide" from a new perspective.
"Successful suicide was a difficult term for me to get around," Cannon says. "Because if suicide was a success, then clearly I was a failure. So I've had to really learn how to redefine success for myself and realize, 'Hey, my biggest failure is my greatest success.' I didn't succeed in killing myself, which has allowed me to be here today and continue to have a voice."