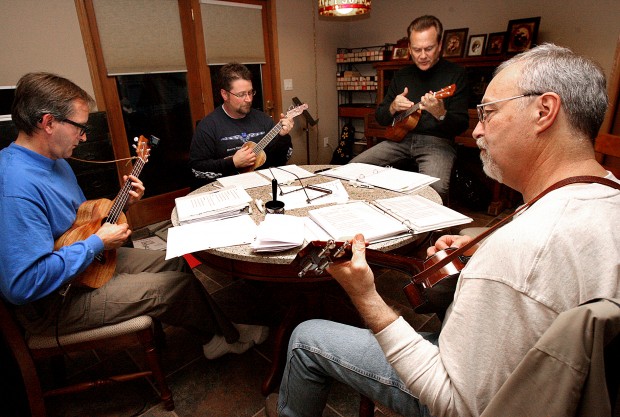 The ukulele is more than Don Ho and "Tiny Bubbles."
Joe Sexton, recent convert to the cult of the uke, is intent on changing the ukulele's image, and he thinks he can do that with a mass gathering of ukuleles.
That event is scheduled for Nov. 26 and 27 as part of Michael Scott's Old School Variety Show at the Pump House. The ukes have been promised 10 minutes each night, and Sexton intends to make the most of those minutes.
So this is a shout-out to all ukulele players or would-be players. Sexton says he can teach anyone the basics in an hour — just show up and grab a uke.
"There's no such thing as too many ukuleles," Sexton said.
"What I was going to do at lunchtime today was sneak downtown and take a look at the stage to see how many people would fit comfortably on the stage and then double that number."
Sexton, a joey-come-lately to the uke, says he's practically abandoned guitar and banjo in favor of this new passion.
It happened for him, as it does for many uke enthusiasts, in the land of Don Ho. He fell in love with the ukulele while on a trip after Christmas last year to Hawaii, where a good instrument sells for about $1,000. But around here, Sexton said, you can get one for about $35.
So where did Sexton buy his?
And does it sound a lot better than the $35 version?
"I have to believe that it does," he said with a laugh, "but to the untrained ear, probably not."
Never mind that. Just bring your untrained ears to a rehearsal, and Sexton says you'll be playing "Ain't She Sweet" by the time you head home.
"Here's the best part. We'll teach you to play the uke free! It's our club mission — more ukes, more players, more fun. Don't have a uke? Don't worry. The club has several extras."
The more experienced quartet of ukulele players that Sexton practices with weekly have a more challenging number in mind.
"We're going to do a four-ukulele version of 'Hotel California,' complete with lead parts."