STEVENSTOWN — Federal investigators will try to determine what caused a single-engine plane to crash in rural northern La Crosse County on Thursday afternoon, killing its pilot, who was the only person aboard.
Firefighters and other emergency responders found the plane in a cornfield about 6:15 p.m. at N6971 Hwy. D near Holmen, and the pilot's remains were nearby, La Crosse County sheriff's Chief Deputy Jeff Wolf said.
Authorities Friday identified the pilot as Loren Larson, 56, of Kerkhoven, Minn. He had about 23 years of flying experience.
Larson left the airport in Willmar, Minn., at 10:23 a.m. for Appleton, Wis., with a planned stop at the La Crosse Regional Airport to pick up a passenger, according to the sheriff's department. The flight time was scheduled for one hour and 12 minutes. 
At 11:37 a.m., the plane was flying 181 mph at 4,700 feet, according to its flight log. It dropped 1,200 feet in two minutes and was last recorded traveling 192 mph over Olson Road.
Minneapolis Air Traffic Control alerted local authorities of the lost plane at 12:13 p.m.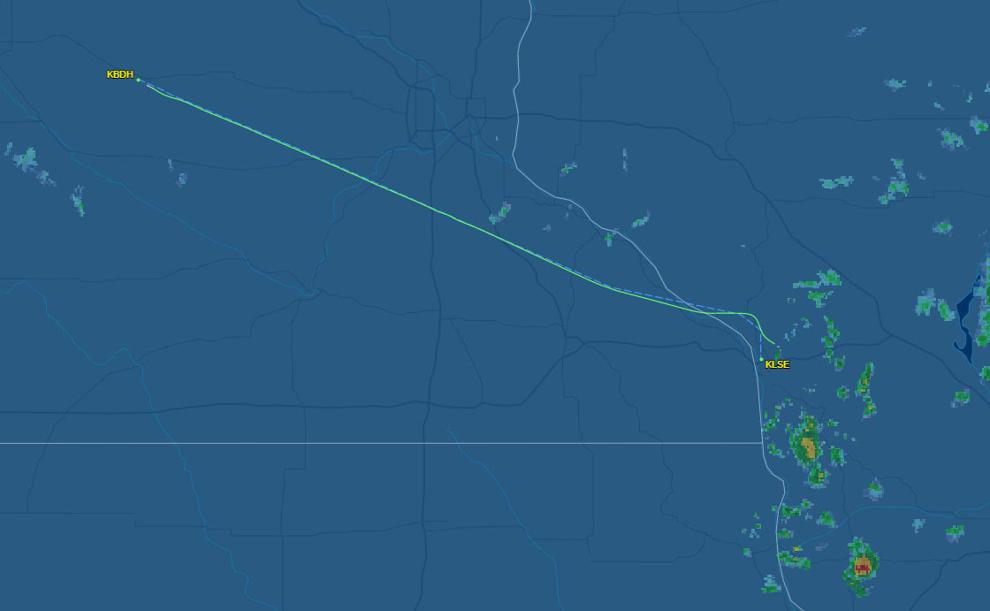 About 40 searchers from several agencies combed a wooded 4-square-mile area until the Mooney M-20 plane was found. 
A National Transportation Safety Board investigator was on scene Friday to begin determining what caused the crash by documenting the wreckage and collecting evidence. He will review radar data, the flight plan and air traffic control recordings before the wreckage is removed and examined off-site.
Investigators also will review the plane's maintenance record and compile a 72-hour background on the pilot, NTSB spokesman Eric Weiss said.
A preliminary report is expected within 10 days. A final report with the cause of the crash could take up to one year.
This is the first aviation crash in La Crosse County since May 10, 2008, when a medical helicopter crashed into a bluff side, killing all three people aboard, according to the NTSB. It's the first crash in the Coulee Region since a helicopter went down while dusting crops near Tomah in August 2014, injuring the pilot.
Coulee region air crashes of the past decade
| Event Date | Location | Aircraft | Severity |
| --- | --- | --- | --- |
| Aug. 7, 2014 | Tomah | Helicopter | 1 injured |
| May 17, 2014 | Mabel, Minn. | Ultra-light airplane | 1 injured |
| Nov. 1, 2013 | Caledonia, Minn. | Piper airplane | 3 killed; 1 injured |
| Sept. 30, 2012 | Decorah, Iowa | Helicopter | No injuries |
| July 31, 2011 | Rushford, Minn. | Helicopter | No injuries |
| March 29, 2010 | Lansing, Iowa | Cessna airplane | No injuries |
| Sept. 6, 2009 | Mondovi, Wis. | Piper aiprlane | No injuries |
| July 31, 2009 | Black River Falls | Cessna airplane | 1 injured |
| June 7, 2009 | Humbird, Wis. | Gulfstream airplane | 2 killed |
| May 17, 2009 | Pickwick, Minn. | Stinson airplane | No injuries |
| July 18, 2008 | Sparta | Piper aiprlane | 1 injured |
| May 10, 2008 | La Crosse | Helicopter | 3 killed |
| Dec. 20, 2007 | Warrens | Piper airplane | 1 killed |
| March 9, 2007 | La Crosse | Cessna airplane | No injuries |
| | | | |