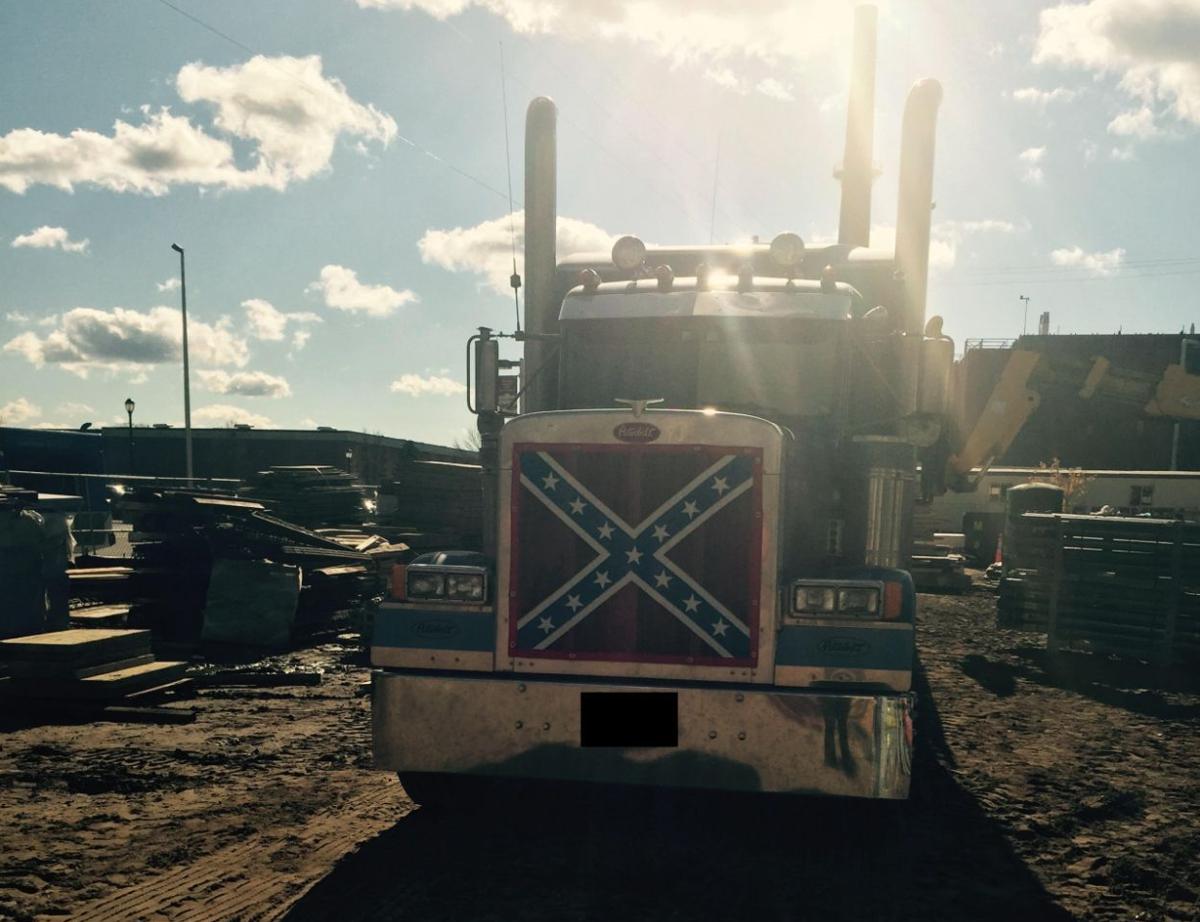 A Confederate flag on University of Wisconsin-La Crosse grounds has stirred up debate between advocates of free speech and proponents of inclusivity after a campus official apologized for the "fear and angst" caused by the banner.
The controversy arose after Vice Chancellor for Student Affairs Paula Knudson received complaints, both in the form of phone calls and official "hate and bias" reports, about the flag's presence on the grille cover of a semi-tractor parked on the student center construction site.
"It was numerous. Calls started coming, people started coming in, and other offices started calling in," Knudson said Wednesday.
The message she received was "essentially, this is hurtful," Knudson said, and called the university to action.
Among those who filed reports was physics senior Matthew Dreis, who saw the flag on his way to class Friday morning. Dreis was disappointed to see what he considers hate speech displayed in the heart of campus.
"I was let down. I really hoped we were beyond that in 2015," Dreis said.
While Dreis understands the display is protected by the First Amendment, he said displaying the flag shows bad taste and indicates a larger problem on campus.
"That's very inappropriate. I think we have problems with institutionalized racism at our school and when we see it at the construction site of the physical building where students are getting their education it solidifies that there's a problem with our campus atmosphere," Dreis said.
Knudson asked UW-L Executive Director of Facilities Douglas Pearson to speak to the construction site superintendent, who asked the driver of the truck to remove it. The driver complied without complaint.
In an email sent to students Friday afternoon, Knudson apologized for "the fear and angst caused by (the flag's) presence" and explained that the flag had been removed.
Knudson's email raised worries in senior Zachary Allen, who was disturbed by the suggestion that the university was infringing on someone's constitutional rights.
"The way it was phrased made it sound very much like it was a forcible removal of this image of the Confederate flag. I was very concerned," Allen said.
While Allen agrees the flag sends a poor message, he doesn't feel it's the university's role to force its removal on campus.
"Nope, I don't support the Confederate flag … I don't agree with its use, but they still have every right under the law to do so," Allen said.
Allen contacted both Knudson and UW-L Chancellor Joe Gow to share his views and began to organize a demonstration to protect freedom of speech on campus. In a follow-up email Tuesday, Knudson explained her actions, saying she will continue to defend free speech, as well as work to protect students' "right to live and be educated free from hatred."
"On Friday, I saw firsthand the genuine fear of some of our students. Many of us are privileged to have not experienced fear of this kind, so it may be harder to understand," Knudson said.
She further clarified that no one was forced to remove the symbol, rather the university made a request that the large flag be removed while on campus property, and the truck's driver "willingly complied with the request."
Gow released a statement Tuesday night defending Knudson's actions, saying she responded appropriately and in accordance with UW-L values.
In an interview Wednesday, Gow said the university has "to balance free expression with welcoming campus climate."
Gow met with students Tuesday, including Kalon Bell, president of the UW-L Black Student Unity and a broadcast and senior in digital media communication. Bell joined other students in explaining the flag's significance as a symbol of generations of oppression, slavery and hate that can be a painful reminder for UW-L's students of color that they are not always welcome.
"For me, when I was younger, I think I was more fearful, because I didn't know the intentions behind it," Bell said. "I had the general understanding that if you flew something like that, you didn't like people who looked like me."
Now that he's an adult, Bell says he views people flying the Confederate flag with frustration and confusion.
"It's just frustrating because I don't see how people are connecting to that symbol. I don't see how they think that's an acceptable symbol anywhere," Bell said.
After the meeting, Gow denounced the flag as a "symbol of hate and, in South Carolina, murder of people because of their skin color," said Gow, referring to the racially motivated shootings of nine African-Americans at a Charleston, S.C., church in June that prompted the removal of the flag from South Carolina Capitol's grounds.
"I know that people will say that it has a lot of meanings, and it does, but in light of what happened in South Carolina, it clearly is a racist symbol," added Gow.
Gow clarified Knudson's actions, saying that had the driver refused the request of university staff, UW-L would have followed guidelines included in an overview by the American Civil Liberties Union and not required him to remove the flag out of respect for his freedom of speech.
"As this ACLU review indicates, our actions involving the Confederate flag on Friday were entirely consistent with both protecting free speech and responding to an offensive display that was inconsistent with our campus values," said Gow.
Gow added that the university will respond in the same way if a similar situation arises.
In response to the questions raised by the issue, UW-L Student Affairs will host a teach-in discussion about free speech, the Confederate flag and inclusivity from 11 a.m. to 12:30 p.m. Friday in the Hall of Nations in Centennial Hall.
"What we want to do is give people an appropriate venue to have discourse and also to have information in all of those situations shared by people who are experienced and knowledgeable in all of those respective fields," Knudson said.
Students on both sides are satisfied with the resolution, which includes an open forum for everybody to speak.
"The education component is everything. I think so often people act out of ignorance and they don't understand the impact that it has — in this context, the impact that they have on students of color," Bell said.
Allen and Dreis agreed that it was a positive step forward.
"That's where we're going to get understanding. That's why we do the things that we do to bring attention to the issues, so we can have that dialogue," Dreis said.
"On Friday, I saw firsthand the genuine fear of some of our students. Many of us are privileged to have not experienced fear of this kind, so it may be harder to understand." Paula Knudson, vice chancellor for Student Affairs