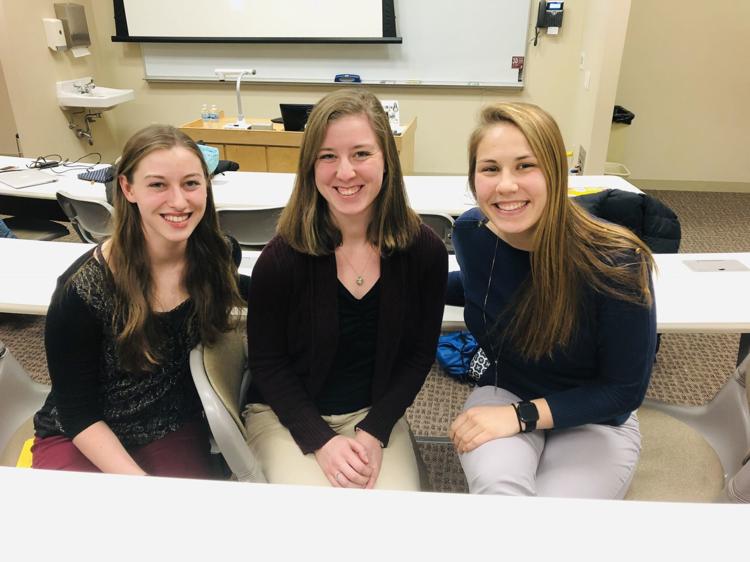 For many kids in the hospital, physical therapy becomes a chore, a task they know is important but tedious nonetheless. But combined with song, dance and a fairy tale twist, therapeutic exercises become a thing of magic, both effective and fun.
Called Fairytale Physical Therapy, the method marries Disney movies with dynamic movements and stretches, giving youth with physical or mobility limitations a physical therapy session disguised as a dance party.
The program, created by Columbia University students Jenna Kantor and Katie Schmitt, has been adapted locally by second-year University of Wisconsin-La Crosse doctor of physical therapy students Kari Willett, Marlee Freitag and Alyssa Docter, who bring their excitement and education to patients in the Gundersen Health System pediatrics department.
Willett, a dance and singing enthusiast with an undying love for Disney, reached out to the founders last year, who graciously supplied her with their scripts and choreography for an abbreviated performance of "Frozen." Taking the role of Anna, she solicited her classmates to participate, and Freitag and Docter were immediately on board, snagging the roles of Elsa and Olaf, the snowman, respectively.
"When Kari said she needed people, I said 'Yes, yes, yes!'" Docter said. "I was super excited. I'm singing all the time — I love music."
Recruiting three other students, the trio secured $100 in funding from the UW-L DPT department, using only $75 by recycling items from their closets, sewing their own capes and crafting most of the props, borrowing a blonde wig for the character of Elsa.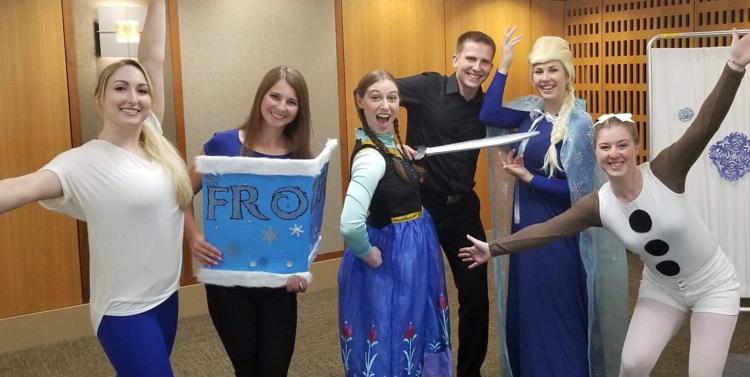 Last June, they held their inaugural performance at Gundersen for a group of 20 youth patients and daycare charges, endearing themselves to both the kids and Gundersen's healing arts coordinator, Sue LaCrosse. While not a replacement for regular sessions with a doctor, Fairytale Physical Therapy offers a joyous supplement.
"What a great group of students," LaCrosse said. "The child care center kids were just enthralled with the costumes, music and movements.
It was a very clever way to get the kids up moving and exercising.
Belting out "Do You Want to Build a Snowman?," For the First Time in Forever"and, of course, "Let it Go," Docter, Willett and Freitag led the kids through broad dance movements targeting key muscles and chest, of particular importance to those who are largely confined to their beds.
"Instead of thinking it's work, they're watching their favorite characters come to life and dancing with them," Willett said. "When we were doing the choreography, they were doing it with us and smiling, and I was smiling at them."
"Getting people moving period is beneficial," added Freitag, who noted the kids were especially delighted by the post performance game of freeze tag. "We're making it fun to do physical therapy."
The three, who put in many hours rehearsing, designing costumes and writing scripts — Willett is currently adapting "The Little Mermaid," "The Lion King" and "Tangled" — receive no course credit for their efforts but find the creative outlet benefits them perhaps as much as the patients.
"I've always had a joy for being a positive influence in people's lives, teaching and helping them physically, emotionally and psychologically, and physical therapy is all of that," Freitag said. "After rehearsals, I feel refreshed."
"It's really a great way to remind us what we're in school for," Willett noted. "It's easy when you're (overwhelmed) to lose your passion and forget why you're here. Helping the kids reminds us of the good we do and the good we can do."
Docter says the group is working on choreographed dance videos for the Fairytale Physical Therapy You Tube page, designed for patients or kids at home to follow on their own time. Through two Gofundme campaigns, they are hoping to raise money to help Kantor and Schmitt secure nonprofit status for the program and help pay for costumes and accessories for future local performances, the next planned for early spring at Gundersen. The amount of support they've received for the cause, Willett says, is heartwarming.
Each plans to pursue a different specialty — Freitag focusing on physical therapy for individuals with neurological disorders, Docter with pediatric patients and Willett assisting those in the performing arts — but all are inspired to help people of all ages return to the activities they love.
"When you take someone who has been having pain for so long, and are able to help them through it, it's so rewarding," Willett said. "You can't help but feel good."