Hear ye, here ye: A continuing education class at the University of Wisconsin-La Crosse is inviting people to help complete an award-winning oral history project that accommodates self-guided tours.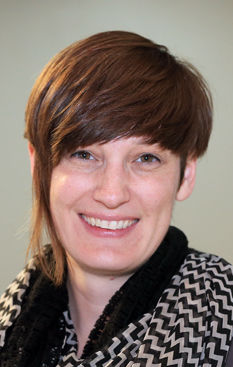 The class, "Hear, Here: Public History in Theory and Practice," will be offered Jan. 24 to May 2 with a goal of adding add 10 stories to the audio-documentary project that UW-L associate professor Ariel Beaujot and her history classes launched with 28 stories in 2015.
The project features a collection of oral histories that anyone can listen to by dialing a toll-free number at orange street signs throughout downtown La Crosse. At each stop, the recorded information corresponds to the site of the sign.
Students in the class, which is open to the public, will learn to research, record and edit oral histories, as well as to use the project's web site, social media and phone system. Class goals also include developing walking tours and helping complete K-12 corresponding programs.
The class will run from 5:30 to 8:15 p.m. Wednesdays in the board room of Downtown Main Street Inc. at 500 Main St. It will not meet on March 14, during the week of spring break.
"Hear, Here" has collected 50 stories altogether, and 10 more will complete the project, which has received the Leadership in History Award from the American Association for State and Local History. The project's sites have attracted about 6,000 calls since it began, with callers including people from nearly all 50 states.
A "Hear, Here North" project is well underway, with 30 oral histories prepared for La Crosse's North Side, but Beaujot is looking to partner with a community group willing to take over the project when she is on sabbatical in 2018-19.
During the sabbatical, Beaujot plans to create a similar project in Canada and start writing a book about "Hear, Here." She and UW-L are operating and paying for the project through 2020, with the help of several grants and sponsoring organizations.
Anyone interested in taking on the project may contact Beaujot at 608-785-6798 or abeaujot@uwlax.edu.
Three undergraduate credits are available through the course. Information on the cost and registration is available on the UW-L web site. Questions also can be directed to Annette Valeo, senior outreach specialist for UW-L's Continuing Education and Extension, at 608-785-6528.