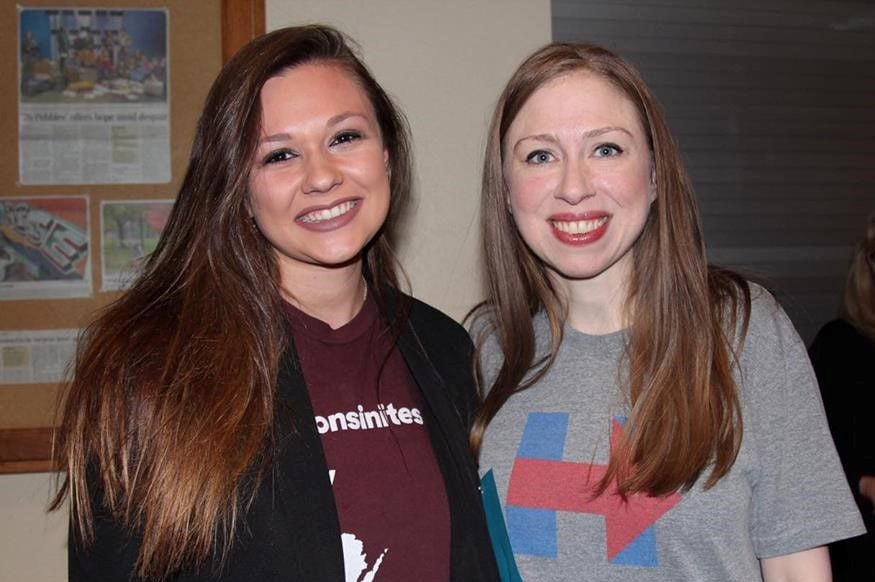 A UW-La Crosse student whose social media activity has attracted state and national attention is no longer an officer with the College Democrats of Wisconsin.
Junior and political science student Sarah Semrad was vice chair of the statewide organization when she drew attention last week by tweeting that "I (expletive) hate white men." Screenshots from a now-defunct Twitter account also include a message sent last month in which Semrad celebrated removing fliers for Christian-based pregnancy counseling from the UW-L campus.
"My new bit is tearing down all the pro life Christian pregnancy resource center fliers that they put up around campus to try & trick people," an October tweet read.
The tweets caught the attention last week of conservative Milwaukee radio talk show host Mark Belling and the conservative media outlet Campus Reform, which reported that she resigned Tuesday morning. Staff at the UW-L Police Department were unable to verify whether vandalism complaints were made on campus during the time frame in question.
Semrad explained and apologized for her Twitter posts in an email to the Tribune.
"In a moment of impulsivity and immaturity, I posted the tweet about white males as an expression of frustration towards my male friend who wouldn't ask for directions," she wrote. "My tweet about posters described my actions after I saw and removed one poster that was hanging on campus that had not received proper university approval for on-campus posting.
"I recognize that my words were neither humorous nor harmless, and sincerely apologize to all who have been hurt, offended or embarrassed by them," she continued. "My commitment to social justice remains steadfast and will not be deterred by these events, and I vow to use the maturity and sensitivity that would reflect that going forward."
Semrad is no longer listed on the website of the College Democrats of Wisconsin, whose communications director has not responded to the Tribune's phone and email messages.
The UW-L College Republicans issued a statement Tuesday night expressing disappointment in Semrad's tweets.
You have free articles remaining.
"Singling out any individuals based on their race, gender or religion is not something the College Republicans agree with," the organization said. "This is especially troubling coming from someone at the second-highest leadership position in the state college Democrat organization."
Staff at the UW-L chapter of Campus Democrats provided a statement through social media Tuesday. They defended Semrad, calling her tweets "sarcastic" and not representative of Semrad or the organization.
"Sarah Semrad is a wonderful person with an admirable passion for government work and serving the needs of others," the statement said. "Judging her or the College Democrats organization by sarcastic tweets on a locked Twitter account would be foolish."
This isn't the first time a UW-L student has opposed Christian messages on campus. A 2015-16 report of hate and bias incidents included an incident in which a student asked for the removal of Campus Crusade for Christ posters on campus, saying encountering the fliers made the student feel uncomfortable and that the Christian cross represents "oppression and hate of the LGBT+ community."
Earlier this summer, the Journal Times wrote a feature story about Semrad, who is a 2015 graduate of Racine's Walden III High School. Semrad was an intern on Hillary Clinton's presidential campaign last fall, and the article described her duties as vice chair as helping organize group's annual state convention, as well as working with regional directors of other College Democrat chapters.
In the profile, Semrad said she wanted to make sure that everyone has an equal say in government. After graduation, Semrad said, she wants to stay active in politics.
"My number-one passion in politics is making sure that constituents feel represented and cared for," Semrad told the Journal Times. "I'm also very passionate about seeing more women and people of color in positions of power."
---
Photos: Inside the $500 million Museum of the Bible