Kim Cable felt a bit like she and three companions were in the Twilight Zone as they trekked through the section of Riverside North in La Crosse formerly known as Tent City, an enclave of homeless individuals.
"It was eerie — shocking almost," Cable recalled of their venture at 4 a.m. Thursday into the woods at the juncture of the Mississippi and La Crosse rivers during the biannual Point in Time headcount of homeless people.
"There were absolutely none at Tent City — for the first time in four or five years," said Cable, spokeswoman for the La Crosse Collaborative to End Homelessness, which played a key role in helping many of the former residents there secure housing so the area could be vacated by July 1.
"It was weird, but heartwarming, the way the community has helped so much" in the collaborative's two major pushes against homelessness — finding housing for more than 15 veterans during 100-day push before Christmas and nearing its goal of doing the same for 20 chronically homeless during another 100-day sprint that ends Monday.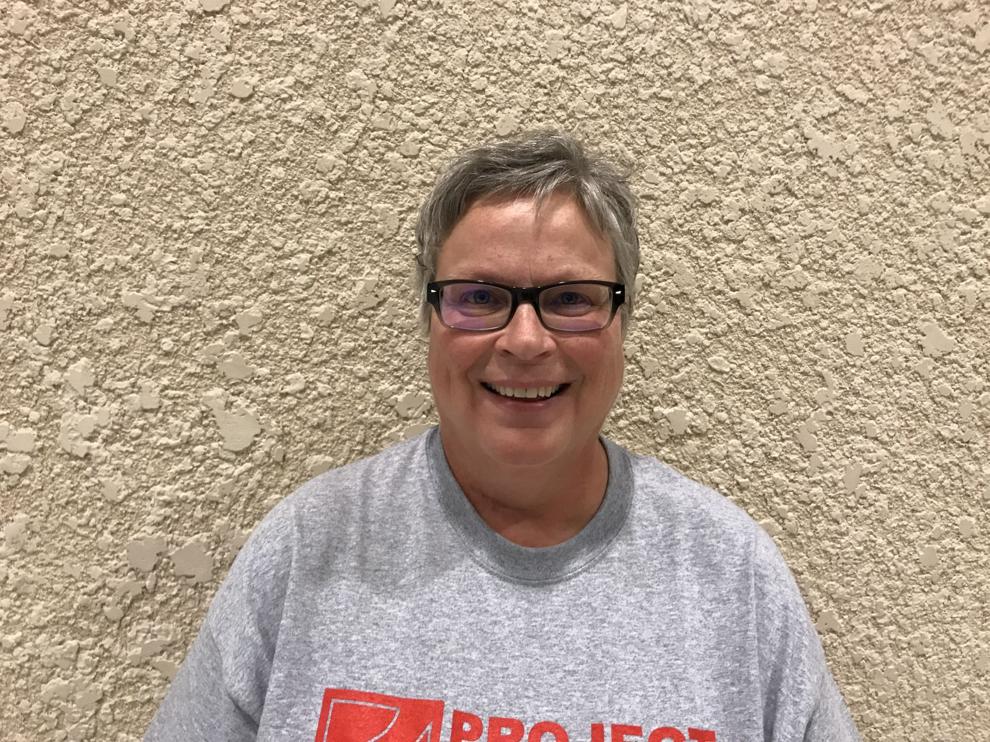 Not that ending homelessness is a fait accompli, because the several teams that fanned out in the city for the count tallied 32 living on the streets, Cable acknowledged.
"That is better than the 44 last year," she said, adding that the final count is pending. "Some are newly homeless or recently lost housing. Most of those we used to see on the street are in housing."
Cable was discussing the issue during Homeless Connect at the La Crosse Center, an annual event that helps homeless people link up with resources, have lunch and, if they want, free haircuts and massages. It featured booths from Couleecap, where Cable is housing and community services director; the Coulee Council on Addictions; Catholic Charities; veteran organizations, and other community service organizations.
As for the collaborative's effort to find 20 spots for the chronically homeless, Cable said 16 had been settled, with that number expected to hit 17 or 18 — maybe even 19 — this weekend.
"When I think of that, I think 18 or 19 is 18 or 19 victories, 17 is 17 victories and even 16 is 16 victories," she said.
Between the efforts for veterans and chronically homeless, she said, "In 200 days, we housed about 35 people. Who does that? It's amazing. It's really great what the community has done."
And it has been a community-wide initiative, including one of the leading organizations, the Franciscan Sisters of Perpetual Adoration, as well as virtually every governmental and service agency in town, and several landlords who have worked with the collaborative since it launched last year.
"It's a testament to what truly can happen when we put our arms around it and come together," Cable said, tearing up a bit because of a combination of emotion about the accomplishment and fatigue from having rousted herself out of bed in the middle of the night.
Much remains to be done, as the original list of 50 chronically homeless still has 30 or so names, she said.
"It's a juggling act," she said, noting that one man on the list has been homeless for 90 months but has missed a couple of housing chances because the agencies couldn't locate him when vacancies were available.
"We don't want to take him off the list, because we're committed to getting him housing," she said.
Among those who obtained housing is 42-year-old Chris Sader, who was accompanied to Housing Connect by his service dog Tyson.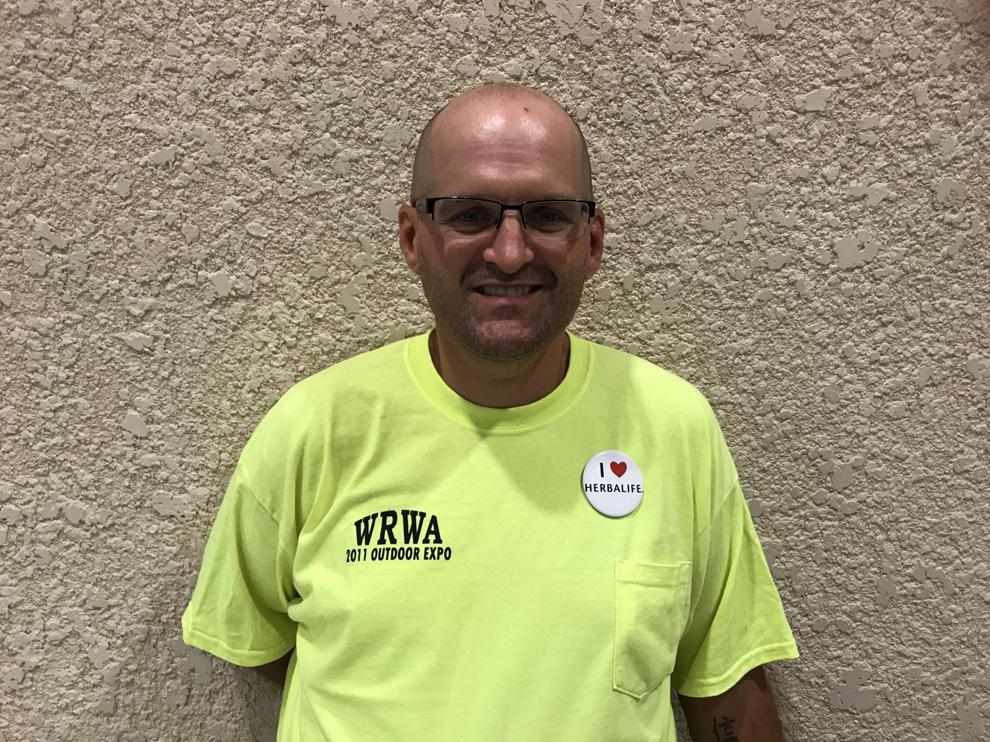 "I was without an apartment for eight months, sleeping in my car," Sader said. "Now, I've got a nice, quiet apartment."
Sader, who said he has a part-time job and has lived in La Crosse for 29 years, said a variety of circumstances contributed to his homelessness, including losing a house and leasing hassles.
One of the keys to the collaborative's efforts, and a pivotal point for landlords, is that it hooks people up with caseworkers who help them organize their lives and set up finances so they don't slip back into dire straits.
"We've got lots of support staff," Sader said. "People at Couleecap have really helped me out."
When Sader encounters other homeless people, he encourages them to obtain assistance from such resources to become self-sustaining, he said.
Still sleeping on the floor in his apartment, Sader said, "I'm excited to get my stuff out of storage" to settle in completely.
The closure of Tent City has "definitely helped police out," said Neighborhood Resource Officer Alex Burg, who works downtown with fellow NRO Joel Miller and who regularly visited the campers to foster relationships.
Speculation that the shutdown would just move the problem elsewhere has proved unfounded, he said.
"The first few weeks, there were a few who used Tent City," but he and Miller were able to dissuade them, he said.
"There is no other established camping. One popped up in a wooded area … but they were just people traveling through. There is no underground tent city," Burg said.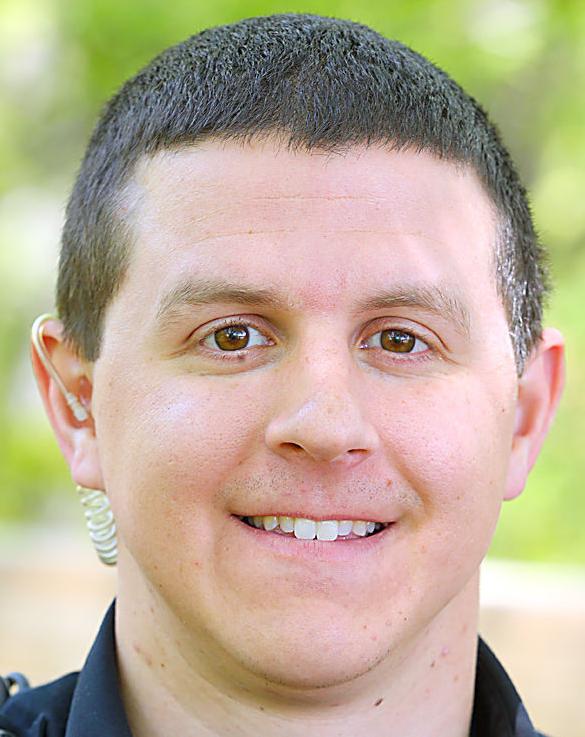 What's more, he said, "Compared to last summer, the people staying in ramps and fighting in parks is way down."
Police calls for disturbances in Cameron Park spiked during the past couple of summers but are almost negligible now, with a drinking ban and the presence of a new playground, he said.
"I'm not saying homeless people created calls for service in criminal actions," he said. "Most were for welfare checks, but those people now are in housing.
"It's helped police out a ton, because we are freed up to answer other calls. That's good for the community," Burg said.
"The collaborative did a lot of legwork and developed tons of resources to make Tent City ready for closure and a smooth transition," he said.