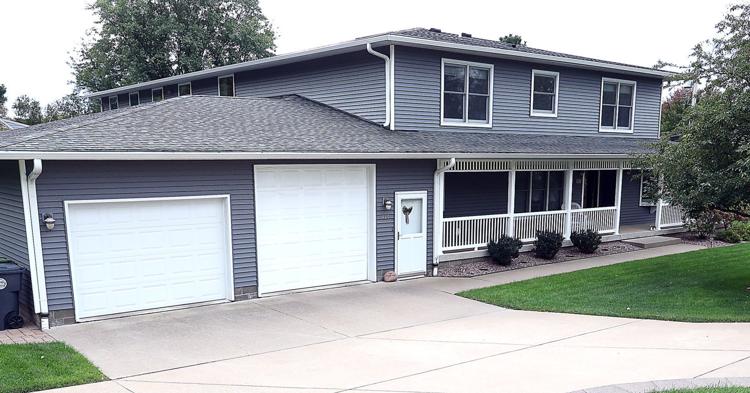 Tensions ran high Monday during a three-hour meeting to discuss a proposed Tomah Veterans Affairs Medical Center transitional housing program on the city's South Side.
The La Crosse Plan Commission voted to delay action on the VA Medical Center's request for a conditional-use permit at 3120 Farnam St. for another month after testimony from supporters and opponents who raised additional questions. The recommendation will go to the Judiciary and Administrative Committee on Tuesday and the La Crosse Common Council next week.
Samuel Hipp, who is in the VA's campus program and would transfer to La Crosse if the permit is approved, said he understood the neighbors' concerns. He has two young daughters himself, but he said his fellow participants are the last ones who would want anything to do with violence, drugs or alcohol.
"This isn't a typical group home. ... It's really an unusual, unique experience," Hipp said.
Hipp, who is nine months sober and works as a peer ambassador at the Tomah VA, said participants come to the program because they know they need help, and the VA gave him the tools to dig himself out of a hole after a drunken driving citation — not a single violent offense — left him homeless.
"I hit the ground running with this system. And it's great, and that's also why I believe in this La Crosse location. There are more resources, there are more local businesses," Hipp said.
The La Crosse facility would give him a place to build a community while saving up money to move into his own home.
"I'm homeless. I want a home so that I can have my daughters overnight," Hipp said.
Vietnam veteran David Barlow, who lives down the street from the proposed facility, questioned whether the parking would be sufficient, saying the plan to have excess parking at the River Valley VAMC Clinic isn't ideal because there isn't abundant parking space there either.
He also questioned whether there would be enough room for eight people all eating and getting ready for work at the same time.
"Everybody thinks we're all against the veterans. We're not against the veterans. We're just against this being the place for it," Barlow said.
Barb Erickson also took the opportunity to clarify some of the facts about her house and whether there would be enough space, explaining that the kitchen island seats 13 people, there is a three-car garage and four additional spaces in the driveway and an uncovered parking area. The upstairs also only has two bedrooms, both of which face Farnam Street.
Steve Gunn was at the meeting to talk on behalf of his 91-year-old mother, who has lived next door since the 1950s and is worried about her privacy with the house being built up above hers.
"When you're talking about fear, it's usually because of the unknown," Gunn said.
The initial notice was short on details, he said, adding that it could have been handled differently.
Leslie Patterson, another neighbor, concurred, saying her concerns for the neighborhood were built on the number of unknowns and the VA's initial indication that people with a history of violence would be allowed to live there.
The VA has since released guidelines forbidding people with a criminal history including violence and sex offenses from living in the La Crosse facility. It also committed to hiring 24/7 security, limiting parking for residents to four cars and reduced the number of residents from 10 to 8 after neighbors' objections.
"I do ask for respect of others. This neighborhood is a great neighborhood, and we want the best," Patterson said.
Hipp, who has lived in nine other veterans in house at the Tomah VA with only one bathroom, attempted to put neighbors' minds at ease as far as the logistics go, explaining that veterans are used to close quarters and tend to work different shifts.
"It's never been an issue," he said.
If neighbors are worried about privacy, he'd be glad to come help install curtains and blinds, Hipp said, saying helping out the neighbors is part of building a community.
Others were concerned about what the facility would do to the property tax base.
Tomah VA medical director Victoria Brahm assured the city that the federal government would provide the city with a payment in lieu of taxes to pay for municipal services and offset the tax exempt status of the VA. The exact amount will be worked out by the VA's general counsel and the city attorney.
Many people came to speak in favor of the facility as well, including La Crosse developer Don Weber, a Vietnam veteran who is known for supporting local initiatives. Weber, a friend of the Ericksons, stressed that the people in the program aren't criminals.
"These are bright young men and women who stand up and volunteer to serve," Weber said, adding they deserved to be thanked for fighting for Americans' freedom.
"Wars are ugly. They scar you for life. Some of the scars are physical and others — you carry the spirit of that war forever. … Some of them need help, and we should be here to help them back," Weber said.
Weber said he can understand prioritizing safe neighborhoods and protecting the tax base, but said it was time for the community to give back to its veterans.
"What if we can put them to work and they can go out and buy homes? What does that mean for the tax base?" Weber asked.
"I don't think in any way that's going to take the values of the properties down," he added.
The proposal was previously delayed two months to allow the VA a chance to address neighbors' concerns.