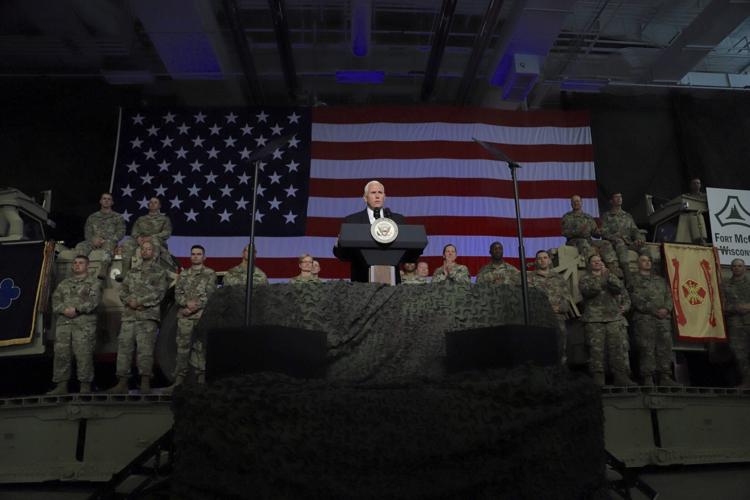 FORT McCOY — Vice President Mike Pence visited Fort McCoy Thursday during a trip to Wisconsin to promote a U.S. trade agreement with Mexico and Canada.
He spoke to a crowd of a few hundred soldiers and civilians at the base while flanked by heavily armored military vehicles, some of which are designated for IED recovery in war zones.
In attendance were Army reservists, who give up free time to train at the base during long weekends to prepare in case of deployment, such as a police officer in Polk County who dons a camouflage-colored uniform on the weekend and an IT specialist who focuses on cloud security during the week and trains to secure the nation on the weekend.
"I stand before you today on behalf of your commander in chief and a grateful nation to pay a debt of honor and a debt of respect to each and every one of you," the vice president said during his speech.
Pence began his Wisconsin visit in Eau Claire at J&D Manufacturing, an industrial supplier and manufacturer, where he took part in a roundtable discussion with local business leaders.
"What I heard today is the time has come for the USMCA to be passed," Pence said during a post-speech press conference. "That's why we came here. Congressman Ron Kind has supported trade throughout his career. … So I wanted to be here in Wisconsin to encourage him to come out for USMCA."
Pence called on U.S. Rep. Ron Kind, D-La Crosse, to "take a stand" for manufacturing and farming in Wisconsin and to work with his colleagues in Congress to introduce the U.S.-Mexico-Canada-Agreement on the House floor. He said he is confident that if House Speaker Nancy Pelosi, D-Calif., introduces the trade agreement to Congress, it will pass both the House and Senate.
"We believe in having free and fair trade with our neighbors to the north and south," Pence said. "It's absolutely vital to our continued prosperity, so I came here to the heartland to make it clear that the time has come for Congress to pass the U.S.-Mexico-Canada Agreement."
Key components of the USMCA include the expansion of market access for American food and agricultural products, the elimination of a program that allows low-priced dairy ingredients to undersell U.S. dairy products in Canada, and market access for certain cheese names, among others, according to the office of the United States Trade Representative.
The trade agreement among the U.S., Canada and Mexico, often referred to as a renegotiation of NAFTA, was signed in November by heads of state but has yet to be implemented.