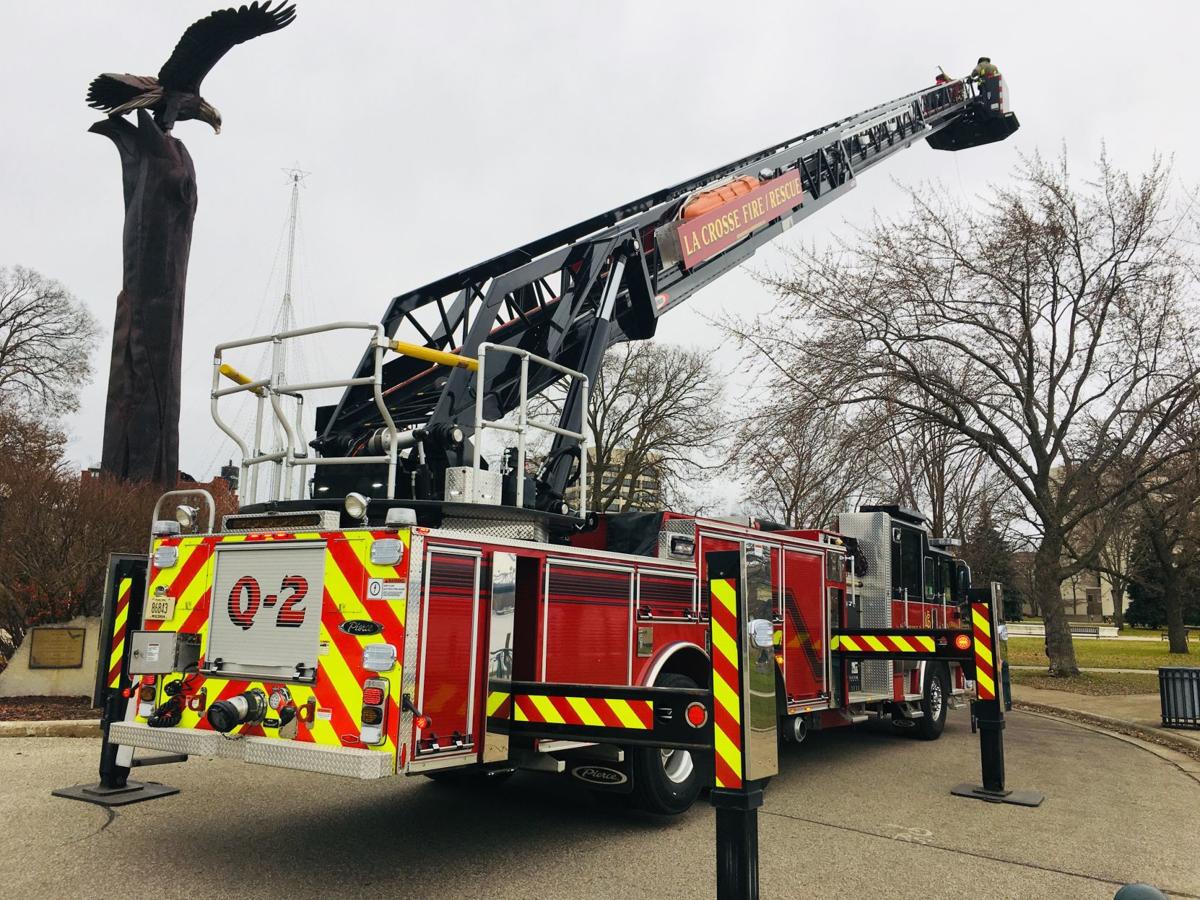 A La Crosse Fire Department ladder truck crew multi-tasked in low-30s temperatures that seemed colder because of blustery conditions Wednesday at Riverside Park, helping string Christmas lights on a tree for Rotary Lights and practicing with equipment at the same time.
Two firefighters took large spools of lights up in the bucket and unwound them as they maneuvered the bucket above the watchful eyes of an earthbound firefighter. Of course, they and Rotary Lights volunteers tested the light strings to make sure they worked before hanging them from the branches with care.
The exercise filled two purposes, said fire Capt. Travis George, who supervised the process as one of the two firefighters in the bucket.
At the same time they were able to perform a community service, helping a nonprofit effort that is a perk for residents and a boon for tourists, a young firefighter was able to get training time in the bucket, George said.
"They do a good thing here," George said of Rotary Lights.
Rotary Lights, which features more than 4 million bulbs and a variety of stationary and moveable Christmas displays, begins the day after Thanksgiving, after a short parade downtown. The lights and displays, some of which include live figures at some times, are free and open to the public nightly, with the only request being a donation of food to be contributed to one of several area food shelves.
Most people drive through the park to view the lights and displays, although many also walk through to take advantage of seeing Santa in his workshop, viewing reindeer resting up for their Christmas Eve circumnavigation of the globe, listen to choirs from various schools and churches who perform in a live Nativity display ice skate and drink hot chocolate.
It also features Santa's Gift Shop, where people buy items such as hats, scarves, mittens, ornaments, light-up toys, holiday home décor, Rotary Lights magnets and clothing and many other items.
Other attractions include entertainment, Breakfast with Santa, carriage rides, hay rides and carriage rides.
Since its inception in 1995, Rotary Lights has collected more than 3.6 million food items and distributed them to the food shelves in its quest to fulfill its mission, "To feed the hungry."
Get local news delivered to your inbox!
Subscribe to our Daily Headlines newsletter.