State Sen. Kathleen Vinehout has again introduced a package of bills intended to increase oversight of the frac sand industry.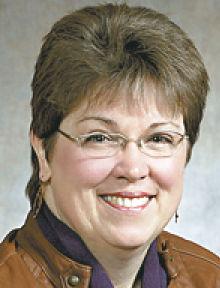 The Alma Democrat said each of the six bills is in response to problems encountered by constituents in the last decade as industrial sand mines sprung up across western Wisconsin.
Despite a recent industry slump, Vinehout said she anticipates another boom cycle could be approaching.
"It looks like things are going to be heating up," she said.
One of the bills would require mines and processing facilities to monitor the surrounding air for fine particles and report the results to the Wisconsin Department of Natural Resources, which would also be required to set standards for small crystalline silica particles.
The DNR would also be authorized to create eight full-time positions to monitor industrial sand mining and processing.
Vinehout said the agency already collects fees from license holders to pay for monitoring.
"There's nobody actually assigned to monitor the sand mines," she said. "Funds are available but the DNR never hired inspectors."
Despite a slump in the U.S. oil industry, Wisconsin frac sand producers are planning to spen…
Another bill would require frac sand mining to be listed as a conditional use in areas zoned as agricultural and a prohibited use in areas zoned as residential.
Require real estate sellers to disclose knowledge of any contracts or contract options to mine sand on neighboring property.
Require local governments to publish legal notices at least 30 days before taking any action on a frac sand mine application and to mail meeting notices to all landowners and occupants within a mile of the proposed mine.
Allow counties to issue frac sand exploration licenses.
Vinehout said this could help ensure that test bore holes aren't drilled into the aquifer and are properly filled. She noted that local officials are often unaware when exploration is going on.
"It's to give the local government a heads up — if they want it," she said. "It's permissive."
Sand mines proliferated across western Wisconsin in the early part of the decade as oil drillers in North Dakota sought the strong, round grains for use in a technique known as hydraulic fracturing — or fracking. But falling oil prices have rendered many of those Bakken oil rigs idle, leading to a slump in demand for sand.
Even with the closure of some mines, other companies have sought to open new facilities along different rail corridors that serve other oil fields — notably in Texas and Oklahoma — where drillers have been able to increase production and are using higher volumes of sand.
All of the bills have only Democratic co-sponsors and have been referred to the Senate Committee on Sporting Heritage, Mining and Forestry.
A package of nearly identical bills failed to pass in 2016.
The bills were supported by pro-environmental groups but drew opposition from industry organizations including the Wisconsin Industrial Sand Association, Wisconsin Manufacturers and Commerce, and the Wisconsin Transportation Builders Association.
Vinehout said she hopes to introduce another pair of bills with a Republican colleague to prevent municipalities from reaching out and annexing non-contiguous pieces of land from neighboring towns, a technique that mining companies have used to skirt local zoning ordinances.
"This is an issue that's much bigger than just sand mines," she said. "Cities want to basically take the prime property from the towns."