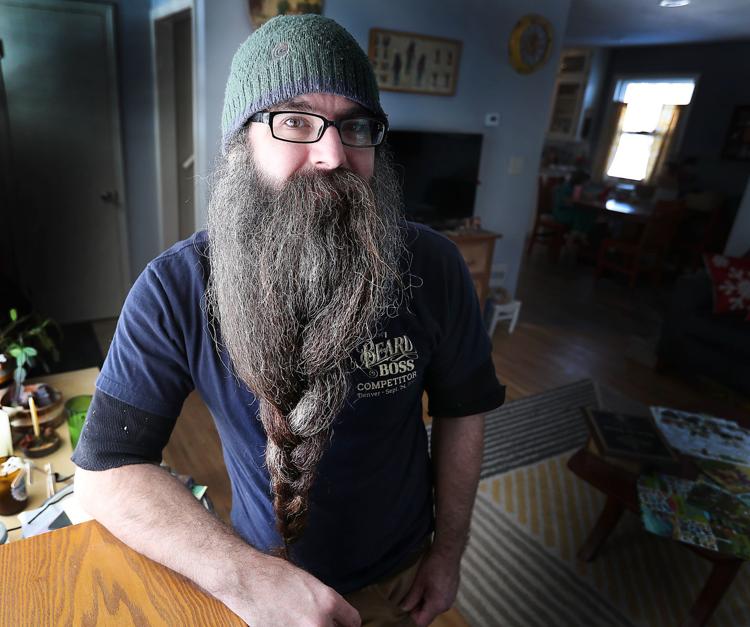 It has been almost five years since Jason Kiley last took a scissors to his beard. Belt buckle length, thick and a rich chocolaty brown hue, it is the beard of a champion. A world champion, in fact.
Kiley, 42, of Viroqua holds the title of Best in Show and first place in the Full Beard Freestyle category from the 2017 World Beard and Moustache Championships, along with several other awards from the roughly 40 competitions he has entered since 2013. Likened to a "mix between a dog show and a beauty pageant," beard contests offer more than just a creative outlet and accolades, Kiley says. They've provided him with friendships, lifelong bonds and even a beard ambassadorship.
"It's a big weird family at these contests," Kiley says. "It's really fun and ridiculous."
A ceramist and sculptor by day — he owns OneEyedCatCrafts — Kiley was feeling a bit burned out by his craft when he ventured into the world of beard styling while living in West Virginia. Often stopped by complimentary strangers or men seeking tips, and regarding beard styling as an art form of its own, Kiley entered a contest eight hours away, trying out a handlebar mustache that proved anything but simple. Despite having "no idea what I was doing," the burgeoning beard stylist placed ninth in his category. Now, he has his technique down to a science, a four-hour process involving nearly a full large size can of hairspray, the tiniest dab of mustache wax and a lot of patience.
While he has had a beard for a decade, initially trimmed seasonally to be short for summer and long for winter, he went all out after the first competition and has been letting it grow ever since. His daily routine is fairly basic — shampoo, beard oil and brush — but his bushy beard comes with plenty of hassle.
"It gets in the way of just about everything," Kiley said. "Imagine something two feet long hanging down your face."
When he works on the pottery wheel, his beard stays tucked in his shirt to prevent it from getting caught, and Kiley says his beard, which he often braids, has been zipped into his jacket countless times, and even tied into his shoelaces when he bends over to lace them. His substantial mustache brings problems of its own.
"You have to relearn to eat basically everything," Kiley says. "In the beginning you're doing a lot of chewing on your mustache no matter what you're eating."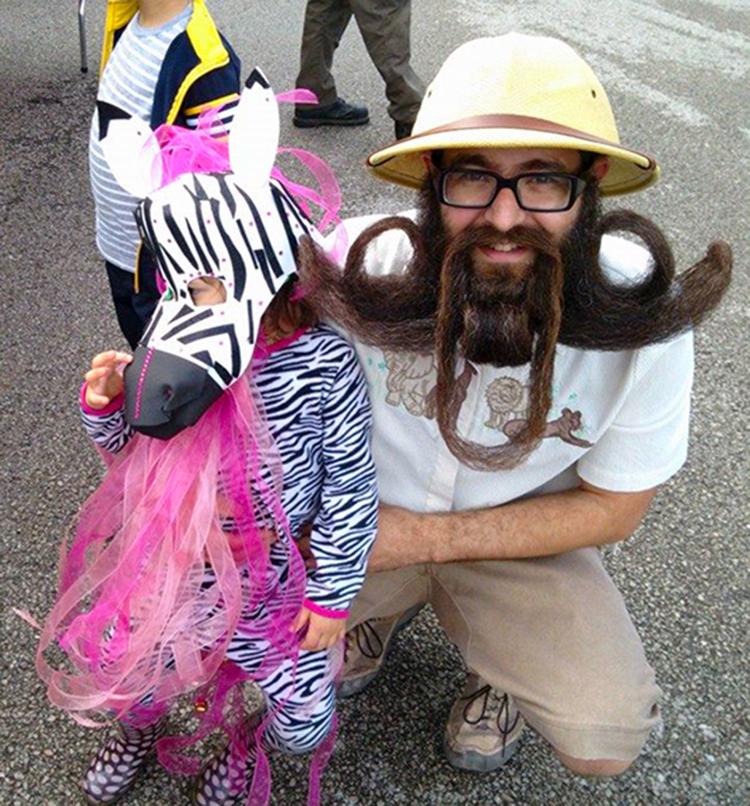 Kiley's wife, Ashley, has no qualms about his beard, and the pair have "a spoken agreement that I have no say in what style or haircut she has. She can do what she pleases." His daughter, Etta, 8, has only seen her dad with a full face of whiskers, and calls his competitive looks "funny beards," offering her own design suggestions. Etta has even entered contests herself — albeit not with real facial hair, but faux. Kiley took a 4-year-old Etta to the craft store and let her go wild. Coming up with a zebra headpiece with a beard of pink ribbons and jewels, little Etta won best in show. The proud youngster likes to remind her dad he's not the only Best in Show winner in the house.
Etta and Ashley accompany Kiley to a few of the 10 or so competitions he attends annually, though Ashley opts out of the Whiskerinas contests, in which women can enter in "natural" (realistic appearing) or "fantastic" (outlandish and with an accompanying costume) categories, fashioning their beards out of materials of their choosing. Of all the beards he's seen, Kiley says he was most impressed by friend Rachel Iammarino's "Teen Wolf" rendition at the 2017 World Beard and Moustache Championships, which included head-to-toe fur, sumptuous mahogany beard and basketball uniform.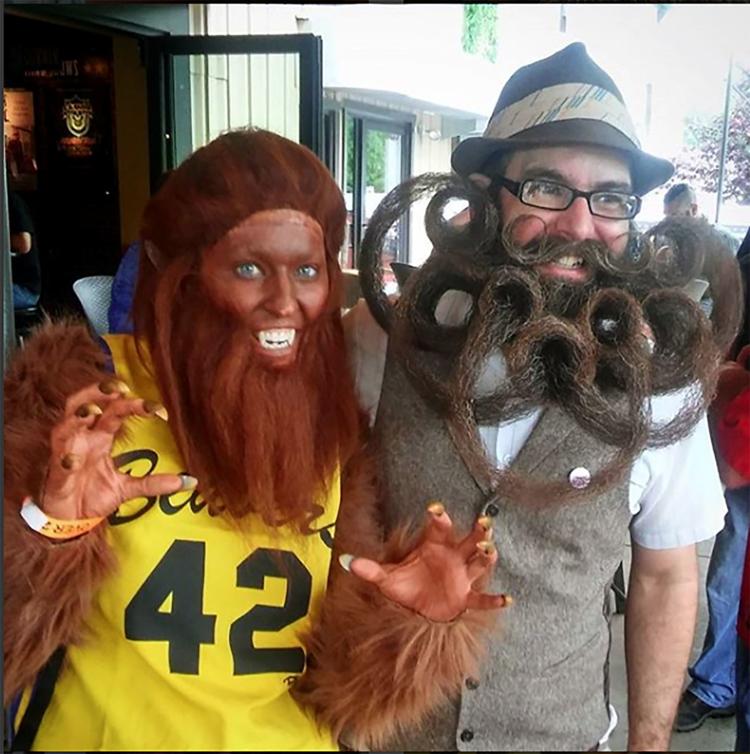 "The ladies go all out," Kiley says.
Contest prizes, which range from chainsaw-carved wooden beards to plaques, are generally fashioned by the beard and mustache club hosting the event. Always with a charitable aspect, contests benefit small organizations local to the host city — an animal shelter, women's shelter or youth club. Depending on the size of the competition, between $5,000 to $15,000 is raised.
"It's places that when they get a check, you know they need it and they're really grateful," Kiley said.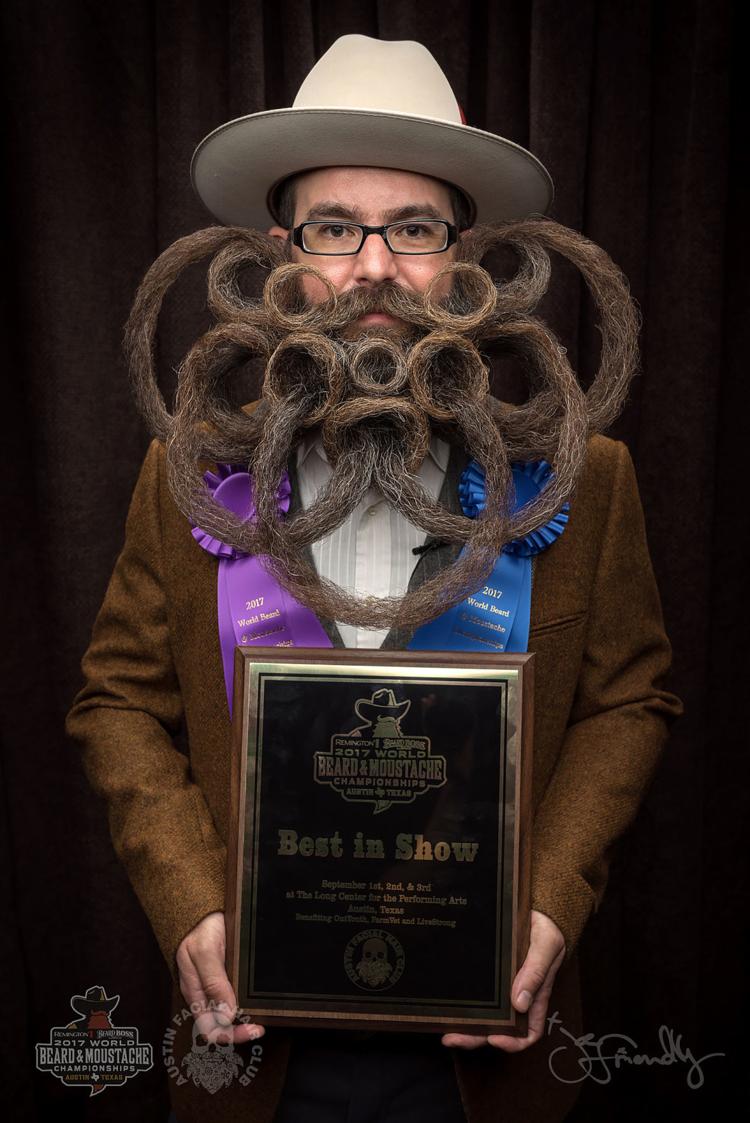 Kiley, who beat out 737 competitors from 33 countries to win Best in Show at the 2017 World Beard and Moustache Championships in Austin, Texas, was a judge on behalf of sponsor Remington at the 2018 Great American Beard and Moustache Championship last September in Richmond, Va. Kiley was selected as a brand ambassador, or Beard Boss, by the shaving and grooming brand after entering a contest over three years ago. Being a Beard Boss, Kiley says, has allowed him to visit sponsored competitions across the country. The closest competition, the Milwaukee Beard Club's Brew City Beard Alliance Whiskerbash, is one of Kiley's favorites, hosted by a friend. Held in December 2018, it benefitted the Riverwest Food Pantry.
In the beard competition world, charity and camaraderie is at the forefront, and fame doesn't come with fortune. That's just fine with Kiley, though initially a bit of a let down for Etta.
"After we told her I won at world she asked, 'Oh, are we rich?'" Kiley recalls with a laugh. "We had to explain, mostly Daddy has bragging rights for a couple of years."