Erin Waldhart was in a hugging mood Tuesday — even though the object of her affection was a new cooler that could have given her a cold shoulder after it was delivered to the WAFER food pantry she heads in La Crosse.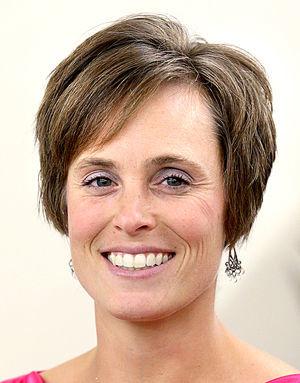 "It's beautiful — I've hugged it three times today," Waldhart said of the 49-square-foot Arctic Air commercial reach-in cooler, delivered Tuesday morning as part of a UnitedHealthcare grant of $700,000 to the Feeding Wisconsin initiative.
The cooler, which a UnitedHealthcare representative said cost more than $2,000 not including delivery, delights Waldhart because it is an additional cooler instead of a replacement.
Some of the pantry's produce with a longer shelf life that has been stored at room temperature now can be stored in the cooler.
"I hope more people will eat fresh produce," she said.
Waldhart said the Channel One Regional Food Bank in Rochester, Minn., that WAFER uses offered her a pie-in-the-sky choice. Unable to get her first choice of a nutritionist to walk around with clients to help them select food, she opted for the cooler — stipulating that it have glass doors — courtesy of UnitedHealthcare, she said.
The new cooler is one of more than 50 being delivered to food pantries statewide by UnitedHealthcare, which also is funding training programs for food pantry staff on how to handle and market fresh produce and create pilot programs to expand Wisconsin's emergency food system to distribute fresh produce.
WAFER also is receiving $5,000 to spend as needed, Waldhart said.
Wow, have you got a wrong number
In an unrelated matter, Waldhart mentioned an odd phone call she fielded last week, perhaps resulting from the bustle of the Christmas season and the confusion it can spawn.
She answered the phone saying, "WAFER, this is Erin."
The caller said, "Hi, I got my package today, and I have some questions. Who would be able to answer those for me?"
To which Waldhart replied, "I can help you. What questions do you have?"
The caller responded, "I will give you my number," and started reading off a number."
This puzzled Waldhart to know end, because WAFER clients are not able to get their numbers without some pretty nifty hacking. "I don't understand," she said.
The caller explained, "This is WAFER, the home goods store?"
Mystery solved, Waldhart realized and told the customer, "Oh, I think you want WAYFAIR. This is WAFER — a food pantry."
Well, at least the caller thanked Waldhart before she hung up, in search of a place that would have just what she needs. Ba-da-bump.