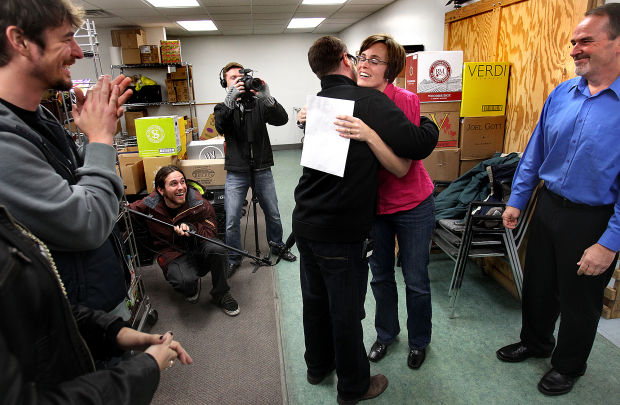 Last time they were in La Crosse, they brought massive amounts of music. This time, they're back with massive amounts of food.
Making good on the promise of a long-term investment in the Mid-western communities they serve, organizers Turner Berg, Reed Grimm and Shannon Pitzele of the Minneapolis-based nonprofit Massive Amounts of Good returned to La Crosse on Friday to present the proceeds of September's benefit concert to WAFER, a food pantry.
WAFER executive director Erin Waldhart knew about the check for $736, but MAOG had a few surprises for WAFER.
Berg announced an additional $1,500, thanks to a matching fund partnership with the People's Food Co-op in La Crosse and Habitat for Humanity — La Crosse Area. By the first of the year, they hope to raise $3,000 to purchase a much-needed new cooler for the food pantry.
"But that's not all," Berg said, bringing forward Westby Cooperative Creamery general manager Pete Kondrup, who revealed a long-term commitment to donate $1,700 per week worth of dairy products. That's nearly $90,000 and 52,000 pounds of cottage cheese, yogurt and sour cream every year.
"As long as WAFER wants it," Kondrup said, "we'll have it for them."
It seems almost unthinkable that anyone in the Dairy State could be lacking access to milk, cheese and yogurt, but Waldhart said that's one block of the food pyramid that WAFER often struggles to supply.
"Our customers notice when we don't have dairy," she said, "and when we do have it, it's almost like a surprise."
MAOG organizers heard about WAFER's dairy distress in September when they volunteered at the food pantry prior to the benefit concert. Berg and Grimm are both natives of Ellsworth, Wis., — known as the "cheese curd capital" of the state — so they made a few phone calls to see if they could help.
"I don't want to say it's been easy, but it really has been," Berg said. "I make a call, and people say: 'How can I help?'"
Waldhart was stunned by the gift and said the new dairy source will benefit the thousands of families WAFER serves every month — particularly those with hungry children.
"I'm just so excited," she said after the big reveal. "This is unbelievable."