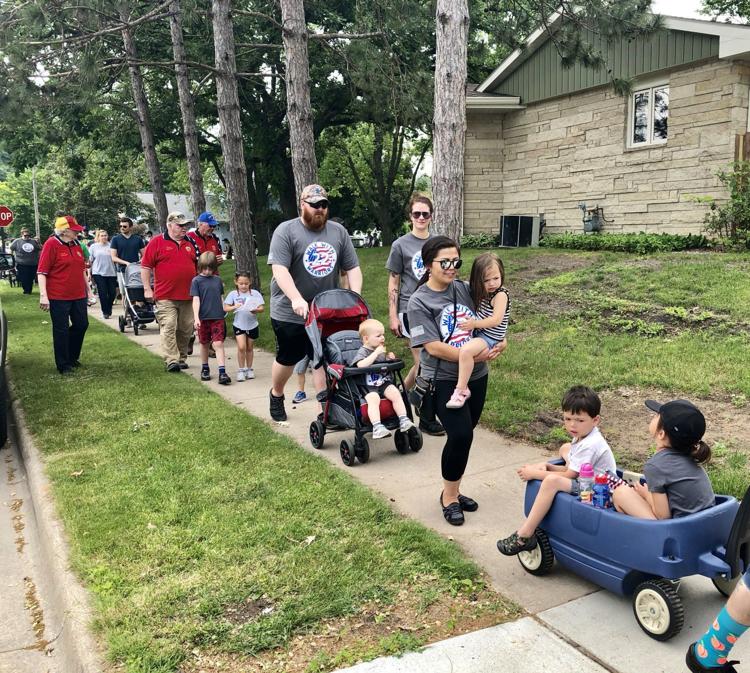 The prevalence of suicide among veterans nationwide is distressing, occurring at a rate of 30.1%, nearly 13 points higher than the non-veteran rate of 17.5%.
The numbers among Wisconsinites are even more troubling, with veteran suicides at a rate of 35.3% versus 18.5% for civilians, according to 2016 data from the U.S. Department of Veteran Affairs, U.S. Department of Defense and National Center for Health Statistics. In total that year, 132 Wisconsin-based veterans took their lives, over two thirds by firearms.
On Saturday morning, about 750 individuals gathered to draw attention to the devastating issue, departing from the Onalaska American Legion for the 2.2 mile YMCA Walk With Warriors event, the distance representative of the estimated 22 veterans who die by suicide each day.
"This gives us an opportunity to talk about mental health in the community," said Houser YMCA wellness director Christopher Matt. "We're letting veterans know providers are there for them, the community is there for them."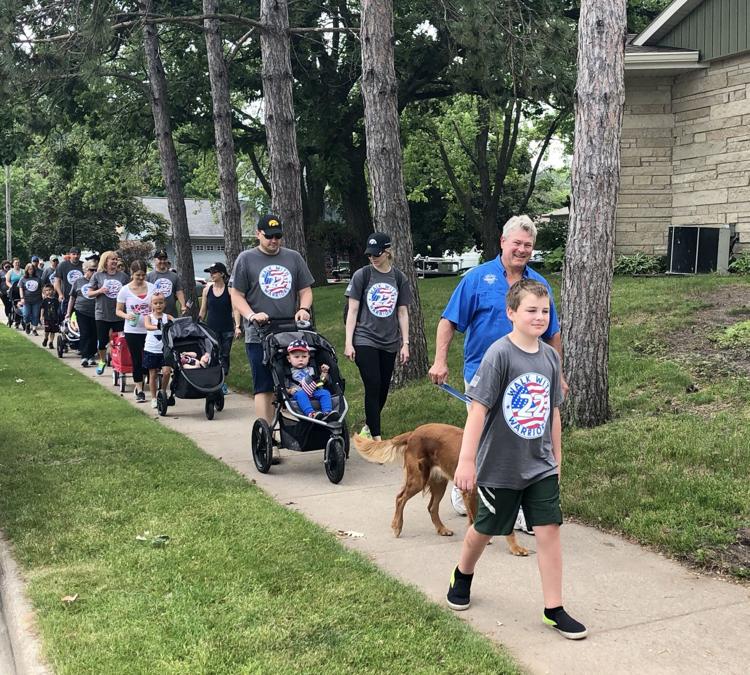 Matt, who served in the Army from 2000 to 2010, co-founded the walk five years ago with fellow members of the YMCA Veteran Committee, the group having lost military friends to suicide. The first year a team of 30 took on 22 miles, carrying heavy rucksacks on their backs to represent the struggle and spread awareness, completing the lengthy trek again the next year.
The support was overwhelming, with families hoping to get involved but unable to take on the daunting distance with children in tow. When the Walk With Warriors was converted to 2.2 miles the third year, attendance skyrocketed, with the 2018 event drawing more than 650 participants, an estimated 100 of them veterans.
Providers from Gundersen and Mayo Clinic Health Systems, the La Crosse Vet Center, the Tomah VA Medical Center and both branches of the YMCA staffed resource tables onsite, wearing shirts printed with "Let's Talk" to encourage a dialogue and help arrange for needed care or services.
"We at the Y understand we all have mental health and this one of these ways we can raise that awareness," said Sarah Johnson, mental health director for the YMCA. "Mental health is how we think, how we feel, how we act, and what we're doing here is providing an opportunity to think about how we care for ourselves and how we care for each...I want to be keenly aware that this is us, that mental health is not somewhere out there, it's not someone else — mental health impacts every single one of us...We're here not just to walk but to connect with each other."
You have free articles remaining.
Register for more free articles.
Stay logged in to skip the surveys.
Jeremiah Nagel and Joe Hess, both 18 and enlisted in the Marine Corp, chose to dress in fatigues and strap on 60-pound rucksacks for the walk, honoring those who founded Walk With Warriors as well as family members and community members who have served.
"It's to show respect and thank them for their service," Nagel said.
For Hess, mental health and PTSD among retired and current military members is of great concern, the future Marine noting, "It's a real issue and the military kind of sweeps it under the carpet. It's a real possibility and if you need help you should be able to get it."
Second-year Walk With Warriors participant Abigail Chandler, 17, of West Salem has seen the pain of PTSD, her own father, a Master Gunnery Sergeant in the Marine Corp, continuing to suffer from the disorder.
"I've been there to try to pull him out of it. I might not know what he's going through, but I know I will be there for him," Chandler said.
Having lived on base, Chandler says the "serious impact" that serving in the military has on mental health is evident. A comrade of her father's and close friend of the family took her life in 2012 as a result of PTSD.
"It was really awful," Chandler said, clutching a miniature American flag. "Even now I'm still getting choked up about it. I can't understand what (those who serve) are going through, but supporting them in this walk means a lot to me."
For more information on mental health resources, call the VA River Valley Integrated Health Center at 608-787-6411, visit www.tomah.va.gov or contact Sarah Johnson at 608-782-9622, ext. 267.