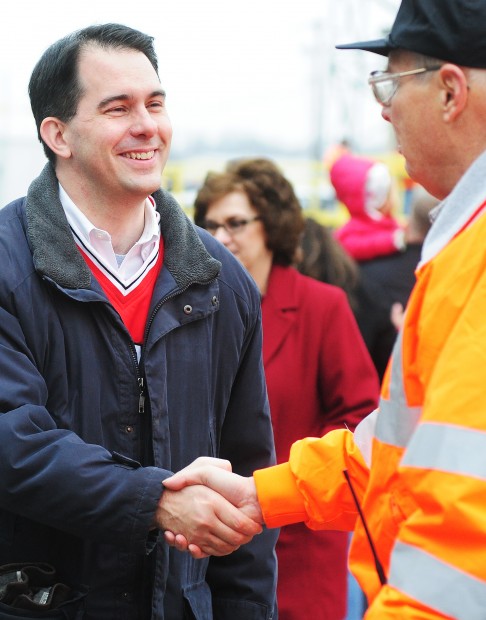 Gov. Scott Walker enjoyed the western Wisconsin scenery during a passenger train ride Saturday but defended his rejection of federal money for a proposed high speed passenger rail corridor between Chicago and the Twin Cities.
"I love the ride here," Walker said after the hour and a half excursion aboard a train of vintage rail cars that the BNSF Railway hosted for Wisconsin troops.
As for the funding, Walker pointed to a spending bill passed last month by Congress that eliminated $8 billion in high-speed rail money requested by President Barack Obama.
Republican lawmakers claimed victory for killing the president's rail program, which they have said is too costly, though billions of dollars in the pipeline mean some work will continue. Transportation Secretary Ray LaHood has said he expects more than $1 billion to be spent on rail construction projects next year.
"I didn't think the federal government would have the money," Walker said Saturday. "That proved to be true."
Even before taking office in January, the Republican governor made clear he would reject $810 million in federal funds awarded to help in the construction of a Milwaukee-Madison high speed rail connection, saying it represented runaway spending and would have left the state on the hook for operating costs. In response, the transportation department redirected that money to other states.
In an interview in a 1955 dining car aboard the BNSF's Holiday Express, CEO Matt Rose said the future of passenger rail in America depends on gas prices.
If gasoline were priced to reflect the true costs — such as military campaigns to protect access to foreign oil — Rose said railroads would return to hauling passengers.
With $3.50 a gallon gas, he said, it's not likely.
Meanwhile, Rose said, BNSF's freight volume is recovering with the economy — slowly.
Railroads account for nearly half of the nation's intercity freight volume, according to the Association of American Railroads.
Consumer goods, which account for the bulk of BNSF's freight, peaked in 2006 with 5.6 million containers before bottoming out in 2009 at 3.2 million units.
Volume rebounded by about 10 percent in 2010, Rose said, but growth in 2011 hasn't kept pace.
"We're growing it back, it's just taking a lot longer," he said. "This was a gnarly recession for sure."
The Associated Press contributed to this report.