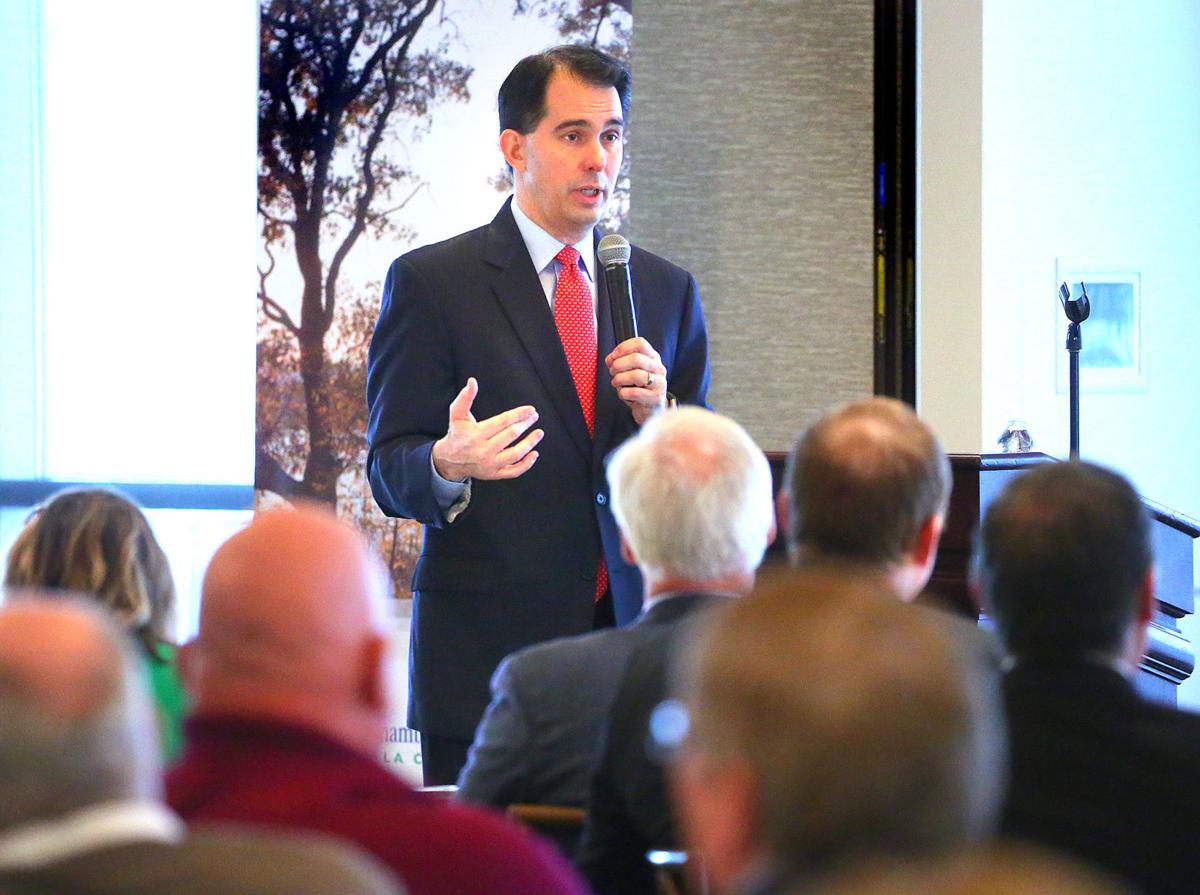 Gov. Scott Walker has a recommendation of presidential politeness for Donald Trump whenever No. 45 feels tempted to tweet tantrums: Be kind, unwind.
The Wisconsin Republican offered that advice when asked during a press conference in La Crosse Monday whether he, as a former presidential rival of Trump's, had any tips for the president amid negative reactions to his venomous tweets.
"I would say not only to the president but also to his administration and Congress — when somebody gives you the finger, give them a thumbs up. If somebody is nasty, be twice as nice to them," said Walker, who was in town to address the monthly meeting of the La Crosse Area Chamber of Commerce.
Walker said that is the approach he took in 2011, when upwards of 150,000 demonstrators occupied the Capitol to protest his budget repair measures, including ending collective bargaining for public employees.
"They should look at the things we did … Do things you said you were going to do, but be decent about it," said Walker, one of 16 Republicans who ran against Trump last year before dropping out of the race Sept. 21.
Asked how Wisconsin Republican U.S. Rep. Paul Ryan's plan for the American Health Care Act to repeal and replace President Barack Obama's Affordable Care Act might affect residents of the Badger State, Walker said Obamacare is collapsing, so something must be done.
The fact that Wisconsin did not take the ACA's Medicaid expansion or join the insurance marketplace has left the state in better shape than others, he said.
Regarding Ryan's proposal to replace the federal government's current Medicaid programs with block grants, Walker said he has told the president that such a maneuver must at least cover existing programs.
During Walker's post-luncheon address to chamber members, the governor underscored his belief that his biennial budget will be a major factor in nurturing a positive business climate in the state.
"We are working and winning for Wisconsin," Walker said. "Our state's unemployment rate dipped to 3.9 percent in January — the lowest it's been in 16 years and significantly better than the national rate of 4.8 percent.
"And we're building upon this solid foundation in our 2017-2019 budget proposal to ensure our students continue to succeed, government services are more efficient and accountable, and everyone who wants a job can find a job," Walker said.
"My problem is not in the number of jobs created. My problem is there aren't enough workers for the jobs," he said.
That is one of the reasons the budget includes increases for K-12 education to help prepare students to enter the workforce as adults, he said.
The budget funds academic and career plans for students as early as sixth grade, he said.
Encouraging youths to think about their careers and what courses they might need to take allows them to take classes in high school that can earn college credit, Walker said.
That route can trim a semester or more from a college tuition bill, which is no small amount these days, he said.
Another initiative aims to get people to move from public assistance to jobs, he said, adding, "Public assistance should be a trampoline and not a hammock."
That is the philosophy behind requiring people who are receiving benefits such as food stamps and/or public housing assistance to work 80 hours a month, he said. If they are not employed, they must enroll in job training so that they will be able to get a job, he said.
"We're lowering the cost of doing business in Wisconsin," he said. "A lot of people in both parties believe that the government creates jobs.
"But government doesn't create jobs — you create jobs. We've created an environment for jobs," he said.
Get local news delivered to your inbox!
Subscribe to our Daily Headlines newsletter.