Dozens of kids, families and community members were the first to try out the new inclusive park Wednesday afternoon on La Crosse's South Side, a long awaited project that brings people of all backgrounds together to play.
The All Abilities Trane Park officially opened its gates with a ribbon cutting ceremony, and despite the 80-degree weather, park-goers were excited to try the new space which was designed to be accessible for people of all ages, abilities and backgrounds.
Located at the corner of 15th and Chase streets where the former Trane Park sat, the $6 million project was nearly a decade in the making.
"This project is an example of what makes our community exceptional, transformational. But our work does not stop today. The All Abilities Trane Park project continues to educate and promote inclusivity and acceptance across our community while celebrating uniqueness and varying abilities," said Amy Hendrickson with the La Crosse Area Autism Foundation.
Hendrickson called the park a "true legacy project," saying that the vision for it began when her son Hudson was only 5. He's now 15 — and over 6 feet tall, she joked — but will still get use from the park for years to come because of the wide variety of activities there are.
She emotionally told the stories of people who would benefit from the park: A 9-year-old with spina bifida who can now easily race his friends in his wheelchair to the slides, a mother and her son with schizophrenia who might find comfort on an outdoor swing, a physical therapist who will use the space for sessions, grandparents that will use the walking path and new fitness pad.
Newly elected Mayor Mitch Reynolds was joined by other officials including parks director Jay Odegaard, Sen. Brad Pfaff and former Mayor Tim Kabat at the ceremony. Reynolds said when he first heard about the concept of the park before his political career, he thought it was "hyperbole."
"But as you will find out, it is anything but. It is an extraordinary vision come to life," he said, saying it was one of the greatest facilities the city has created.
"This is definitely a place where you should feel welcome and feel included and believe that there is access for everyone and play facilities for everyone of all abilities, because everyone has a right to play," Reynolds said.
The park is the first of its kind for the region, and one of only several all abilities parks in the country, officials said.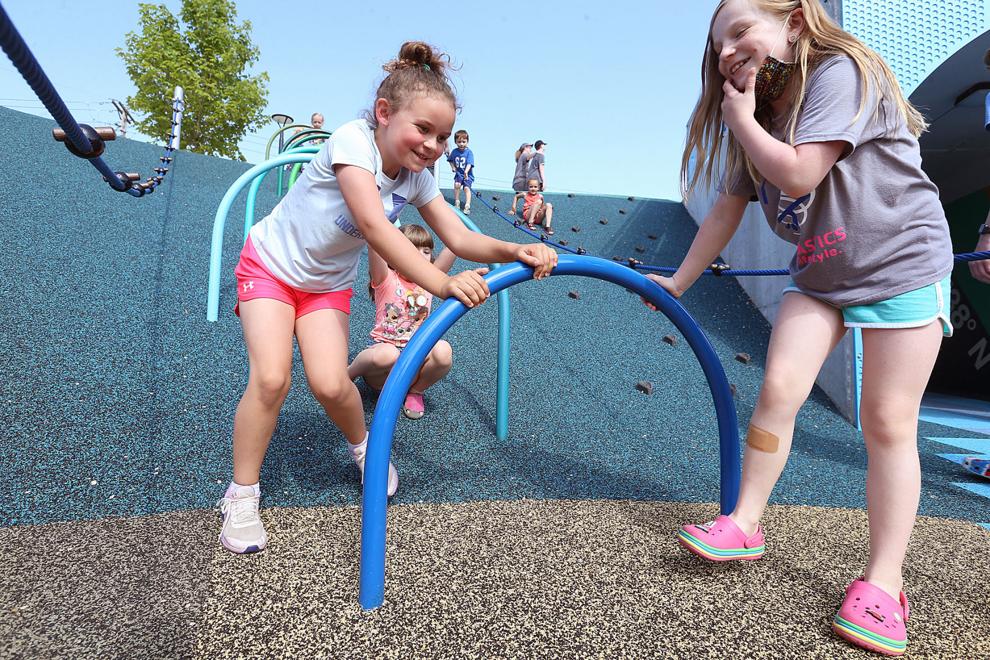 Visitors will first be welcomed by bright blue front gates, which is connected to a shelter space where programming can take place.
Inside the park are a number of spaces meant to accommodate sensory, cognitive or physical disabilities, and each play area has an accompanying sign that lays out users' suggested ages and abilities.
The infrastructure is softer than most parks, figuratively and literally, with curvy lines that weave you through to each new adventure, and bright colors of blues, greens, yellows and oranges bring life to each piece of equipment and pathway. And new "bouncy" ground coverings make for a softer landing.
An early childhood space includes a farmer's market climbing space, swings and a jumble of musical instruments that kids immediately began using to create masterpieces. A children's theater sits atop a nearby hill.
On the east end of the park, a wall of slides made of different materials and textures welcomes all types of thrill-seekers, with a colorful tunnel leading walkers through the middle that is decorated in stripes and a mural with La Crosse's geographical latitude, 43.8138 degrees, written across its walls. Those looking for a challenge can take the tunnel to a climbing wall on the back side of the slides.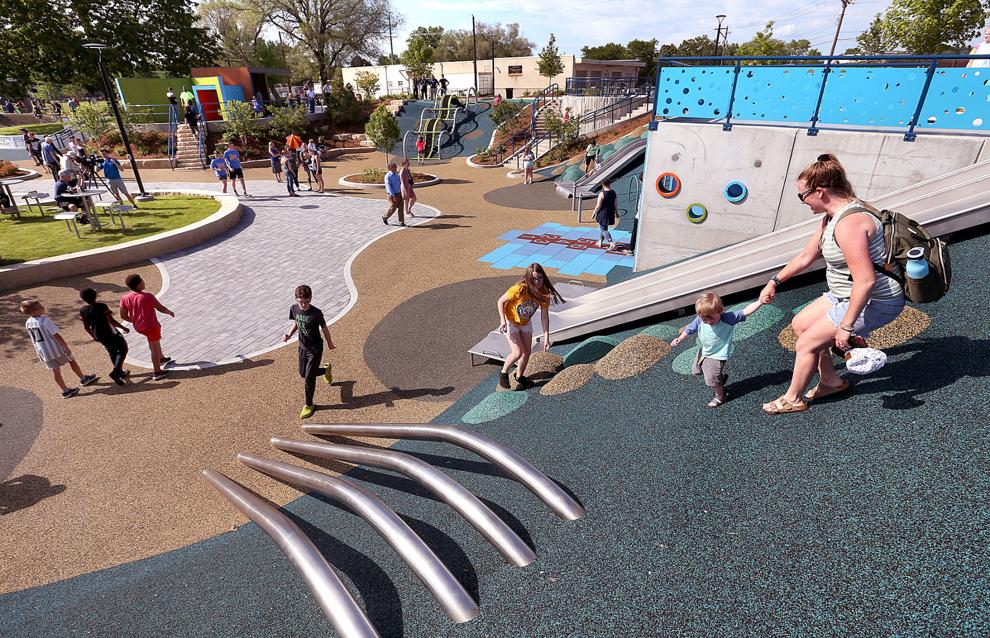 Throughout the park, there are seldom any steps, with ramps and slopes guiding people from place to place, including to get to the top of the slides, and climbing mounds scattered in different places.
Ground level merry-go-rounds that allow for wheelchairs to enter on and have their own space, mesh platform swings, swinging benches and abundant seating for parents and grandparents to look on, and a walking path that weaves around and throughout the entire park, are just some of the other features.
On the southeast end of the park is an adult fitness park that includes parallel bars, leg lift, ab cruncher, hand cycler and more workout equipment you would normally need a gym membership to use. A sign accompanies it with various workouts listed and displayed for use.
The space was a late addition to this phase of the park, and was provided by AARP, and will serve as Wisconsin's official "fit park" by the group, and is meant to make working out more accessible for people of all ages.
Rose Levendoski grew up in La Crosse and used to play in the previous Trane Park often. Now, still just a few blocks away, she's excited to bring her granddaughter who has Down syndrome to a park where they'll feel safer and be able to feel accepted.
"For us, Eliza is 10, and I wish we would have had this when she was smaller, but there's so many things — I envision her being here and playing here way up into adulthood," Levendoski said.
Specifically the enclosed space with an open line of site throughout the park put Levendoski at ease, a more relaxing space to keep an eye on her granddaughter while allowing her more independence.
Levendoski emphasized, too, that it's a space that is not just inclusive for the young kids, but also any parents or grandparents who might have disabilities. She was excited that there was equipment she could use, too, such as the fitness park.
She said Eliza had already found a favorite spot, too — a blue spinner that she liked because she could control it easily — and that they could already tell it would be a space where they could make friends easily.
"This just will be a fun place for her," Levendoski said.
Nicole and Anthony Gutterridge visited the park with their 14 month old son Grayson after patiently waiting for its opening. They only recently discovered the project a few months ago after driving by it.
"Ever since we've been waiting, because we knew that he would have a ton of fun here," Nicole said of Grayson.
"I love the bouncy material, I love the fact that it's colorful and it pretty much looks like there's something for everyone," she said. "It opens up a lot of opportunity for kids to actually have safe fun."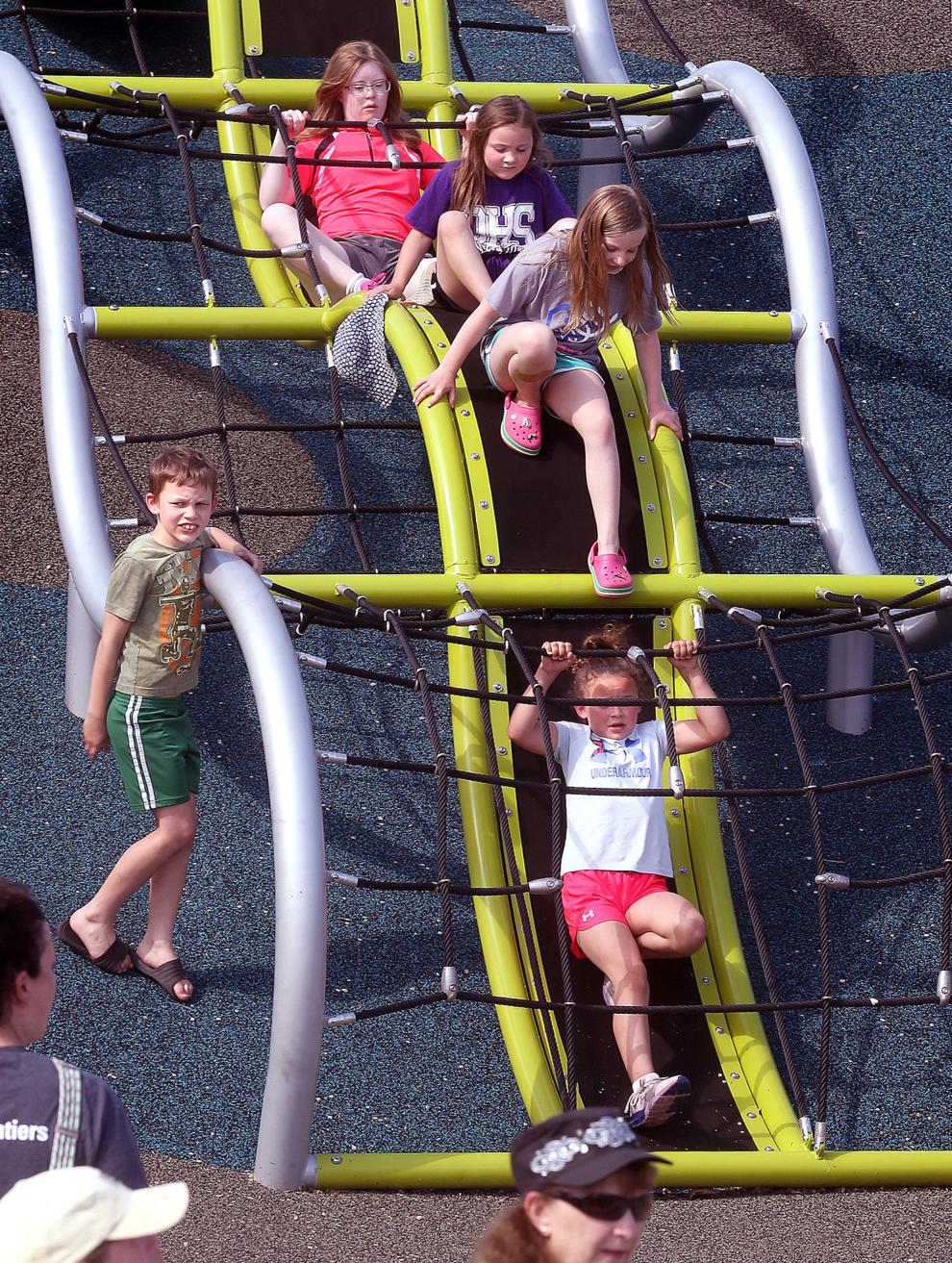 12-year-old Corbin's reaction when he first walked into the brand new park was "wow."
He and his aunt, Julie Effinger, said that their favorite thing so far was the eye-to-eye swing, a tandem swing that allows two individuals to sit on the same glider facing each other.
Julie said they drive from Viroqua weekly for Corbin's skin therapy, and said they'll likely visit the park every Tuesday now.
The All Abilities Park currently has a parking lot on the west side of the front gates, with plans to expand parking in another phase, with other park segments like exploration & imagination and spinning & swaying zones expected to come in future phases. The park officially becomes open to the public Thursday.
The park, which was bustling with movement and play Wednesday afternoon, is likely to be a new favorite in the city of La Crosse as the community heads into a summer with less constraints from the pandemic, a welcoming space that some described as an example of a community coming together.
It's already clear that the space means more than just new playground equipment to the community — and throughout the park as people enjoy, there are constant reminders that everyone has the right to play.