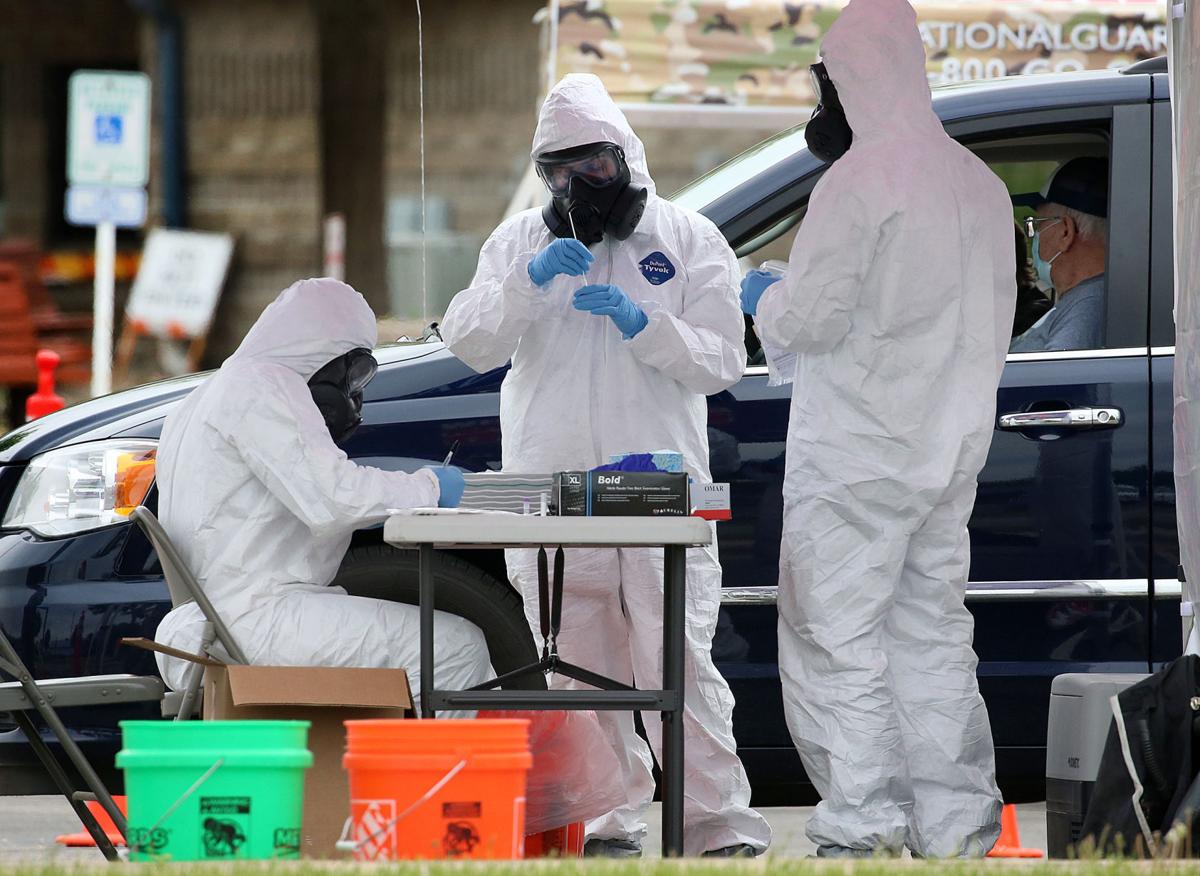 For Jennifer Rombalski, the draw of the public health field was the focus on being one step ahead of a crisis, well prepared for a disaster, ready to face and conquer epidemics.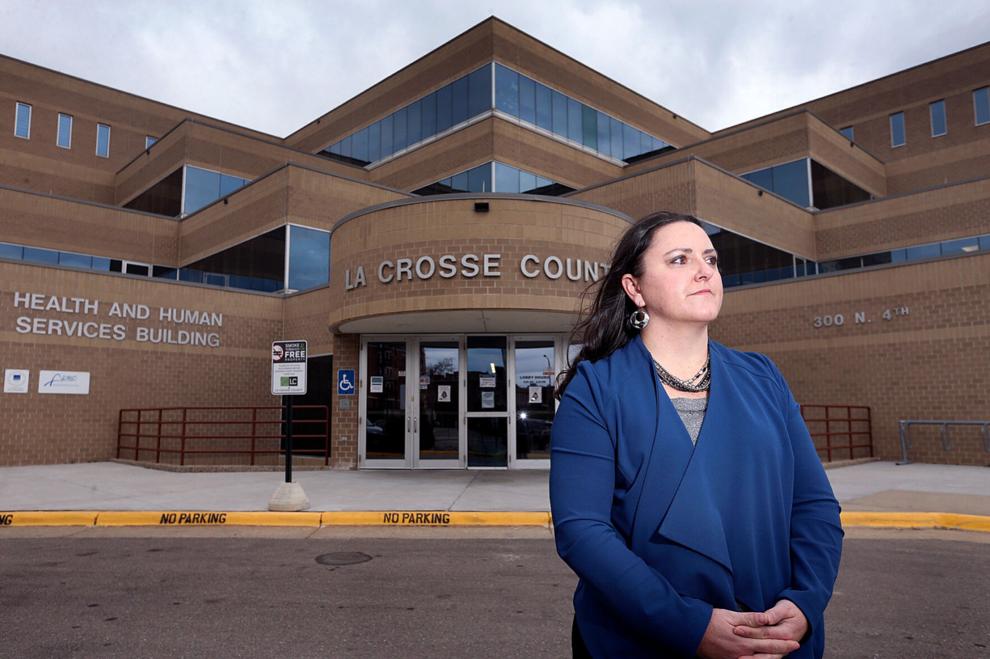 Rombalski knew COVID-19 would eventually infiltrate the Coulee Region. It was inevitable, a highly infectious disease that permeated the globe. She was poised and ready to act.
But the virus proved more contagious, more reckless and more deadly than even national experts had expected, and when the first two cases for La Crosse County were reported March 18, the questions were endless, the answers few, the guidance minimal.
It was soon evident the world was not prepared. But for Rombalski, it wasn't an option to simply say, "I don't know." She needed to lead the community in a fight against what manifested into a relentless pandemic, made all the more challenging as the disease expanded from a health crisis to a catalyst of political divide.
For nine months, Rombalski has fielded endless queries, manned countless meetings and spent long hours scrambling to keep track of the data while reining in the spread.
As the pandemic led businesses to shutter, government boundaries to be questioned and "freedoms" — patronizing packed bars and restaurants, hosting grand celebrations — to be argued over, the criticism was at times loud and the vitriol stinging. But Rombalski didn't pause to complain, break to cry on duty or crumble under the weight of her responsibility.
And the voices of appreciation — for Rombalski's efforts, her presence and her calm demeanor in the face of chaos — were a cacophony in comparison to the critics, with Rombalski receiving an overwhelming number of nominations for the La Crosse Tribune's Person of the Year.
Nominator Elaine George had extraordinarily high praise, writing, "I came to think of her as the 'Anthony Fauci' of La Crosse County.'"
For her drive, her dedication and her refusal to do any less than her best, Rombalski is the Tribune's 2020 Person of the Year.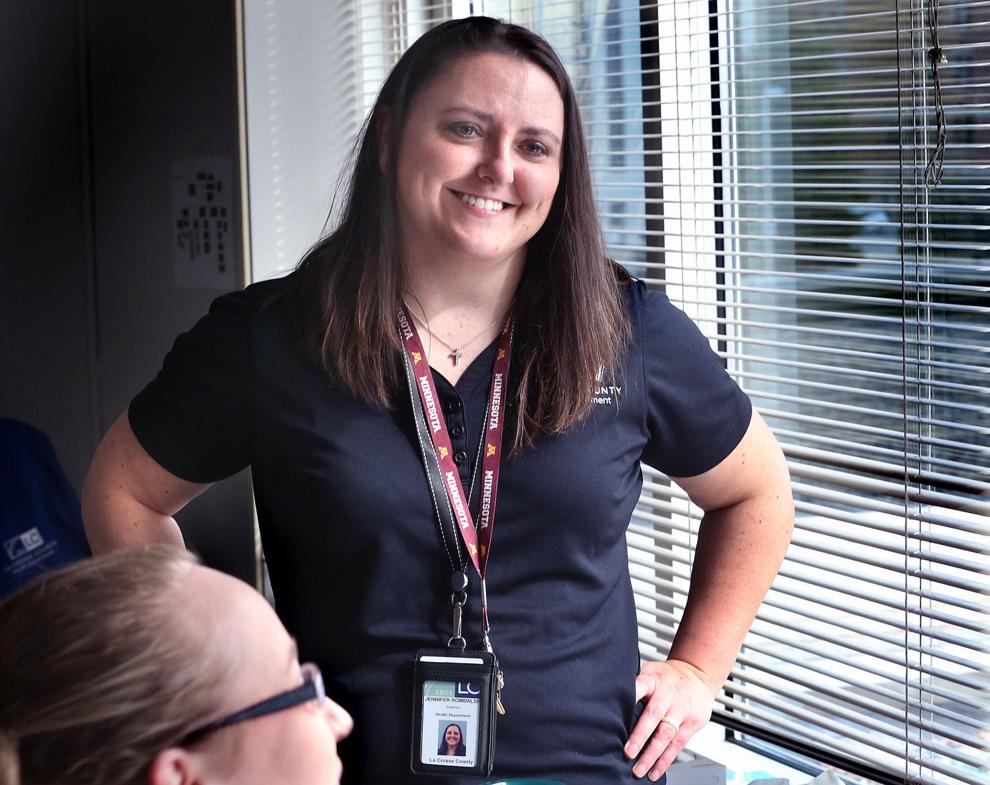 An early passion for community health
Rombalski, 41, received her bachelors of nursing from UW-Eau Claire, learning about all facets of health care during her schooling.
What "really struck me was the prevention" aspect, Rombalski says, and while she was working on the rehabilitation floor at the Gillette Children's Specialty Healthcare in Minnesota, she kept coming back to a desire to be on the forefront, stopping preventable illnesses and injuries before they happened, through initiatives such as promoting the importance of helmet and seatbelt use and proper installation of car seats. Following her passion, Rombalski took a job as a public health nurse in Alma, promoted to public health supervisor within two years.
After 10 years total in Alma, Rombalski accepted the role of health director in Chippewa Falls and completed her masters of public health at the University of Minnesota.
In January 2016, Rombalski and her family — husband Jake, sons Gabe, 17, and Jonah, 9, and daughter Gracie, 15 — relocated to Trempealeau for Rombalski's new job as director for the La Crosse County Health Department, where she will celebrate her fifth anniversary this month.
Just 10 months into her career in La Crosse, Rombalski was named one of the La Crosse Tribune's 2016 Rising Stars, nominated by La Crosse County administrator Steve O'Malley for her instant impact on the community.
"I just felt called to this position," Rombalski says of relocating, citing the "great reputation" of the local health department. She went full force immediately, promoting partnerships among local health and wellness entities to better address issues of substance abuse, mental health, and homelessness. The social determinants of health, Rombalski says, aren't something we normally think about, yet they directly impact the community.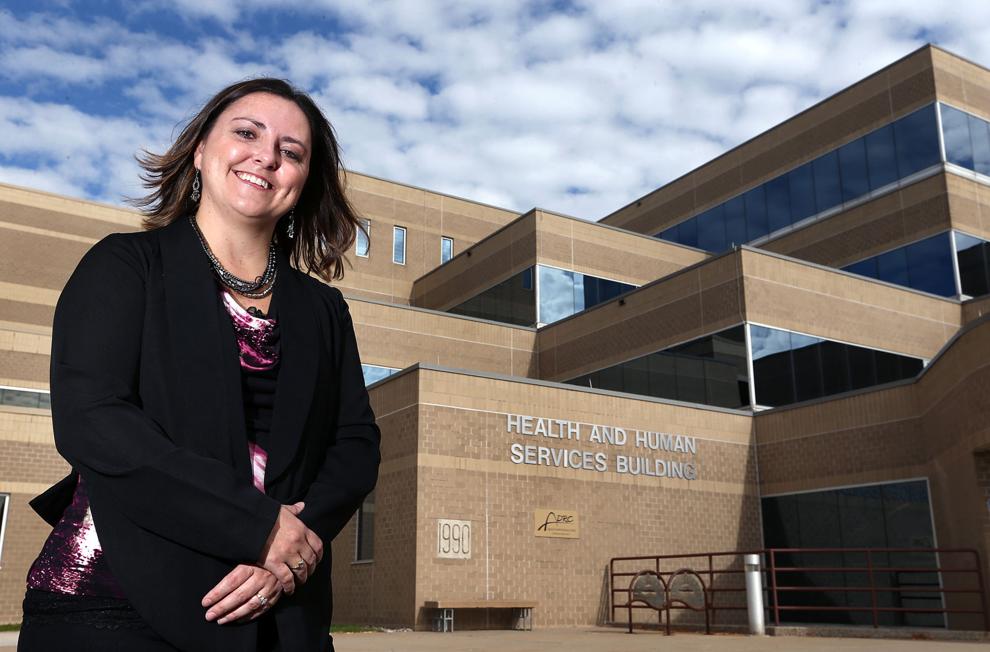 Through the development of the Great Rivers HUB, a system created to bridge the gap between health-care delivery and the social service sector to help save in costs, improve health outcomes and engage community members, Rombalski was able to address commonly overseen obstacles for community members, from needing a ride to the DMV to take a driver's test to securing a Social Security card to finding housing.
"Jen has always been an incredible leader in the community. She has consistently advocated for the health and well-being of all community members, been innovative in the way the Health Department works with community, builds strong partnerships and is somehow always positive," said Mary Kay Wolf, executive director of the Great Rivers United Way, and Lindsey Purl, director of Great Rivers HUB. "She is data driven yet extremely compassionate and dedicated to improving the lives of others."
Rombalski also helped found the Alliance to Heal, which tackles the opioid crisis with the assistance of Gundersen Health System and Mayo Clinic Health System experts, and spearheaded the implementation of smoke-free laws for Downtown La Crosse.
Prior to the pandemic, Rombalski began work on a new community health endowment fund through the La Crosse Community Foundation, centered on addressing health concerns that impact Black and Hispanic populations and empowering youth of color, a project of paramount importance and especially timely given the recent propulsion of social justice issues and confronting of systemic racism and healthcare disparities.
Health educator Maggie Smith, on behalf of the La Crosse County Health Department team, enthuses that "Jen's engaging leadership and kindness have been present since her first day with us. Jen's balances passion for bettering communities, equity in action, with never being too busy to hear concerns from her team or the public. Leadership is an action, and Jen embodies it."
A voice of calm during the crisis of a lifetime
Preparedness training has always been common practice at the La Crosse County Health Department, and Rombalski says the team was ready to address such events as a severe local flu outbreak.
However, the coronavirus was a whole different beast — longer lasting, quick spreading, and with a higher mortality rate — which led to the upheaval of life as we know it, with extensive quarantines, lost jobs, and the disruption of schooling.
The lack of readiness for the pandemic at the national level only exacerbated the chaos, with Rombalski noting, "Just by nature of the current environment and the current leadership at the time at the CDC — they did not respond in the same way as in other instances." In addition, Wisconsin is a "home rule state," putting more responsibility at the local level.
"I took a couple months before the states caught up — things were fairly delayed," Rombalski says.
As such, Rombalski and her team took on developing a data tool to monitor statistics and develop responses, in addition to launching prevention initiatives, including the COVID-19 Compass, later adapted into the Coulee COVID-19 Collaborative, and the Check the Spread Campaign for local businesses.
Julie Willems Van Dijk, deputy secretary and interim state health officer for the Wisconsin Department of Health Services, says Rombalski is recognized as a public health leader at the local, regional, and state levels.
"Her collaborative nature was essential when it came to working with local health care providers, business leaders, educators and people from across the community to shape a response to the pandemic in La Crosse County," she said. "When conditions changed she used the developing science, listened to the community and adapted in ways that kept the community engaged in the response. Her commitment to frequent and effective communication has expanded the community's understanding of this pandemic and the actions they can take to eliminate COVID-19."
Added Willems Van Dijk, "Jen's 'better together' mindset and willingness to share her ideas and energy has impact far beyond the La Crosse County lines. Jen has empowered staff to lead during this response and as a result has cultivated new public health leaders, both within La Crosse County and throughout the region. Her early leadership and quick action locally has served as a model for other health departments. As part of the statewide response, I have benefited from her timely input and feedback on many occasions throughout this response."
The feedback wasn't all rosey, something which Rombalski anticipated, acknowledging change is hard and the political climate added to the hesitance of some to follow recommended precautions. Some expressed outright defiance, and made their distrust and displeasure known.
Advising people who thrive in social settings to stay home, urging families not to hold or attend graduation parties and weddings, and calling travel to a halt are hard asks, Rombalski says, yet when it came to masking and staying out of packed bars and restaurants, health officials "didn't anticipate such difficulty in garnering and leveling human power."
"The only mechanisms we had were human behavior changes, and when you ask for those things over a really long time — behavior changes are really difficult," Rombalski says. Especially in the first months of the pandemic, most coronavirus cases were mild and very few local residents had died from the virus, so some who had contracted COVID-19 and emerged unscathed, or experienced no symptoms at all, were unconvinced of its potential severity.
"It's kind of a sneaky virus," Rombalski said. "For some it barely blips the radar (of) feeling sick," while others are hospitalized and some ultimately succumb to COVID-19.
When case numbers, relatively low throughout the spring and summer, started to spike in September, first among those of college age and then spreading into middle aged and older individuals, Rombalski had to ramp up the messages of urgency and calls for compliance of precautions. But even as hospitals warned of surge and deaths ticked up in quick succession, some were resistant to the message.
There were questions surrounding the authority of health officers, the science, the intentions of those in charge — but Rombalski iterates that her staff "are all here for the right reasons. We take on our shoulders the responsibility to serve and protect (but) some people don't necessarily want that protection."
Through the pandemic, Rombalski remained cognizant of the "physical and mental effects of stay at home orders and the economic crisis," says nominator Catherine Kolkmeier, executive director of the La Crosse Medical Health Science Consortium.
"Many times she has been put in the difficult position of having to choose between enforcing stricter restrictions and encouraging voluntary compliance, and although not everyone agreed at every juncture, she has consistently held that delicate balance that is crucial for those in powerful positions to maintain," Kolkmeier said.
Say Wolf and Purl, "Jen has been faced with challenge after challenge while needing to lead the community through a pandemic that has also become political. In the face of negativity from some parts of the community, Jen has stayed committed in her transparent and data driven communication and has remained steady in her support for her teams. Her clear consistent leadership and positivity continue to shine through even when giving the darker news related to COVID."
For nominator Roger LeGrand, who falls under the high risk category for COVID-19 due to his age and underlying health conditions, Rombalski was a trusted voice. He felt failed by the responses and rhetoric of President Trump, who frequently flouted masking and distancing measures and downplayed the severity of the virus. The local Health Department, he says, under Rombalski's leadership, "Was the only government agency to consistently provide accurate scientifically correct information and advice to keep me and our community safe."
Rombalski credits those who spearhead the Health Department's social media with responding to negative comments on Facebook in a measured, factual and civil manner, and leading by example in their daily lives. Like Rombalski, they work long hours, and like the general public, they are missing reprives like meeting up with friends, dining out and taking vacations. Many have stepped into new roles during the pandemic and compounded their job responsibilities.
"The strength and quality of the people (who work here) is amazing. I am so proud," Rombalski says. "It takes a team, and it's a pretty incredible team."
The kudos is mutual, with the Health Department team expressing, "It's been a difficult year for public health professionals as we experienced rapid change, politicization of public health guidance, and a close-up view of suffering and deaths. Through it all, Jen has remained hopeful. She has supported us, been there during even the toughest days, and continuously encouraged a focus on solutions, innovation and collaboration."
Rombalski, the team says, often expresses her gratitude in her emails and at the conclusion of biweekly meetings. Rombalski says even "a little bit of spark" can help boost morale and remind them their work matters.
The La Crosse County Health Department leadership team, including Carol Engle-Drury, Jacqueline Cutts, Jennifer Loging, Diane Panzer, Jennifer Mullin and Paula Silha, say "Jen always leads with the interest of others in mind...she coaches and supports the leadership team and all Health Department staff to be the best they can be...Jen has a gift for meeting people where they are at and coaching them to grow their skills and strengths."
In addition to her staff, Rombalski finds strength and support from her spouse and children, noting "with your family behind you, there's nothing you can't do."
Working from home in recent months has been a blessing of sorts, allowing her to see her loved ones more frequently, something she missed when, during the start of the pandemic, she spent several nights a week in La Crosse due to her three-hour round trip commute. During the summer, the family bought a small pool for some well deserved relaxation time.
"I spend good quality time with my family, even if it's not as much as I would like," Rombalski says, who also leans on her faith. "Family time is resetting and fills my cup."
Like most parents, Rombalski has struggled with disappointment her kids have experienced as play dates are cancelled and visits with extended family are off the table. Rombalski doesn't let her guard down, but some of her relatives aren't so diligent.
"I'm human — human nature is judgmental," Rombalski says of feeling frustration towards those in her family, and community, who choose not to mask and distance. "I have to catch myself and say, 'I don't know what they're going through.' We can't change others. We can educate."
Gracie says her mother's job is "absolutely perfect for her," citing Rombalski's positivity.
"If anything bothered her, she'd snap her fingers and come up with a solution that benefits everyone. Her advice never fails when something I'm worried about comes up. If I listen to her, everything will work out in the end," Gracie says.
Indeed, many of those who nominated Rombalski for Person of the Year cited her reassuring presence — compassionate but straightforward — and appreciated her transparency when she contracted the coronavirus herself, infected by a household member who was exposed at school.
Mary Ann Geschwind in her nomination letter stated Rombalski "has been knowledgeable, clear, succinct and honest in her reports," and respected that she chose to speak about her experience with COVID-19.
Even prior to her diagnosis, Rombalski encouraged unity in combating the virus. Pointing fingers and shaming others was harmful, not helpful, she frequently stated in media briefings.
Says the Health Department leadership team, "Jen became the face of 'we are not fighting each other, we are fighting a virus.' She provided steady guidance to the La Crosse community in a time of uncertainty. Her gift of care and concern comes across in her demeanor when conducting interviews."
Rombalski's heart goes out to those who have been unable to visit their families in the hospital as they undergo treatment for the COVID-19, and those who can't say good-bye in person.
Every COVID-19 death, Rombalski says, is deeply felt and heartbreaking to her and her team. Rombalski's sincerest wish is to never see another person pass from the coronavirus, and La Crosse County Board Chair Monica Kruse in her nomination letter praised Rombalski's compassion and empathy.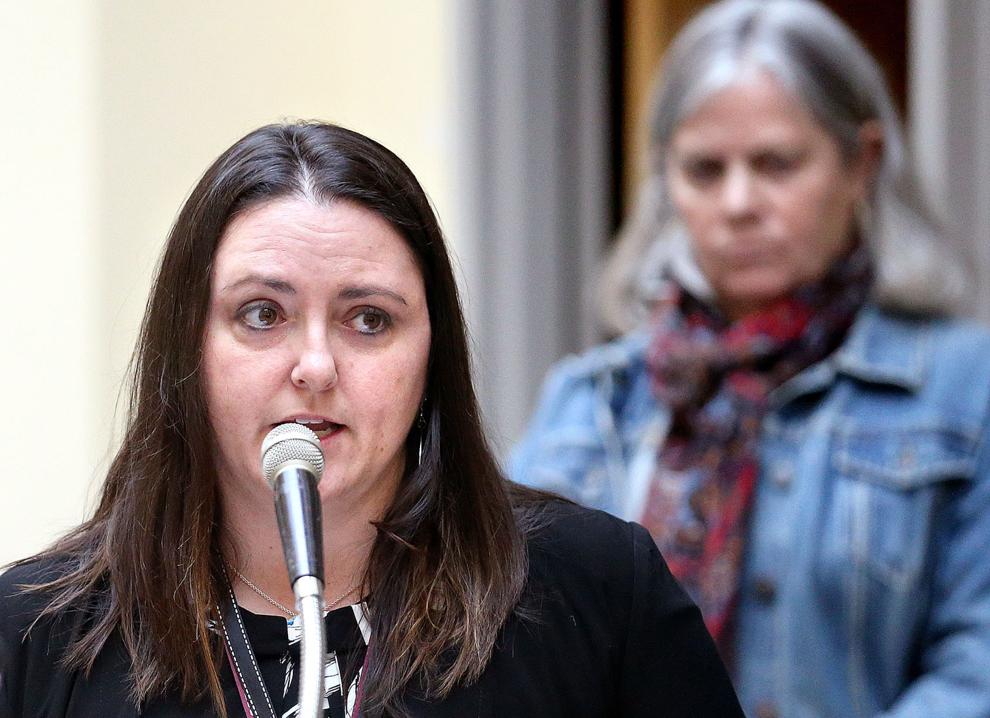 A "humbling" honor and a time of hope
The word Rombalski hears most to describe her is calm, both in demeanor and speech. While a public figure as head of the Health Department, she wasn't a household name or face prior to the pandemic, but now even people recognize her even while out in a mask.
Purchasing flowers for staff one day, face covered, the clerk knew her by voice. It's a phenomenon Rombalski has yet to grasp, and her designation of Person of the Year similarly amazes her, marveling, "I can't believe it...It still hasn't really sunk in."
Rombalski is quick to point out she doesn't "do it alone," crediting her team and the "wonderful" people in the community who have done their part to flatten the curve and raised up the hard working people in health care through Facebook comments and cards.
The local arrival of the COVID-19 vaccine from Pfizer, soon to be followed by doses of the version by Moderna, has lifted Rombalski's spirits. Her hope is the innoculations will provide long term immunity from the virus, and that doses will roll out quickly and efficiently. Even more important, she hopes people will be willing to take the shot.
In the interim, Rombalski stresses vigilance in practicing non-pharmaceutical interventions, asserting, "We can't let our guard down."
It may be several months before the general public has access to the vaccine, and there will likely be case spikes in the interim. But Rombalski is in it for the long haul.
"It's work that needs to be done, and I'll do it because that's just part of who I am," Rombalski says. "And my team (is) the same way."