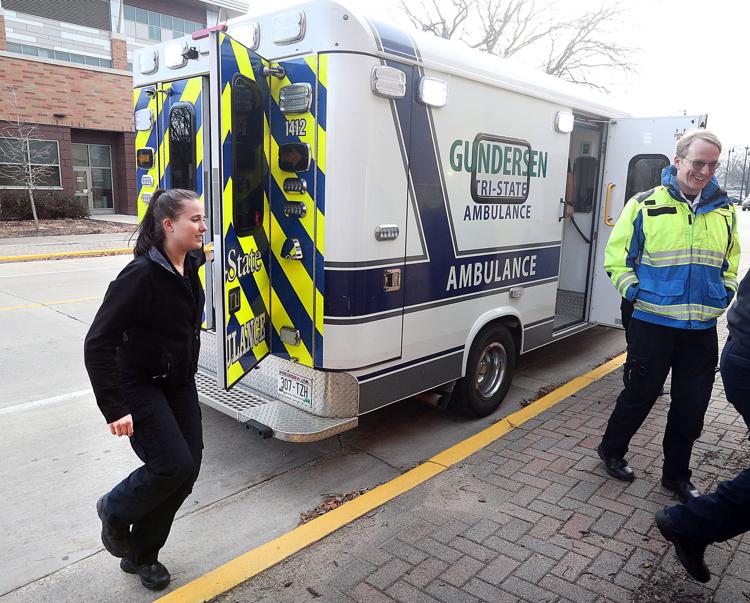 EMT/EMS and paramedic students at Western Technical College in La Crosse now have a mobile classroom — an ambulance, actually — to learn techniques they will need to use in emergency situations as they speed along streets and highways.
Gundersen Tri-State Ambulance donated the used vehicle, which Tri-State officials delivered Wednesday to Western, where administrator Kevin Dean said, "I couldn't be more pleased" about the contribution.
An ambulance would be a budget-buster for the school, because one "easily could cost $200,000 new," said Dean, associate dean for Western's Health and Public Safety programs.
The used one, which Tri-State operations director Kent Stein said has logged about 237,000 miles, "is perfect training for it to continue to serve and teach others," Dean said.
Enrollment in the programs includes 22 students in the paramedic track, 50 in EMT training and another 40 learning the ropes of first responders, Dean said. Students come from throughout the 11 counties Western Technical serves, and chances are that grads will either work with one of the five paramedic services in the area of become volunteers at local fire departments, he said.
The ambulance is relatively stripped down inside so that Western can outfit it with the radio and other equipment that meshes with the curriculum, Stein said.
"The only thing that's coming with this ambulance is a power cot — it's a cot where you can press a button and it will go up and down," he said. "That's what Tri-State uses, so hopefully, that will train students up to a modern standard of what cots are in use now."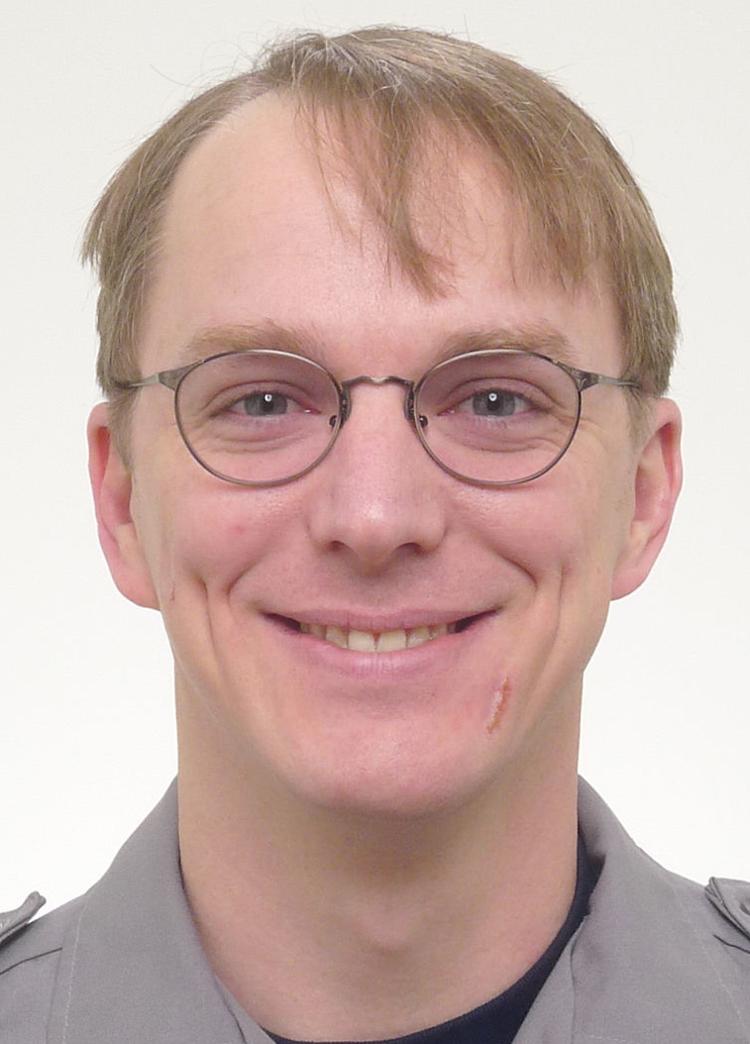 Despite the high mileage, it's eminently roadworthy, Stein said, adding, "Our fleet department is a department of one, but he is very talented and very competent, and he keeps all of our 22 ambulances running."
Tri-State uses a hybrid model to deploy vehicles, with some ambulances staying at stations while others are staged in parking lots or on the road to ensure quick response times, he said.
"We redistribute our ambulances based on how many are available, so we can get to emergencies as quickly as possible," Stein said.
Advance EMT students Andy Rinehart and Nathan Allen, both of whom work for Tri-State and are in an intensive grant/study program that Gundersen and the state sponsor and covers their education costs, said the ambulance is a boon for all levels of the Health and Public Safety programs.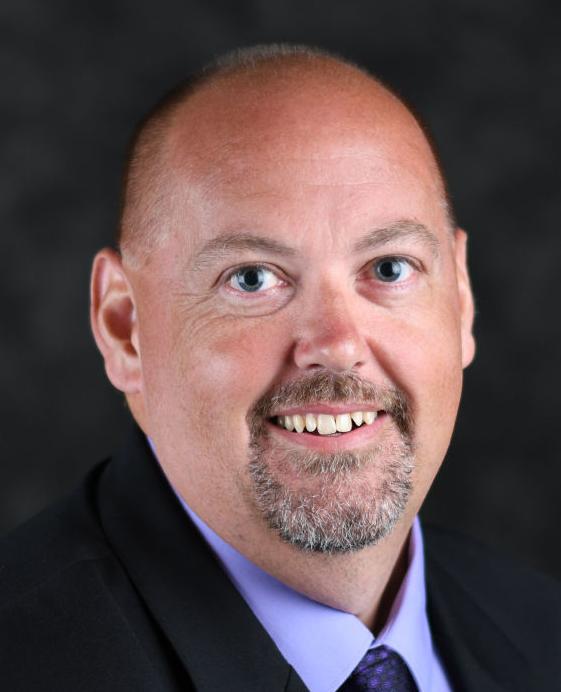 The 32-year-old Rinehart, of Richland Center, Wis., began his emergency health care career track as a volunteer upon graduation from high school.
"It was never the same," said Rinehart, who also joined the Army, in which he was a medic and served two deployments to Iraq.
After his discharge, he took a different job until, he said, "I saw (an ambulance) going down the interstate, and I thought, 'I miss that.' "
He began basic EMT coursework, he said, adding, "I'm not terribly fond of factory work."
Holding down a full-time job in La Crosse while working as an EMT in Richland Center can be a daunting task, but having a supportive family helps, said Rinehart, who has two children — 3-year-old Jacob and 4-month-old Lucas — with his longtime girlfriend, Brooke.
"Jacob loves ambulances" and has all sorts of vehicles for toys, he said.
The 29-year-old Allen, who works for Gundersen Tri-State Regional Ambulance and is stationed in Prairie du Chien, echoed Rinehart's observation about the time and stress of working and going to school at the same time.
"It's a full-intensity program, and you're gone mind-blowing hours," Allen said.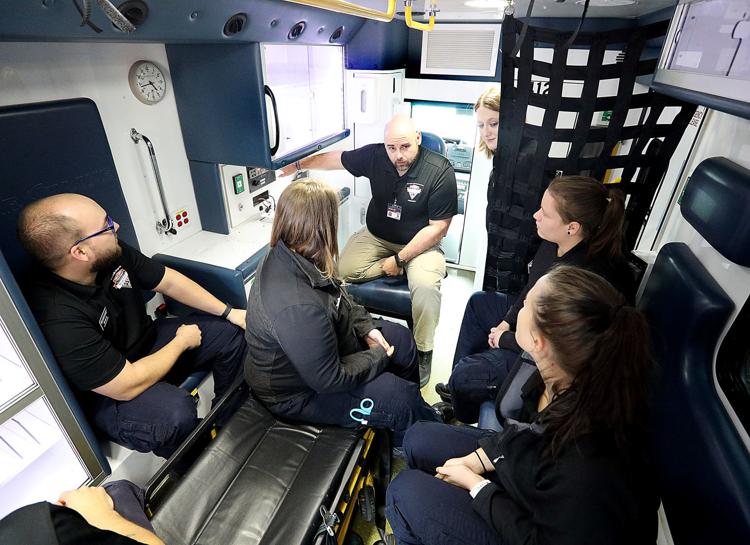 But both said Gundersen and Western take the time constraints into account and are flexible about accommodating schedules.
Allen, who worked in transportation while stationed at Camp Douglas, Wis., as a full-time National Guardsman, was attracted to the EMT field after watching his older brother in the job.
Allen and his wife, Chasity, have three children — Lydia, 11; Londyn, 5, and Lennyx, 2. Lydia was born while Allen was deployed to Afghanistan, so the couple chose Faith as her middle name, based on the faith that he would make it home unscathed.
Both underscored the value they find in a field in which everyone supports each other, with the common bond of service.
Rinehart said his most troubling ambulance run was a double traffic fatality, which he said "is not something you forget."
"But if you ever need help, we support each other," he said.
"Industry-wide, you have nongeographic support," Allen said. "If we were in London (and met EMTs), they would understand us and we would understand them."